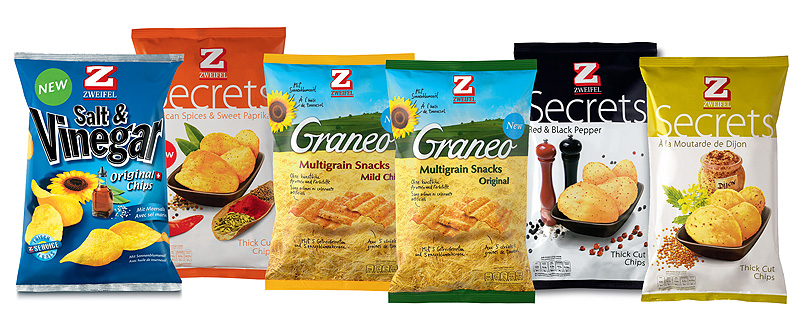 Power ranges
Already one of Switzerland's most recognisable brands, Zweifel Pomy-Chips looks forward to expansion into Europe
As a family-owned company, Zweifel Pomy- Chips has established its name in the Swiss market with over 50 years of potato crisp production. Today it is one of the largest and most recognisable brands in the country, producing and selling a number of different varieties of potato crisps along with other snacks such as corn chips, multigrain crisps, extruded snacks, nuts and popcorn. Having secured its position in the domestic market, Zweifel is now looking to expand its business internationally.


The Zweifel family established its reputation in the Zurich region several hundred years ago as winemakers, but its snack food legacy began in 1958 when Heinrich Zweifel purchased a potato crisp business that had been started by his cousin, Hans Meier. The company has grown extensively since that time, moving from its original premises 30 years ago to a larger site in Spreitenbach where its 400 employees transform 22,000 tons of potatoes into 6000 tons of crisps. Though the company is no longer managed by Zweifels, it remains under the family's guidance and ownership with members on the board of directors.
Recently, the company has launched three major new products: a salt and vinegar flavour for its Originals range, a thick-cut crisp line named Secrets, and the Graneo sub-brand of multigrain snacks. Mathias Adank, CEO at Zweifel, discusses the details and successes of these new items: "We have seen that people like special flavourings and cuts, so we brought out the Secrets range. It's not as hard as a Kettle chip but is crisper than the standard thin-cut crisp, and we have tried to develop unique flavours for it that aren't available elsewhere in the market. It trades at a ten to 15 per cent higher retail price than the Originals range.
"With the Graneo line, we have put a lot of effort into the technical side of the recipe, as well as a lot of consumer research. We saw that people like to snack but at the same time they have a certain reticence; the consumer wants a healthier alternative, and the multigrain snack is seen as better for the body than fried potatoes. Finally, our salt and vinegar Originals are having huge success at the moment. We hesitated for a long time in launching the flavour because, as one of the original varieties, we wanted to do it justice. I don't know if we have achieved this in absolute terms, but for the Swiss consumer we have succeeded."
Despite heavy competition from international brands such as Pringles and Chio attempting to enter the Swiss market, Zweifel has remained in the top 20 most valuable brands in the country for the last 12 years. This consistent high quality is attributed to a number of different factors, perhaps the most crucial of which is the way that Zweifel has become part of the country's social landscape. Having an instant recognition factor through its identification with the colour orange and simple 'Z' logo, and with its distribution not only through every major supermarket chain in the country but also in vending machines and restaurants, the company has settled itself at the core of Switzerland's snacking habits.
Mathias, however, is quick to point out that none of this could be achieved without Zweifel's suppliers: "We source practically all of our potatoes in Switzerlandand have direct contact with the producers, giving us control over the varieties that we receive. By the same token, we used to fry the potatoes in peanut oil. Eleven years ago we switched to high oleic sunflower oil that is sourced entirely within this country. We have always been very involved in the agricultural side becauseJohn (Hansheinrich) Zweifel, the original owner, has a degree in agricultural science and made it his job to be interested in that side of the business."
He continues, explaining the structure of the supply chain and the company's long-term partnerships: "Most of the potato growers are organised in co-operatives and Zweifel has direct contact with these co-operatives though not necessarily with the individual farmers. Every batch of potatoes that arrives in the factory includes a sheet stating which co-operative, farmer and field it is from and the company has personnel dedicated to relaying with our suppliers. Some of them have been supplying us for more than one generation; that is the kind of relationship we have with them."
Having achieved so much success domestically, it is no surprise that Zweifel has started considering a move into the export market. There is currently a small amount of export to France and Germany, but the company sees plenty of opportunity to expand its presence in these near-Switzerland regions. However, it must first take on several challenges including fees incurred for gaining shelf space in the big supermarket chains, which are high for a relatively small company such as Zweifel, and passing the consumer taste test. The choice of snack food is an acquired behaviour where people tend to favour what they are already familiar with; therefore convincing the end user is essential in becoming successful abroad.
Nonetheless, the future offers bright prospects. This year has seen much better business than last, and with the Swiss economy improving throughout things can only become more fruitful. Mathias concludes with a confident outlook: "What I hope is that we can improve our standing domestically even further, but also move outside our national territory and be prepared for upcoming trends in the market. It is becoming increasingly international and if we can be one of the speciality producers on the continent, I think that would be a great achievement."