Issue Vol19 Iss2
---
Vintage Group has refreshed its portfolio with new hires and new restaurant concepts.
During hard times, some restaurant groups might be tempted to rest on their laurels and hope for the best, but Vintage Group has chosen to be proactive. Last year, when the Calgary, Alberta-based company saw impacts from the economy, the drop of the Canadian dollar and the rise of minimum wage, it found itself "playing defense," President Lance Hurtubise recalls.
"We're not allowing that to happen again in 2019; this year we've been playing offense by hiring a coveted new list of team members," he says, explaining that the firm has revitalized its operations with the hire of a new vice president of operations, culinary manager, marketing associate and mixologist. It also focused on opening new restaurants and rebranding one of its longtime concepts. "I thought we were getting stale and stagnant," he admits. "We've done some debt financing, partnered with new people and put our foot on the gas to see where we can go. We know we can raise the bar."
Being the Best
A longtime veteran of the restaurant industry, Hurtubise previously opened Moxie's, a concept that grew to more than 60 locations across North America. After leaving it in 1993, he started two more eateries, Luciano's and Santa Fe Grill.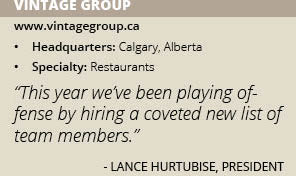 Today, at Vintage Group, Hurtubise oversees 11 restaurants in Canada. Its newest concepts include Waalflower Kitchen & Cocktails in Calgary, which features a seasonal inspired menu as well as hand-crafted beverages curated by their new mixologist who comes to Vintage from a star-studded background in Hollywood.
It also launched Allora Everyday Italian in Calgary. The restaurant makes all of its meals from scratch, but centers itself around the concepts of quality and value. "[Value has] always been in style and it's doing really well at Allora," he says. "One element at Allora that has become popular is the open pasta making bar. Guests can watch their pasta made from scratch right in front of them before it even reaches their place, there is even a gluten free option."
Vintage Group will soon begin its first management contract for Chairman's Steakhouse, a restaurant that will open in Calgary in June. "It's going to be the premier steakhouse," Hurtubise predicts.
The company will apply the lessons it has learned at Vintage Chophouse & Tavern, which was rated one of Calgary's Best Steakhouses over the past decade. This has been accomplished by focusing on "quality, excellence and well-trained people," he says. "[Our focus is to] be the best in all categories of service and to enrich the dining experience for Calgarians."
Vintage Group also underwent a rebranding for its Butcher and the Baker restaurant in Calgary, which now specializes in sandwiches made with slow-cooked meats, house-made condiments, fresh bread and quality cheeses. "We thought we could make it better and upscale it while continuing to keep it affordable," Hurtubise recalls. "Our freshly made breakfast sandwiches are the same price as popular fast food breakfast spots but made per order with fresh and local ingredients."
Staying Ahead
Vintage Group is focused on staying ahead of food trends. "That's part of our goal," Hurtubise says, adding that the company often looks at what is hot in the United States before it reaches Canada. "We try to be the first in the market with it."
Recently, the group visited Franklin Barbecue in Austin, Texas. "We stood in line before they opened, talked to them and saw what makes them different," he says, adding that he also made a trip to Las Vegas to see what was new.
"Vegas is one of the best cities to see right now," Hurtubise asserts. "They have the concepts of the hottest restaurants in America."
Around the Block
Hurtubise is proud of Vintage Group and the memorable dining experience it creates for guests who often return to its locations. "I want everyone to feel like they have ownership in the restaurants," he says.
He also takes pride in how it has helped its longtime employees grow, including beverage manager Dean Norris, who has been with Vintage Group for a decade. Currently, "He's working on his master sommelier [certification] and we're extremely supportive of him taking these next steps to elevate his career," Hurtubise says.
Falyn Heck also started as a server at the company and now is a general manager of its Bookers BBQ + Crab Shack restaurant in Calgary's East Village. "She oversees the Bookers BBQ concept," Hurtubise says. "It has been incredible watching her take on each and every role we've given her as a challenge and doing extremely well with time at all of them."
Its key members also include Vice President of Operations Josh Brennand and Culinary Manager Justin Labofsiere, who both have extensive industry expertise.
---