Donna Italia
Issue Vol18 Iss4
---
Donna Italia expands in the U.S. market and widens its pizza product line.
Foodservice operators have long faced the challenges involved with serving a high-quality, Italian-made pizza. Preparation and baking consumes time. They had to invest in large and specialized equipment. Their staff needed to be trained.
But that was before Donna Italia came onto the scene and into the market. The three-minute pizza solution provides food and beverage operators with an authentic, Italian-made pizza without investing into any equipment and being dependent on staff operating skills.
Restaurants and food and beverage operators receive the equipment at no cost. This includes their oven of choice, pizza prep tools and ongoing service and support. They pay only for the pizzas much like a month-to-month food club subscription.
"I wanted to develop a turn-key solution that would produce a high quality pizza in a short amount of time," says Gilad Shalom, Donna Italia's CEO and founder. "It took me about a year but I developed a great product and a very innovative concept."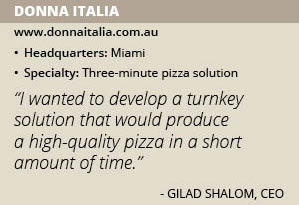 Shalom founded the company in Israel in 2011. He expanded it internationally in 2015 under Donna Italia International. Last year, Shalom began focusing his efforts on developing the U.S. market.
Donna Italia's pizza solution is quickly becoming a favorite among some of the industry's leading hotels, restaurants, cafés, bars, entertainment venues and other food and beverage outlets.
Its U.S. launch follows a successful international roll-out that now spans a presence in thousands of outlets in 14 countries in just two years.
Easy-To-Use
The specially-designed, easy-to-use stone oven is small enough to sit on a counter-top and requires only a regular 110v outlet for operation. Available in three models, the ovens provide speed, simplicity and consistency. All equipment is UL and NSF certified. Oven size is based on how many pizzas a business plans to sell per day.
In addition to the product itself, the solution includes the company's cost-effective business model and flexible contract terms. "And we provide whatever you need to promote the product," Shalom says. "That includes training, banners and video."
Donna Italia pizzas are made in Italy with 100 percent natural ingredients. That includes fresh Italian mozzarella cheese, a special blend of Italian flours, olive oil, and crushed tomatoes. The product does not contain added sugars, baking enhancers or preservatives.
For optimum freshness, the pizzas are then partially baked in a wood-fire oven, fast-frozen and packaged individually in a specially-designed, flow-pack wrapper. Pizza sizes include 9-inch and 12-inch. Customers can choose to add their own toppings on it.
A New Addition
In response to foodservice industry demand, Donna Italia is expanding its U.S. product line with the addition of its new Donna Bianca pizza – known as "white pizza."
After spending almost one year in development, Donna Bianca rolled out exclusively in the U.S. in April. The company developed and tested a variety of options before coming up with the right blend of flavors and textures to create a light and flavorful version of this alternative pizza option.
Donna Bianca joins the Donna Italia Pizza Margherita and Donna Italia Pizza Focaccia as part of the Donna Italia Pizza Solution.
"In the American market, the white pizza is very popular," Shalom says. "It comes with olive oil infused with garlic and has a combination of four different Italian-made cheeses."
Donna Bianca features Mozzarella, Provolone, Grana Padano and a light dusting of Pecorino. The company says that these four cheeses complement one another flawlessly and behave ideally in the baking process to yield the perfect white pizza when combined with Donna Italia's signature airy crust brushed with a light garlic-infused extra virgin olive oil instead of the traditional tomato sauce.
"When foodservice operators and chefs saw an increase in demand for white pizza and wanted to add it to their menu offerings, we responded, giving them a great-tasting, high quality product that is as quick and easy to prepare as our other pizza products," Shalom says.
Donna Italia is working on adding other innovative products to its portfolio. "Our future plans include gelato and pasta solutions," Shalom adds. "But we have to come up with the same high quality and simple concept."
He's hoping for the gelato solution to be made available by next summer. It will be available in the U.S. market first.
---