Smoothie King
Issue Vol18 Iss1
---
Smoothie King's Cleaner Blending initiative places it at the forefront of healthy diet trends.
From the beginning, Smoothie King has always been focused on the nutritional value of its smoothie. The company wasn't the first smoothie bar when it opened in 1973, but it was the first to mix in additional nutrients to create drinks with more nutritional firepower.
Smoothie King prided itself on blending smoothies that served a purpose. The company started out selling smoothies as a way to market nutritional supplements but over time its popular drinks became the focal point. Today, it's known for its "Smoothies With a Purpose," concoctions that target general wellness and weight loss or are packed with protein to help customers maximize their fitness routines. That reputation for healthy drinks propelled Smoothie Kings' growth and in 2003 it went international opening in South Korea.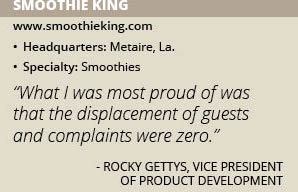 The company's international expansion eventually led to new ownership. In 2012, South Korean master franchisee Wan Kim, owner of 120 stores, purchased Smoothie King from founder Steve Kuhnau. Kim immediately began to take a hard look at the menu, and determined that Smoothie King had to lean even harder into its nutritional purpose.
"There was a point in time where a smoothie was really way better than anything else out there in the restaurant business," explains Rocky Gettys, vice president of product development. "Other food establishments couldn't really compete with the health of a smoothie."
Those competitors have since adapted. Now, even the big burger chains offer smoothies for health conscious customers. "Its becoming more challenging to be the better-for-you product because there are a lot of better-for-you [options] out there," he continues. "We have to become the better better-for-you."
In the heyday of the smoothie bar, the 1990s, consumers were all about low-fat meal choices. However, as health trends have evolved and the science around nutrition has improved, the focus has shifted to lowering sugar content. "The biggest change we're seeing now is sugar is becoming more of a focus and more at the forefront than ever," Gettys says.
Cleaner Blending
Under Kim's leadership, the company is adopting a "Cleaner Blending" philosophy, which has already cut trans fats, high fructose corn syrup and gluten from all smoothies. Added sugar is also being removed from more than 50 "purpose blended" smoothies on the menu and the company is transitioning to using more whole fruits and vegetables such as mangoes, blueberries, raspberries, carrots and kale.
Smoothie King took it a step further when it purchased the naming rights to the arena where the New Orleans Pelicans play basketball. Because it wanted to become the drink of choice for athletes in training, the company removed any ingredients that contained substances banned by NSF International, a public health standards and certification organization.
Ingredients supporting the Cleaner Blending initiative have been rolled out to all stores as progress has been made over the last few years. In 2018, the next step of Smoothie King's Cleaner Blending journey will include new milestones. "We've always served better for you products products," Gettys says. "This is about taking things to the next level. We're working to ensure that there is no added sugar in our purpose smoothies, and throughout our menu there's no artificial flavors, colors or preservatives, or added hormones in our dairy based ingredients."
Smoothie Kings' commitment to cleaner blending has forced the company to get more creative in its ingredients. The artificial coloring prohibition is not as straightforward as using colors only from natural sources, for instance. Even if a color comes from a natural source such as beet or pomegranate, if it's added only for the purpose of coloring it can still be considered artificial.
To ensure it meets its own standards, Smoothie King must also consider all the raw materials in its ingredients used in the smoothies. "We're taking a deep dive to make sure all components of our ingredients meet our cleaner blending standards," Gettys says.
Cleaner blending is an effective way to cater to modern expectations for healthy diets, but it carries many challenges. Better and more natural ingredients carry a higher cost and often have a shorter shelf life – two drawbacks that can impact a franchisees' bottom line.
Smoothie King is sensitive to that challenge and is developing smoothie formulas and recipes that balance costs, shelf life and deliver on the brand promise. "We're looking at every single recipe to see how we can meet our cleaner blending promise while also managing the cost impact and still keeping the flavor the same," Gettys says. "It doesn't matter how clean a product is, if it doesn't taste good, people aren't going to buy it."
From a flavor standpoint, it has adjusted recipes to feature ingredients such as whole fruits like mangoes and dates and introduced a proprietary stevia plant-based sweetener, a sugar substitute; adjustments that would not have been a high priority in the past. "We're looking at everything we can do within a recipe to make positive nutritional adjustmentsadjust while still maintaining the flavor," Gettys notes.
Smoothie King 3.0
The Cleaner Blending initiative is creating excitement around Smoothie King just as the company prepares to open its 1,000th store next year, an important milestone that speaks to its longevity and lasting appeal after 45 years in business.
---