Magnolia Bakery
Issue Spr 17 V1
---
Magnolia Bakery continues to expand its portfolio, emphasizing customer service as a key to its success.
Jennifer Appel and Allysa Torey launched Magnolia Bakery in New York's West Village in 1996. A few years later, Appel left the business and in 2006 Torey sold the Bakery to Steve Abrams, who teamed up with Bobbie Lloyd and re-launched the bakery one year later.
"It was the right move at the time," Lloyd says, now executive vice president of operations. "Steve and I had other businesses that we'd run together. With Magnolia, we really liked the brand and thought we could take it and do something with it."
Today, under its new leadership, the New York-based bakery is known for its festive cupcakes and banana pudding, and has nine locations in the United States and nearly 20 internationally.
"We have six locations in New York City, one in upstate New York, Chicago, Los Angeles and an event and catering location," Lloyd says. "It's not a retail store, but what we call our 'cake salon.' All of our e-commerce is shipped from that location, as well as our wedding cakes and catering."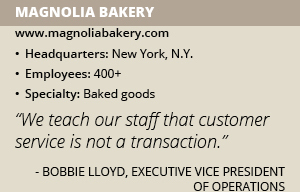 Seeing Growth
Magnolia Bakery will continue to expand its brand in 2017 with 17 locations in development internationally, including in the Philippines, Mexico City and Turkey. "We already have locations in South Korea, Kuwait, Saudi Arabia and Dubai, to name a few," Lloyd says. "In addition, we just opened a store in Jordan."
Lloyd credits that rapid growth to the bakery's franchisees, who are licensed to open more than one store. "For example, if you were to open one location right now, you might be opening two more stores in the coming year," she explains. "So those locations opening in the coming year already have existing locations. It's exponential because it can be more than one store in a country. In Saudi Arabia, for example, our franchisee believes they can open 20 stores."
Lloyd expects to open two or three stores in the United States in 2017; the key is finding the right locations first. "We want to find locations that are appropriate for us," Lloyd explains. "We'd like to open more locations in the Chicago metropolitan area, Boston, Washington, D.C., Philadelphia and Florida."
Magnolia Bakery is looking mostly along the Eastern Seaboard for new locations because it is easier to manage quality control from its headquarters in New York. "It's good to be within an hour or two of your home location. You can send people out when necessary more quickly," Lloyd says.
When it is time to look for potential locations, Lloyd says it is very important for the bakery to be in an area that caters to five business drivers: residential, business, retail, entertainment and tourism.
"A location doesn't have to have all five necessarily, but if you have a combination of all those things you hit the jackpot," she says. "Here in New York City, we are in six different neighborhoods. Not all of them have all five elements, but they all offer something enough. For example, having a residential community connected to a potential entertainment neighborhood gives you various meal periods seven days a week. So you'll get late night as well as early morning business."
Acquiring Talent
Acquiring new talent is a high priority at Magnolia Bakery. The bakery has various positions to fill – including bakers, which Lloyd calls the "heartbeat" of the business – and it heavily emphasizes customer service. "This is what I hope sets us apart from our competitors, because it is something we're constantly reaching for," Lloyd says. "Every quick-service business is competing for the same pool of people, which does not make things easy.
"That's why we teach our staff that customer service is not a transaction – guests are not coming in the store to try on a shirt. They're coming in to buy something, which is why staff has to capture customers' curiosity and enthusiasm for our brand. So I tell them all the time we're not selling cupcakes; we're selling customer service."
"Everyone from the baker to the front counter person – who is the heart and soul of our business – has to be an inherently nice person," Lloyd adds. "That's what we look for because we can teach the necessary things needed to know about running a business, but we cannot teach someone to be nice."
Cultivating Talent
Magnolia Bakery considers itself an industry leader in helping employees develop professionally. That is why the bakery offers a career path, cultivating its employees from counter person to general manager, director of training or culinary trainer – if they have a desire to grow within the company.
"It's all about their level of enthusiasm, interest in what we do, and care and concern about customer service and delivering a quality experience," Lloyd says. "Currently, I have an employee that's a general manager in our busiest store in New York City. Eight years ago she started working behind the counter while she was in school."
"We have employees who have worked with us for 15 years," she notes. "I think once they come on board they find this is a company that values their contribution. So we'll work with them in whatever way they want to grow and position for them with great opportunities in this industry, which is something we take great pride in."
Keys To Success
As a full-service, old-fashioned American sweets bakery, Magnolia Bakery has more than 200 products that have all played a part in its success. These include cakes, pies, cookies and cheesecakes, and of course its famous cupcakes.
Reflecting on the bakery's 20-year anniversary in 2015, Lloyd notes that it's the customers, many of whom are regulars, who make the bakery what it is today. "One thing that's really interesting about Magnolia Bakery, that I love, is we become part of people's life celebrations," Lloyd says. "We're the bakery you go to when you want to order a birthday, anniversary, wedding, holiday or baby shower cake.
"So we have people who have been coming to us for 20 years and they love the fact that our product remains consistent. And not only has it gotten better as the years go by, but we also stay current with what people are interested in and buy new product all the time."
Lloyd attributes the consistency of its products to the bakery's authenticity when it comes to preparing its products. "No matter where we are located in the world, we bake from scratch – flour, butter, sugar and eggs," she explains. "It's all made fresh every day in every location, and it's a very important part of who are because many other bakeries – especially when they are a chain – bake in a commissary and deliver.
"The culture of Magnolia Bakery resonates with our customers because each and every one of our bakeries still maintains the environment of a warm and friendly place, just like how we were founded," Lloyd says. "So they can come in and someone will help guide you through a product you would be interested in, even as we continue to grow. That's authentic."
---