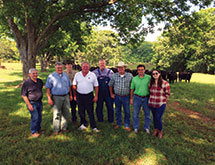 Palmetto Foodservice
Issue Summer15V2
---
Palmetto Foodservice President Peter Landskroener acknowledges the major challenges his company faces as an exporter in the food industry. "Right now, we're eating a large dose of humble pie every day because the U.S. dollar is very strong, and when you're selling expensive American beef to Europe and your dollar is 30 percent stronger against the Euro than it was 6 months ago, that makes a big difference," he says. "Along with the strong dollar the fact is that the main commodity we sell worldwide is U.S. beef, and beef prices are at a record high levels and there's no indication they're going to come down any time soon."
Those two main factors have led many of its foodservice distributors to reduce the amount of beef they're purchasing from Palmetto. Poultry products exported by the Atlanta-based company are also challenged as a result of the avian influenza virus, which has led to many countries worldwide to close their doors to poultry imports altogether. The virus closely follows previous international concerns over Mad Cow disease, some of which still linger more than 12 years after the affliction first manifested. "It's been tough, and we're working a lot harder and maybe sleeping a little less at night, but that's part of the business – we soldier on," he adds.
The company is certainly no stranger to challenges, having been formed in 2007, just before the Great Recession of 2008-09. Despite dealing with market factors that are beyond its control, the company has added to its capabilities and customer base by focusing its efforts and concentrating on service first.
"We are not cutting back our service; we just have to be more creative and find opportunities for customers as they come about," Landskroener says. "I believe that our customers know they have to trust us, because they turn to us to get the mix they want; that just takes a lot more hand holding when things are tough."
Quality Specialists
In addition to beef and poultry, Palmetto provides pork and seafood products to their customers that include some of the world's most discerning distributors. Seafood is a relatively new addition to the company's portfolio, as it was added following the recession in 2011. "Our customer base is companies that are the foreign equivalent of a Sysco or U.S. Foodservice," Landskroener says. "We live in a market segment with companies that specialize in quality and want good service from their suppliers."
The clients served by these distributors include five-star hotels, restaurants and high-end caterers.
"There's no point for a company like to work with importers that want to move volume," he explains. "Volume-driven companies are by definition very price conscious and don't look for a lot of TLC.
"Likewise, most of the larger producers that want to move volume are not set up to give the extra service that most of our customers require. We go after high-end niche companies within the hospitality industry."
Palmetto maintains close relationships with its distributor partners as well as the producers it sources meats and seafood from. The company has first-hand knowledge of the beef and many of its other products, which it has gained by visiting its suppliers multiple times and taking in-depth looks into their operations. "We don't just sell products, we know about them," Landskroener notes.
'Strive to Improve'
Despite its challenges, the company continues to grow its customer base and product portfolio. Hoben says Palmetto is pursuing new product categories that fit into its customers' existing profile including dairy and other value-added food and private-label programs.
One of the company's overarching goals is to "stay humble" in all that it does.
"On the one hand, we're proud of what we've done, but I don't think we're nearly as good as we could be," Landskroener says. "We always strive to improve."
---