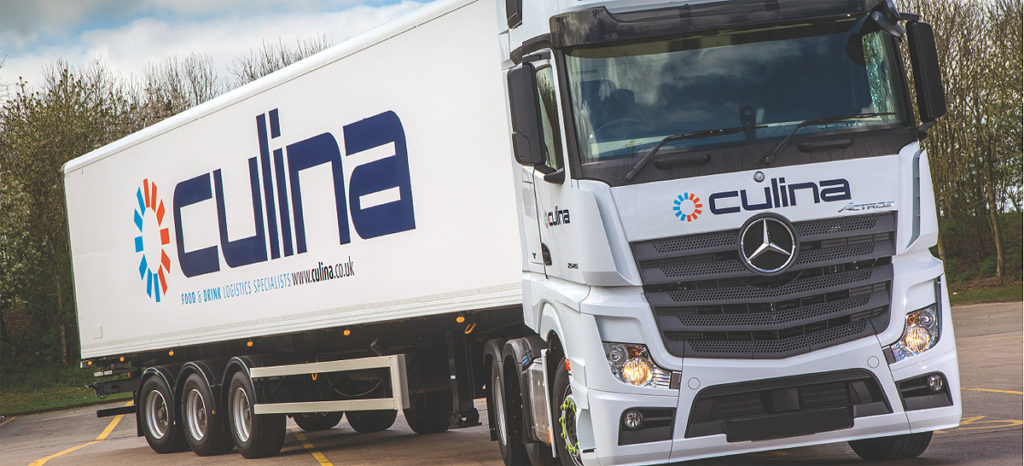 Chilled transportation
Culina Group has positioned itself at the forefront of the UK's food and drink logistics sector, thanks to multiple recent acquisitions that have increased its capabilities
A clear-cut strategy of proactive acquisition has defined Culina Group over the past several years. Most recently, in 2017, the market-leading ambient, chilled, and frozen food and drink logistics
provider successfully acquired a 75 per cent majority share of Morgan McLernon, as well as the remaining shares of CML Fulfilment – a company that had already been part of a joint venture with Culina Group since 2014. Today, the group comprises of six distinct business units – Great Bear, Culina Logistics, IPS, CML Fulfilment, Morgan LcLernon and Warrens Group which have all increased its market share considerably.
"Morgan McLernon is a leading Irish chilled and frozen distribution business, so with its acquisition, we have become the largest haulage operator in Northern Ireland and Ireland," Culina Group's CEO, Thomas van Mourik begins. "We had already been working with Morgan McLernon, as it has been a trusted partner of CML Fulfilment, so it was a natural move for us to attempt a further extension of our services in to Ireland."
The acquisition of Morgan McLernon means that Culina Group has strengthened its fleet with further 250 vehicles, including fridges, multi-temp fridges, and curtain-side trailers. The Irish company has taken pride in continuously investing in its fleet, in order to be able to offer its customers the latest in transportation technology. Having employed a Mandata transport management system, Morgan McLernon ensures that the cargo transported is reliably monitored during transportation. Furthermore, the Irish company brings additional capacity to Culina Group's total warehousing space. Morgan McLernon recently purchased a vast 7.5-acre storage site, just off the M1, boasting seven temperature-controlled storage rooms that can house over 40,000 pallets. Aside from ambient, chilled, and frozen storage, the warehousing facility also offers blast freezing and tempering to speed up the freezing process and the defrosting time, respectively.
Customer portfolio
Finalising the complete acquisition of CML Fulfilment was another strategically important move for Culina Group in 2017. The centrally-located, BRC-accredited CML warehouse in Telford covers a total of 225,000 square feet, 55,000 of which are dedicated to ambient products and the remaining 170,000 to chilled items. The ambient space is sufficient to store 3000 pallets, while the chilled area can accommodate 15,000. The facility uses state-of-the-art technology when scanning the goods that arrive in it, to ensure full traceability. The system enables customers to access key metrics, such as stock levels, order processing, and deliveries made, via a special web interface.
Over the course of its history, CML has developed a hefty customer portfolio. The business unit is capable of servicing both large PLCs that supply 300-400 pallets every week, and sole traders with much smaller volumes. CML tailors individual logistics packages to meet the requirements of every client. Among the core services offered by the company are collection of pallets and
delivery to the CML warehouse, storage, provision of daily and weekly stock reports, pallet picking, pallet labelling, provision of delivery paperwork, and final delivery to the customer's desired point.
Strategic acquisitions
As mentioned earlier, CML partners with Morgan McLernon to ensure that clients always get their cargo delivered on time and in full. Since delays are unacceptable, CML has taken the necessary steps to maintain a fleet of vehicles, all of which are under four years old, therefore modern and reliable. Culina Group does not forget its sustainability responsibilities, either, and the recently-added vehicles to its fleet were purchased with the 'Let's Go Green' slogan in mind. Moreover, a detailed route optimisation system is in place to make sure that the loads are distributed in the most fuel-efficient manner possible, thus reducing harmful emissions.
"Another major highlight for us was the completion of the agreement to enter a joint venture with Warrens Group," Thomas points out. "We took the majority share of 75 per cent of the business, which specialises in warehousing and distribution of baked goods, such as bread, cakes, and patisseries, and is a leader in its market area." The acquisition of Warrens Group inevitably strengthens Culina Group's position in the marketplace, and will also enable it to further improve its already excellent relationships with outlets like Tesco and Sainsbury's, as they have both been long-established clients of Warrens Group.
Thomas goes on to explain why Culina Group approached Warrens Group. "It operates in a sector we were not part of. In this situation, a company like ours has a choice to make – we either grow organically or via the acquisition of a business that has already specialised in the given area. Most companies have never heard of Warrens Group, but coincidentally, at the time of the deal, it appeared on Motor Transport's top 100 list of the largest third-party logistics operators in the UK, at number 72. The interest in Warrens Group then began to rise, but it was too late for our competitors, and we were able to close the deal, and the new joint venture presents us with a platform to further grow the sector."
Extensive facilities
Warrens Group has built nearly 60 years of experience in transportation and storage for a range of international blue-chip clients. The third-party logistics business owns and operates a fleet of 114 tractor units and 150 trailers that will now be at Culina Group's disposal. It also manages a warehouse facility divided across five units, covering a total space of over 250,000 square feet with a variety of racked, stacked, and mixed layouts utilising covered loading bays with level access and dock levellers. The company uses cutting-edge technology to manage customer accounts via its Warehouse Management System (WMS), which utilises electronic data interchange (EDI), barcode, and radio frequency capabilities, as well as an automated reporting system that can be customised to meet various interface requirements. Furthermore, the entire WMS function is backed up with high-speed fibre connectivity to ensure data integrity and prevent loss of information.
Future plans
In 2016, Culina Group acquired Great Bear, which whetted the company's appetite to expand its ambient logistics business. "We had a reasonably successful business – Culina Ambient, but it was not big enough to compete with the likes of DHL and XPO, so the best thing we could do, was to buy Great Bear – a business with fantastic reputation and a good customer base," Thomas comments. "We saw the operation as a way of taking our ambient business forward and now, we continue to seek further acquisition opportunities to develop it further.
"We are already running out of space and at the same time, we have received some serious enquiries for our services in the chilled segment, so we are definitely moving to our new site by the end of 2018," he reveals Culina Group's infrastructure plans, with regards to the development of Culina Logistics – the chilled food and drinks division of the business. The £38-million investment will turn the new multi-user warehousing and distribution facility into the UK's largest. At the moment, Culina Logistics runs eight strategically-located chilled warehouses across the UK, providing over 100,000 pallet spaces, whilst delivering some 1.5 million cases every day.
In total, Culina Group manages close to 60 depots, covering a total space of more than eight million square feet across the UK. Following the recent acquisitions, the company's fleet has reached the impressive figures of over 1000 trucks and more than 2500 trailers. The presence of this astonishing capacity has enabled Culina Group to reach a turnover of almost £600 million. Thomas discusses his ambitious plans for the company. "With the latest additions to the company, first and foremost, we are working hard to find synergies and consolidate certain bits of our network, so this is going to be our main focus for the rest of 2018. We are also seeing that stock levels are generally going up, caused by the uncertainty around Brexit. Our customers are trying to make sure that they are in the best possible position to service their own customers, i.e., the end user, so we need to attend to that, too, in the coming months."