Goodnight Brothers sets itself apart with its services and its all-natural, dry-cured country hams.
When Goodnight Brothers' clients have a need, the company makes sure to act fast. "We jump on it immediately," Vice President and General Manager Bill Goodnight declares. "You build a long-term, lifelong customer [by delivering] beyond what they might expect."
Based in Boone, N.C., Goodnight Brothers cures, ages, de-bones, slices and packs country hams for the foodservice and retail industries. Goodnight runs the company with his first cousin, President Jim Goodnight.
Food & Drink International had the opportunity to sit down with Bill Goodnight, who explained to us that the company started operations in the 1930s, and originally focused on produce. But the firm started curing hams in the late 1940s to allow its employees to work all year round.
"We would take the hams in the natural environment and cure them," he says, adding that refrigeration technology has given Goodnight Brothers the ability to have more control and speed up its processes.
"Now we have a winter room, a spring room, and a summer room which we move the hams throughout," Goodnight describes. "We're duplicating the natural seasons."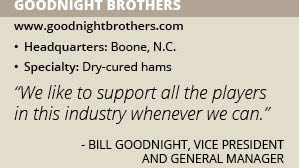 All Natural
Today, Goodnight Brothers serves almost all the foodservice distributors in the southeastern United States, including Sysco Corp. and US Foods Inc. One factor that has made Goodnight Brothers so successful is its focus on quality and food safety.
This has driven the company to participate in the GFSI by becoming BRC Certified. This is in addition to its HACCP plan. "Customers are going to demand [BRC] before they even look at your product," Operations Manager Rodney Farthing says.
Goodnight Brothers also sells all-natural ham products that are raised without any antibiotics. "We don't use any synthetic nitrates," Bill Goodnight says. "We also use celery powder to cure the ham to make it sustainable."
This gives customers something besides "the normal run-of-the-mill ham," Farthing says. "There's a niche for that because not many people do it."
But the company is preparing to diversify its line beyond ham, with products such as dry cured bacon. "There's only a handful of people in the country doing it," Goodnight says. "Ours is hand rubbed and [produced] the old-fashioned way."
Valuable Relationships
Goodnight Brothers operates from a 50,000-square-foot plant in Boone, where temperatures are kept at 50 degrees F and employees work six days a week during busy seasons. "We're probably one of the top 10 employers in the county," Bill Goodnight says.
The company strongly values its relationship with its team, which includes many who have decades with Goodnight Brothers. For example, Goodnight himself has 39 years with his family's firm, and Farthing has 42. "We also have 25 employees who have been here 12 years or longer," Goodnight adds.
Goodnight Brothers has earned this loyalty by taking care of its people and always being open to them. "We listen to their input," he says, noting that this has instilled pride in its employees.
Farthing agrees. "At a lot of companies, your thoughts or ideas don't get the attention they should," he says, but asserts that its employees are valued at Goodnight Brothers. "[Our people] put a lot of trust in their supervisors."
After its employees, the company's most valuable assets are its relationships with supplier partners Villari Brothers, Clemons Food Group, Smithfield Packing, VC999, Packaging Solutions and The Grote Co., to name a few. "Without the strong relationships we have with our suppliers, we would not be nearly as successful," Goodnight admits.
Connections to the community also are an important focus for Goodnight Brothers, which has partnered with Appalachian State University. The company sponsors the Goodnight Family Sustainable Development Program at the University.
This supports students who are earning a degree in sustainability and similar areas of study. "It's all about trying to lessen the footprint you put down," Goodnight says.
Big Growth
Bill Goodnight sees a strong future for his family's company as it diversifies into all-natural bacon. "All natural is going to be our big growth area, [with products] raised without antibiotics that are animal welfare approved," he says. "That seems to be our niche."
Sales Manager Tony Snow adds that the company will continue supporting its industry, through its membership in organizations like the National Country Ham Association. "Bill and I have been advocates for promoting our industry," he says.
"We support our industry," Goodnight says, adding that the company even helps its competitors by selling them excess biproducts. "Also, if we are short on whole hams to de-bone and slice, we often can rely on competitors to sell us whole hams."