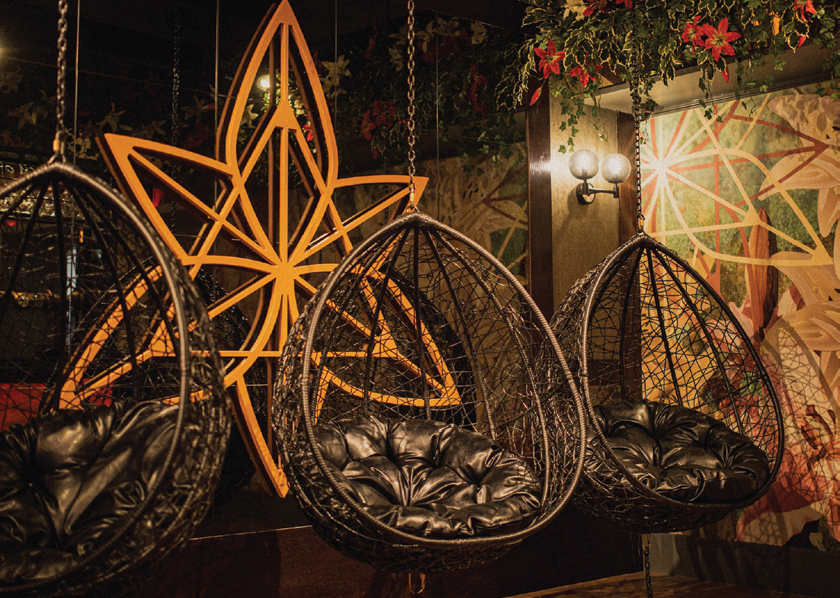 A family affair
Since 1991, Malhotra Group – led by two generations of the Malhotra family – has grown rapidly across the North East of England, and in 2019 its programme of exciting hotel, restaurant and care home developments is reaching unprecedented heights
It was approximately one year ago that FoodChain excitedly showcased the activities of Malhotra Group, one of the North East of England's leading real estate developers, responsible for an ever-increasing portfolio of hotels, restaurants, bars and care homes. At that time, one of the most significant developments on the company's slate – amongst countless other examples – was its
proposed £35 million programme to transform a number of Grade 2 listed buildings on Newcastle's Grey Street into a 'One Stop Shop' of leisure sites to provide a large hotel, night clubs, bars and restaurants. It is in Grey Street where the company's existing 49-bedroom Grey Street Hotel has recently had a face lift with a £1.2 million refurbishment and development programme, highlighted by the re-design of its bedrooms, the addition of newly created conference facilities, and the opening of a purpose-built urban beauty spa called All About You.
Speaking with Malhotra Group's Operations Director, and second generation member of the Malhotra family, Atul Malhotra in mid-September 2019, we found him only days away from the opening of Grey Street's newest must-visit location. "In the coming days, we will be opening our new showpiece bar, restaurant and club, Leila Lily's," he reveals. "Located in the listed building that previously housed The Living Room, and connected to the Grey Street Hotel, it is named after my two-year old daughter (the club will bear the name '2-1-2') and we intend it to be the group's food & beverage flagship for the city centre.
"With Leila Lily's, we have created a unique dining experience unlike anything else in Newcastle, somewhere customers can enjoy high end food with a hint of theatre, but at affordable prices. The feedback we have received thus far from our soft launches has been excellent and very humbling, so we are incredibly excited to have created something that we feel will be unrivalled in the city. What it also means is that, across one complex, we now have a first-class hotel, spa, restaurant with live music, bar and a club, which means we can cater for all moods and tastes."
Multi-million pound project
The opening of Leila Lily's comes after an eventful 12 months for the Malhotra Group. At the end of 2018, for example, the group began the process of redeveloping the hugely popular Three Mile Inn in Gosforth. "The site includes a complete refurbishment of the bar and restaurant, and the addition of a 64-bedded hotel, with conference and event facilities, and reception area," Atul continues. "The new family-friendly restaurant – dubbed the Pizza Dough Co. – will take inspiration from American-style pizza restaurants, with meals being prepared and cooked in a state-of-the-art, £40,000 clay oven with rotating plates. Inside, cooking temperatures will reach up to 320°C, with fresh pizza ready in as little as two minutes.
"Meanwhile, the hotel, which will be called The Great North Hotel, will almost certainly become a sought-after destination for all manner of guests. Located just ten minutes from the city centre and close to motorway transport links, it will be a great option for both corporate and leisure guests. Throughout the entire redevelopment process, which represents investment totalling the best part of £9 million, we are also ensuring that the end result 31incorporates the traditions and history of The Three Mile Inn, which has been a much-loved destination for more than 30 years, and will continue to be so in the future."
Exciting developments
Another key project occurring within the group's hotel redevelopment portfolio is the 'Jesmond Block' development. Here work is being split into several phases. The first has already begun with the launch of the exciting new tapas restaurant, El Paso in 2018, on the site of the former Scalini's Jesmond venue, while the second and third involve the addition of a multi-purpose gaming bar, 'Eat Chill Play', which will feature a two-lane bowling alley, pool and fuse ball tables, and a gaming corner, and a decadent gin bar, Jesmond Gin House. Last, but by no means least, the adjoining New Northumbria Hotel will enjoy a complete remodelling and refurbishment of the entire rear elevation of the building.
Brand new care home
In addition to the above detailed projects, Malhotra Group's care home operations continue at pace, with the market town of Alnwick being a site of particular interest. "It is here," Atul says, "that we added the thirteenth care home to our portfolio in the form of the 50-bed Hillcrest Nursing Home in January this year, and where we are at the advanced stage of building a brand new, purpose
built 86-bed care home to be called Beech Tree House." Once complete, this fantastic new care facility will provide nursing and residential care, catering for Young Physically Disabled (YPD), Bariatric and Dementia, as well as general nursing residents. Their new 66 bed care facility in Ryhope, Sunderland is also well underway to open in the early Summer of 2020, and in the New Year they will commence the development of a 83 bed care facility in Whitley Bay.
Strong values
It is probably clear by now for all to see that Malhotra Group today finds itself in the midst of a massive construction and development drive, and this is expected to continue across its care home and leisure property portfolios over the next five years. With this, inevitably, the group will be looking to bring more people into the business in that time frame, with employee numbers projected to increase from 1200 at present, to around 2000.
This topic arose at a convenient time during our conversation, with Atul having just attended the annual Malhotra Group Staff Awards the weekend prior. "For the last three years, we have held our awards event, where we invite around 100 people who have been nominated by one or more of their peers to receive recognition for their efforts, and to enjoy a three-course meal and entertainment in celebration of their achievements," he details. "More and more each year, I come away from these events impressed with the loyalty, commitment and hard work of all of our people, which I believe are qualities you just can't buy.
"To this day, we remain a loyal family-run business built on strong values, and we know that we would be nothing without our staff. Equally, we understand that if we look after these same people, giving them equal degrees of autonomy and accountability in the process, then they will look after us. It is a simple philosophy that we have, but the results are there for all to see."