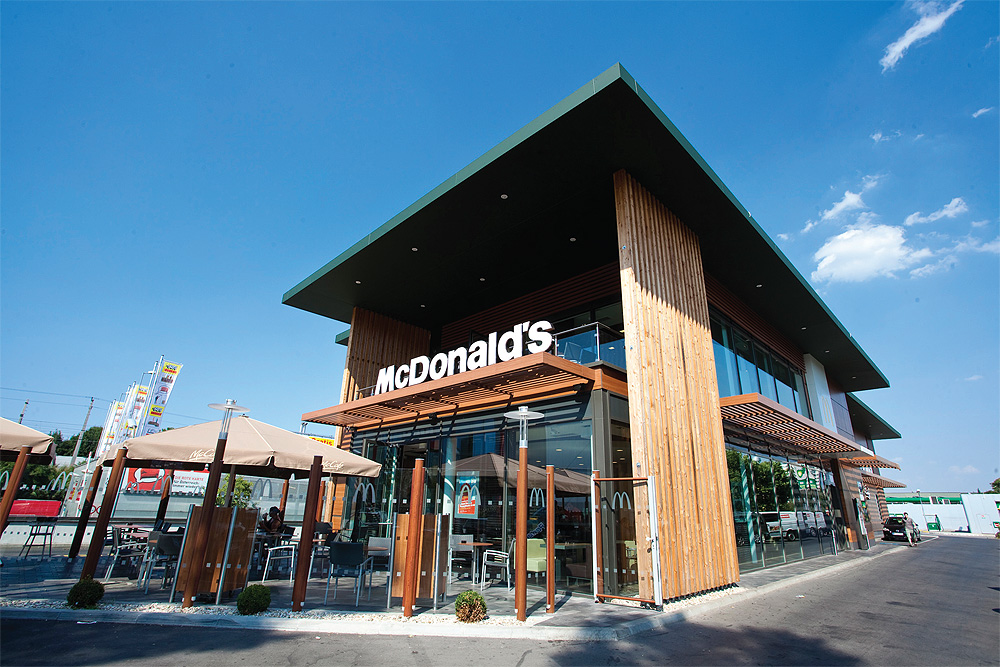 Food for thought
McDonald's Austria is continuing to make great strides in both its menu offering, and its corporate responsibility agenda
The 'Golden Arches' of the McDonald's Corporation is one of the most ubiquitous brands in the world. As the world's largest chain of hamburger fast food restaurants, McDonald's serves over 60 million customers every day in 119 countries. One of these regional franchises is McDonald's Austria, which first opened in 1977 on Vienna's Schwarzenbergplatz. Over the last 35 years this has expanded to include 179 restaurants, including a number of franchisees, and 143 McCafé outlets. Last year represented the most successful ever in the company's history in Austria with sales of € 515 million and 153 million customers served.


Corporate responsibility
"As in the years before, our focus is on offering a perfect restaurant experience for customers and employees, broadening our menu and supporting a balanced lifestyle of our guests. Beside this it's very important for us to act as a responsible employer and to sustain our corporate responsibility (CR) activities," notes Andreas Schwerla, MD.
In recognition of this ambition, over the last few years McDonald's Austria has invested around € 150 million into new restaurants, and an extensive remodeling programme of all existing branches, which has been running since 2006. The business has also embraced the McCafé concept, which is based upon a more coffee-house style offering. Such growth is intended to continue with plans for between five and ten new restaurants, including McCafé branches, this year.
Since 2010 McDonald's Austria has also been promoting its entirely new 'easy morning' breakfast menu. This consists of a number of special items including the Bacon McMuffin, McToast, and McCroissant, as well as an innovative sweet-baked pancake product known as the McGriddles Sweet. Broadening variety is a theme across the entire menu boards, as McDonald's Austria continues to respond to changing consumer tastes and trends. One example of this is the launch of the company's new range of wraps, which mirrors the increasing popularity of such items. In terms of new meal concepts planned for 2012 Andreas comments: "There are plans for a lot of new products, beginning with a new premium salad at the end of April. Following this there will be many new burgers, wraps, and McCafé sweets making their ways onto the menu."
The drive to keep up with consumer habits is not just restricted to food products though. McDonald's Austria has also invested substantially in new services such as self-order kiosks, and cashless payments that are becoming more common across all types of industry. As with many other McDonald's companies across the globe, the business is currently working on a concept for mobile ordering that is expected to be launched in the fourth quarter of 2012.
This year also sees McDonald's Austria once again re-focusing and evolving its CR standpoint, which has long been integral to its business model. "Corporate responsibility has been part of McDonald's strategy and business since it was founded in the 1950s," notes Andreas. "We live and integrate the philosophy of our founder, Ray Kroc, in our daily business – in an economic, ecological and ethical way. For us it is self-evident to act like this, and also being a kind of role model to animate other companies to work in this way. It's an ongoing process based on the four pillars – social responsibility, employees, environment, and quality."
Environmental initiatives
The company undertakes a vast number of social and environmental initiatives to help the local and national region, including the use of locally sourced ingredients wherever possible. As a result, McDonald's Austria now works with a quarter of all farms in Austria, including 50,000 beef farms. Another major stride has been in the development of the company's own recycling system, which is now entering its 20th year, and significantly, a movement to the use of 100 per cent green-sourced energy. "This forms part of our CR strategy where we intended to have a prompt change over to the use of renewable energy. As such, since the beginning of 2011 we have operated only using 100 per cent energy from renewable sources produced in Austria. In the long-term we are working on different projects such as photovoltaic, wind power, and other concepts," elaborates Andreas.
A continuing commitment to improvement in every facet of the business has over the course of three decades consistently placed McDonald's Austria as a leader in quality convenience foods in its market. By the same token, the company is unswerving in its dedication to provide a modern and contemporary dining experience that compliments the desires of the customer. "As we have a lot of ideas and concepts for broadening our offer I feel confident that the coming years will be very successful, based upon ongoing investment by the company and our franchisees," reveals Andreas.