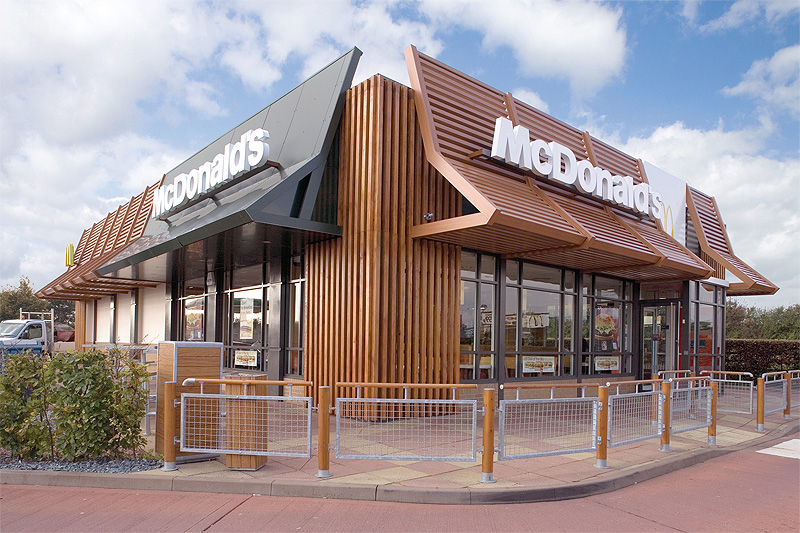 Designed to last
McDonald's Europe is still undergoing a major investment programme whilst ensuring its commitment to reducing its carbon footprint is not compromised
It was only in 1971 when McDonald's opened its first European restaurant in the Netherlands. Today, almost 40 years on, McDonald's Europe employs 375,000 people and boasts a portfolio of 6800 restaurants in 39 countries, serving over 13 million customers a day. With such a strong growth through the years, McDonald's Europe is the second largest contributor to sales and profitability for McDonald's after the US and accounts for around 40 per cent of total operating income. In the first half of 2010, McDonald's Europe grew its sales by 5.2 per cent and demonstrated continued performance right across its European business. This is part of a five-year sustained performance and further opportunities for growth in the mature market as well as in central and Eastern Europe.


While the economic situation remains a challenge, McDonald's Europe continues to see increasing visits from customers and, as a result, a continuous increase in its share of the Informal Eating Out (IEO) market. In the second quarter of 2010, it served 50 million more customers than it did in the same period in 2009.
Staying true to its commitment of continuously investing in the business, in 2010 alone McDonald's Europe will invest a record amount of $1.2 billion – 50 per cent of the total global investment of the company. It will predominantly be spent on reinvestment and new restaurants, with most of the reinvestment going to reimaging including interiors, exteriors and reimaging with McCafés. By the end of 2010, McDonald's Europe will have opened about 250 new restaurants and remodelled more than 1100 additional stores.
Pierre Woreczek, senior vice-president & chief brand & strategy officer, McDonald's Europe commented: "Our purpose is to constantly 'capture the higher ground' and to re-write the expectations of our customers. Our restaurants stand for bringing people together in a modern lifestyle destination. Being creative in the way we present ourselves is therefore key to the future of our business. Design is one of the most tangible and impactful ways of demonstrating our strategy to move from 'fast food' to 'good food fast'. Across Europe 64 per cent of our restaurants have been reimaged and by the end of 2010 we want to take that to 78 per cent, by delivering over 1100 remodels and 250 new stores."
The six new designs for 2010 are built on the widely successful formula of making consistent and innovative designs. These designs created by Philippe Avanzi at the central Design Studio in Paris, are available to all European markets. One of these six sophisticated designs are then chosen in an individual restaurant location against a matrix of factors including location, demography, geography and economic conditions, accelerating McDonald's pace of differentiation in Europe.
One of the most successful design concepts, LIM (Less is More) saw two new variants in 2010. LIM Food and LIM Extreme are built on the same foundations as the previous LIM design formula, and are showcasing the essence of the McDonald's brand. LIM Food has been created to celebrate the food. The purpose with LIM, is never to be perceived to be too 'serious'. By combining food and people in the imagery, it reinforces McDonald's connections with the diversity of customers it serves every day.
In Europe today, the concept has been applied in Lisbon, on the Champs Elysees in Paris, and in Switzerland. Like LIM Food, LIM Extreme builds on the core elements of the original concept with the now familiar Nest, Bird and Bee chairs, the round suspended lights and the typical slatted partitions. With LIM Extreme the design approach that has been taken to 'stretch' the concept. The furniture colours and finishings that have been applied are 'pure', 'crisp' and 'clean'. The graphic images that are used portray the exact opposite. Graffiti and 'grunge', the epitome of urban art culture. Pierre adds: "The LIM Extreme concept is a reflection of the street outside the door of the restaurant. Its soul, its attitude and the multi-cultural mix, brought together through a modern medium of expression. It's a mirror image of the influences on the life of today's customer in urban locations – ever strengthening the bonds that we can develop by building relevant connections through differentiating ourselves, with a bit of fun thrown into the mix."
Continuing, Pierre states: "Our vision of moving towards 'good food fast' includes being committed to 'doing things right' and 'doing the right things'. We will continue to look to reduce the environmental impact in our own operations. We will focus on energy, water, packaging, waste and littering – continuing to leverage our pan-European initiatives such as energy efficient equipment, green building guidelines for new restaurants or recycling guidelines in all of these areas. We are exploring the potential of using green energy. We will continue to look to reduce our indirect environmental impact through working with our suppliers with programmes that address the many environmental, ethical and economic aspects involved.
"For the last two years we have been working to establish a common methodology to assess our carbon footprint across Europe and we have just completed a wide ranging carbon footprint measurement. This has taken into account the entire scope of our business including both direct and indirect impacts such as from our restaurant operations right through our supply chain to the farms that supply us. Going forward this measurement system will enable us to track and tackle our direct and indirect impact on greenhouse gas (GHG) emissions," he concludes.