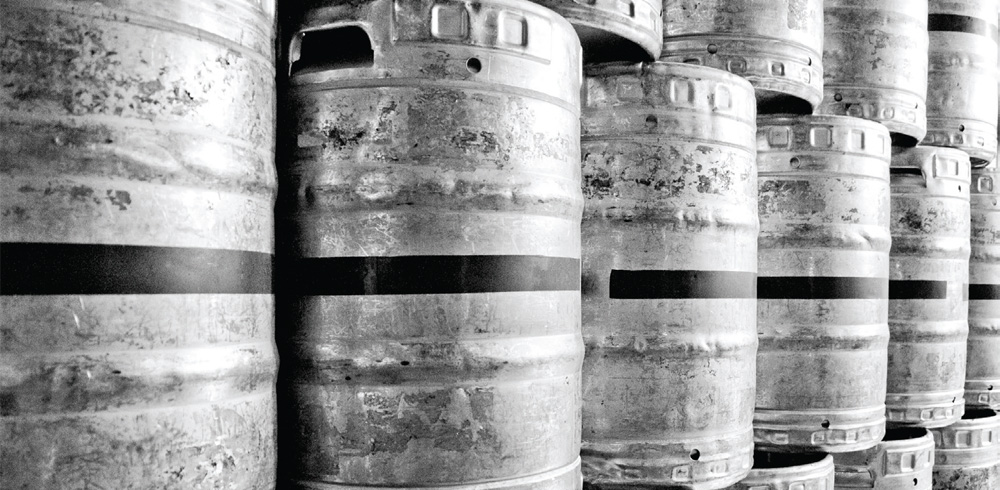 Cask masters
Proud to be supporting the brewing industry, Morrow Brothers has continuously improved its business, with a new kegging-filling operation next on the agenda
Already a world leader in cask and keg refurbishment, when FoodChain last spoke to Morrow Brothers in late 2015, the company was in the very early stages of its new venture, Morrow Brothers Packaging Ltd. The new business includes a new facility, based in Buckshaw Village and operates as a contract bottling plant providing bottling, labelling and packaging services, as well as further distributing products for speciality beverage manufacturers.
The company founders Alan, Kieron and Liam Morrow believe that Morrow Brothers Packaging Ltd is a natural diversification from its roots in the repair and refurbishment of kegs and casks. They spent two years dedicating themselves to market research in order to ensure they could provide the highest standard of service to customers, with a primary focus being on maintaining the characteristics of the beer sent to the plant, as well as achieving high quality and consistency with low losses when filling. The plant is set up to eliminate dissolved oxygen contamination and process the beer as efficiently as possible. Since opening, the production team at Morrow Brothers has managed to reduce losses for customers to well below five per cent on average and on recent regular runs losses have been zero. Such low losses have been achieved on run sizes between 10 BBL and 100 BBL. With a laboratory on site Morrow is even able to provide a full analysis service
along with specified carbonation and filtration levels, offering a bespoke service to all customers.
Having a high quality production plant is one thing, but efficiency is really the key factor as that is what makes bottling worthwhile for brewers of all sizes. As Morrow's client Seven Bro7hers Brewery stated on its website: 'We really struggled to find a packaging partner with the high standards we sought. Having had a bad experience at two other companies we were reluctant to go down the contractor route for a third time. After visiting the Morrow Brothers plant and meeting the team of people our fears were allayed. The beer they packaged for us not only tastes fantastic in pack but they provided us with 100 per cent of it back therefore saving us a significant amount.'
Having now been in business for almost a year, Morrow Brothers Packaging has firmly established itself as one of the leading contract fillers for microbreweries within the UK, and its plans for expansion keep growing. As Liam Morrrow told FoodChain previously: "The next phase will be to offer our own contract kegging facility, which is an obvious fit with our keg business. This will enable us to provide the keg while the customer supplies the beer, once the keg is full it can be delivered to wherever it is required." Twelve months on and at time of writing the new kegging operation is just weeks away from launching.
While the new businesses are demanding a lot of attention, the heart of Morrow Brother's success lies in its repair and refurbishing services for kegs and casks within the brewing industry. Indeed, when the business was founded in 1969 Alan and David Morrow really created the British keg and cask repair sector. "What previously happened when kegs or casks began to leak is that they were sent to the manufacturer and exchanged at scrap value on a pro rata basis against the purchase of new ones. This was fairly inefficient and not very economical compared to repair and reconditioning," explained Liam when he last spoke to FoodChain. Seeing that this process could be improved, the Morrow Brothers created a service where stainless steel and aluminium kegs and casks could be repaired and refurbished. "A further benefit of this, although this was perhaps not as considered during the 1960s, is that it is also a relatively green approach," added Liam.
Unparalleled reputation
This trend for innovation continued as the company evolved – in 1988 Morrow Brothers started selling new stainless steel kegs and became market leaders in the UK and a year later it introduced the Boetzkes tamper evident snapcap to the UK. A decade later, Morrow Brothers became UK agents for GEA Till, and has been successful in selling over £25m of keg systems in the UK. The company now offers additional services including cask and keg sales, cleaning, and rebranding. The business has continued to grow through industry trends of growth and decline and today employs 40 people across its three sites.
Since its foundation, Morrow Brothers has established an unparalleled reputation in the UK and also now exports to all major continents around the world. Over the past decades many millions of containers have been processed through its factory and hundreds of breweries have been satisfied with the best quality and service in the industry. Going forwards, Morrow Brothers Ltd will continue develop its service offering and consider new investments that will enable it to further support the brewing industry.