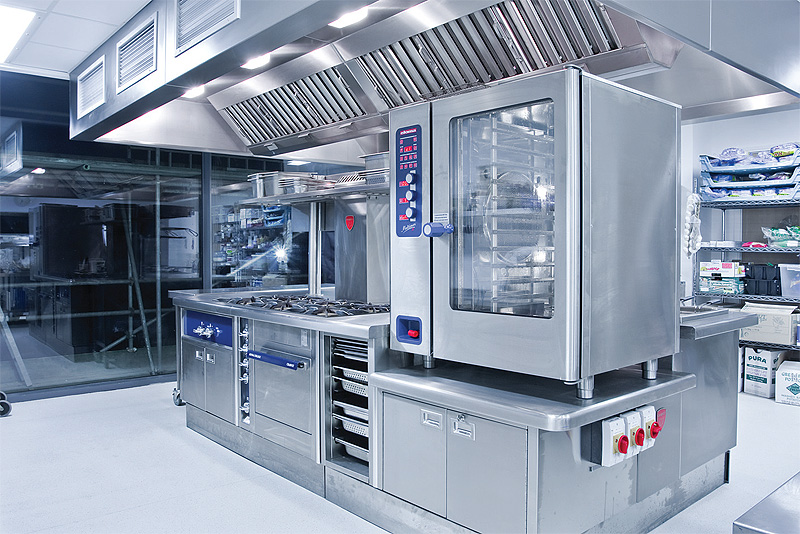 Vision Commercial Kitchens
Designed to stand out
Boasting a string of prestigious awards, a recent successful project proves a further accolade to Vision Commercial Kitchens' capabilities
When four like-minded individuals, with vast combined experience within the commercial kitchen industry and in their own fields of expertise, got together in 2002, they realised they all shared the same vision – to offer clients a much more focused concept of what they believed the industry was capable of. Driven by this dream, Jack Sharkey, Craig Forrester, Phil Shea and Chris Rouine formed Vision Commercial Kitchens Ltd.
Speaking from his office in Manchester, Jack Sharkey, the managing director of Vision Commercial Kitchens, comments: "Today, Vision has grown to a £9 million turnover company and is one of the largest businesses in the UK designing, planning and installing commercial kitchens. With a varied and impressive client base, covering a wide selection of market sectors across the UK including restaurants, hotels, schools, colleges, nursing homes, hospitals and garden centres, we offer our clients a broad spectrum of services ranging from single equipment replacement to a full turnkey facility, and everything in between, with access to all major equipment manufacturers in the industry and a comprehensive network of service and installation engineers across the UK."
Offering full AutoCAD design and planning services, project management and installation and full after-sales service and warranty management, Vision's unrivalled capabilities are proven across a wide range of successfully completed projects with leading names in the industry such as the De Vere Group, Malmaison, Hotel Du Vin, Leon, The Marriott Group and various local authorities as well as numerous main contractors working in both the private and public sector.
Always working on a number of projects simultaneously, Jack highlights one of the most recent projects that had been successfully completed: "We have been working on Searcy's restaurant at St Pancras Station in London since the back end of 2007. The client was looking for a kitchen that was both functional and practical, with a minimum life expectancy of 15 years and able to deliver to a busy restaurant that runs from 7am to late into the night. This was probably one of the largest projects we have recently completed. It was also one of the most challenging and demanding in terms of the stringent health and safety regulations at the station that we had to comply to. The delivery schedules were also very rigid so we were only able to deliver equipment and materials at specific times. We were selected for our track record in delivering projects as well as our expertise in back of house planning and provision of equipment for such a heavy duty kitchen."


Commenting in a press release on the success of St Pancras Grand Restaurant, CEO of Searcy's, Duncan Ackery stated: "The restaurant will be feeding 800 people per day, and without the right equipment you can't control your food cost effectively. In this day and age with food prices on the increase, recruitment a constant issue and the cost of replacing breakages hugely expensive, we needed to bring in a professional outfit. When I approached Vision, they came back with what I thought was a cracking proposition, admittedly higher spec'd and a little more expensive than other quotes, but using Rourge kit from exclusive ranges means that what's in there today being hammered during our soft opening, will still be there in ten years' time. Appointing a high quality operator like Vision was absolutely the right choice."
Duncan continued to back the decision made in selecting Vision: "Despite the fact that the project was in London and Vision is based in the North West, distance posed no barrier at all, with electronic communications being what they are today and with Vision's digital capabilities, it was very easy to review plans and move forward. On a project as complex as this, it is expected that handing over the station that had been initially run by a construction team to a second team would more than likely bring about added challenges. However, despite switching communications between teams mid stream, Vision had still been able to, in these difficult circumstances, deliver in every aspect.
"I strongly believe that if you're building a restaurant that has every opportunity of cutting through on the London restaurant scene, it's false economy not to use a great kitchen design company like Vision. Choosing Vision means that should anything happen, I know I can rely on them to sort it out – it's that back up that makes a huge difference."
If awards further spell out a company's competence and success, then Vision stands unmatched. A member of CEDA (Catering Equipment Distributors Association), Vision's work in Malmaison Oxford Castle was shortlisted in the large project category and highly commended for in 2006, while it managed to scoop the outstanding customer service award for its work with Malmaison Hotels and Heathcotes restaurants, as well as the overall Grand Prix Awards in 2007. One of Vision's most prestigious and significant projects was De Vere Deluxe Hotels' Cameron House that won it the CEDA Best Sustainable Kitchen 2008, and in January 2009, this project won Vision the Best Installation in 2008 at the Caterer and Hotelkeeper Equipment and Supplies Awards. Vision's commitment to quality and excellence is further highlighted with it still being one of the very few companies in the commercial kitchen market that is accredited to ISO 9001:2000, having held this standard for over six years.
Although he has all the accolades to be proud of, Jack isn't complacent. He concludes: "In the current market, you've got to be proactive as no one can afford to sit on their laurels. We strongly believe that we don't have problems, just challenges that we have yet to overcome. Looking to the future, we want to be able to consolidate our growth, and enhance what we currently do and offer. Our main plan is to continue to deliver the excellent customer and after-sales service that we have gained an unrivalled reputation for and to continuously work closely with our partners to improve as well as enhance that reputation."