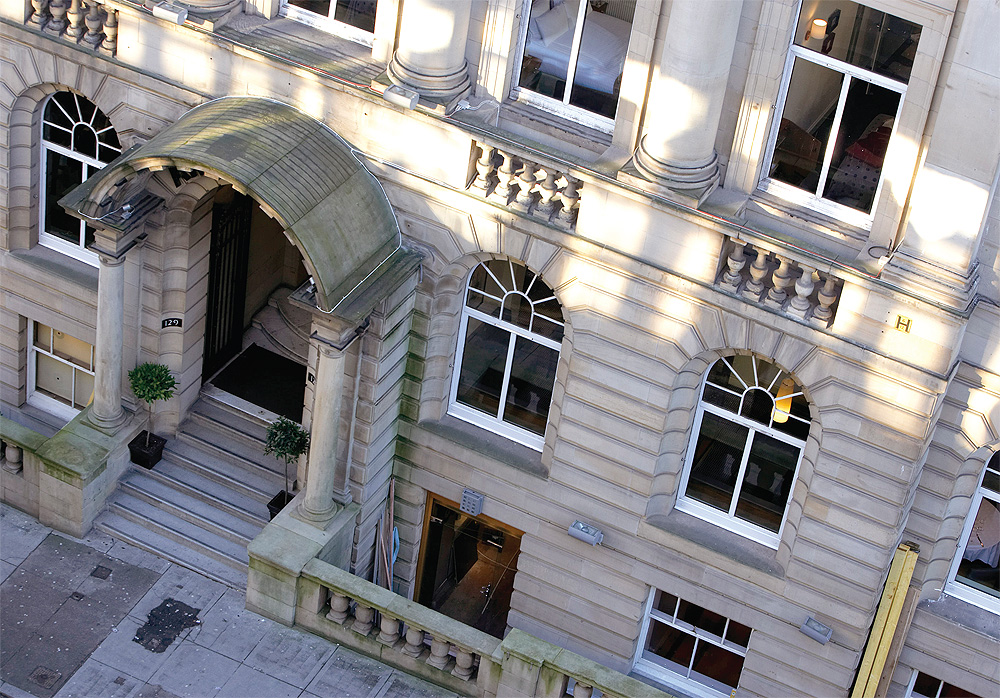 An accommodating stay
Offering a combination of sumptuous food from a Michelin-starred chef, and outstanding comfort with a modern edge, ABode Hotels please even the most discerning guests
'I'm only interested in creating hotels in locations where I would like to stay myself – ABode should be in the very heart of a city or town," claims hotelier Andrew Brownsword who, with two-Michelin-starred chef Michael Caines, established the highly respected brand that has spawned a small but increasing collection of successful hotels.
A result of that strong partnership, each of the four ABode Hotels are the combined visions of creating boutique lodgings with a top chef at the helm of ABode's ambitious platform for food and drink.


Since it was established in 2005, the company has grown steadily, as managing director Nick Halliday reveals: "Exeter was the location for our first hotel, followed by Glasgow, Canterbury and Manchester properties in each subsequent year. We're not looking to grow much beyond 12 to 15 hotels – situated in key provincial and city sites across the UK – and rather than being fixed, our model is inspired by each location. The character of the building we acquire or build is important and we want to be at the heart of the places we target."
The most recent development in ABode's growing collection of lifestyle hotels was the property in Manchester and the refurbishment of that grade II-listed building retained many of the its original features. Speaking about the fourth addition to the company's portfolio, Nick says: "Our Manchester hotel, launched in May 2008, is in one of the UK's leading cities and the hotel's Piccadilly location is an up and coming area. It's a competitive city for hospitality but Manchester is full of people looking to be entertained. It has an exciting range of eating options – we have a café/bar offering al fresco dining, and a fine dining/champagne bar. Architecturally, the building is one of the nicest in the area and dates back to 1870 so we've done well to acquire such a unique building in a great location."
ABode has an exclusive draw in the form of revered chef Michael who acts as head of food and beverages, and believes the hotels' menus are tantalising enough to bring in those who aren't even lodging at the venues: "As a boutique chain of hotels with key footholds in city centres, we make the most of the food and beverage opportunities we see. Our outlets differ greatly, from taverns and café/bars to fine dining restaurants and champagne bars so as to fit different markets. We always try to use locally produced, regional food and everything is made on the premises. Great food and drink is at the heart of our service – we offer superb menus alongside the fantastic rooms and wonderful service so guests don't need to leave the hotel to eat. This helps us to attract non-resident trade into the property to enjoy the space and cuisine."
In keeping with the individuality of each hotel, Michael works closely with local suppliers and employs local chefs to ensure each ABode has its own personality, in harmony with its location. Considering Michael's reputation, a high degree of creativity is anticipated and guests look forward to sampling his own, and his protégée's, culinary treats. "My name brings a lot of interest but I don't shy away from that pressure to perform. There is an element of expectation that comes with that and we make some signature dishes, such as boudin of chicken mousse, but at the same time we allow our chefs to be creative. They're encouraged to come up with ideas and partake in forming recipes and menus.Everyone is involved in d eveloping and tasting, and my job is to nurture the talent, ensuring staff are looking at the right elements on the plate and service the market appropriately with the right product."
Developing its workforce is vital as ABode's staff have a direct affect on its reputation. Michael believes that the company is only as good as the staff it employs so it needs to nurture both its employees and the talent in each hotel'schefs to give everyone a sense of longterm future prospects. "We're lucky in that we attract staff that care about customer service and are focused on detail," he comments. "We have a development programme for chefs and we're launching an apprentice scheme this year. We attract creative people who want to be part of a fresh concept, looking to provide high quality food service."
Next on ABode's agenda is the opening of the company's first new-build property in Chester, followed by several more developments around the UK, as Nick reveals: "Our hotel in Chester is due to launch in Autumn 2009 and is a multi-million pound investment. There will be a 60-cover Michael Caines Restaurant together with a Champagne Bar, Café Bar, Boutique and BarMC.
Its location is close to Manchester so the success of the previous hotel will help to get people interested in the Chester development. Beyond that we have plans but we don't aim for more than one new hotel per year and I see no reason why we cannot achieve our goal of running around 12 hotels across the UK."