Eyes on the fries
A publicly-owned operator of popular restaurant brands, Amergent Hospitality Group is bringing great vibes and even better food to people around the United States
Headquartered in Charlotte, North Carolina, Amergent Hospitality Group operates and franchises some of North America's favorite fast-casual, full-service restaurant brands. Formerly known as Chanticleer Holdings, the company was founded in 2005, but enjoyed its most successful period of acquisition between 2012 and 2015, when it added several new brands to its portfolio.
In conversation with FoodChain, the first brand Amergent President Fred Glick chooses to discuss is Little Big Burger (LBB). A 15-unit fast-casual burger chain from Portland, Oregon, LBB has developed a cult following since its founding in 2010 thanks to a fun, hip atmosphere, accompanied by burgers, truffle fries and root beer floats.
"Little Big Burger is a chef-driven, regional brand up in the Portland/Pacific Northwest area of the country," Fred explains. "Its main item is a unique, smaller, taller, locally-sourced quarter pounder burger along with simple, delicious, social media hits like truffle fries and floats. We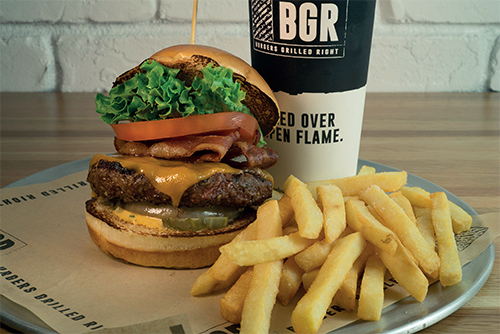 build these stores in urban environments and are about to add our second site in Eugene at the University of Oregon as part of a new wave of growth." Amergent's next core brand is Burgers Grilled Right (BGR), a gourmet restaurant chain started in Bethesda, Maryland in 2008. From one humble location, the company and its famous flame-cooked burgers have grown across the country, and even ventured abroad.
"Like LBB, BGR was launched by an award-winning chef and now has franchise outlets throughout the United States," Fred states. "Again, everything at BGR is cooked-to-order and the menu also benefits from innovative, lesser-seen ingredients like bison. The burgers themselves are quite a bit bigger than LBB, and in general, it's a little bit more high-end."
Great food
Rounding off Amergent's collection of burger brands is American Burger Co, a smaller chain of restaurants with a sports bar atmosphere and built more heavily around a dine-in experience. It is joined in the Amergent portfolio by the company's most recent addition: PizzaRev – a restaurant that empowers customers to 'craft their own' pizzas with homemade dough and the freshest ingredients.
"We acquired PizzaRev in the fall of 2021," Fred reports. "It's a brand that went through a huge phase of growth a couple of years ago and we are getting ready to open up another three locations in Los Angeles over the next three months. With a choice of crust, sauce, and over 30 artisanal cheeses and toppings, at PizzaRev, customers can create their perfect stone-baked pizza and have it ready to take home in just three minutes."
As Fred suggests, success at Amergent begins with great food. Striving to focus on unique, memorable, and most importantly, great-tasting ingredients for all its brands, the firm's restaurants make use of eye-catching products like Tillamook cheddar cheese, Daiya vegan mozzarella, pretzel buns, Aberdeen Angus beef, plant-based Beyond patties, truffle-infused Wagyu beef, chipotle-spiced bison burgers and more.
"In the main, we like to partner with local manufacturers directly, in order to help us stay on top of trends and flavor profiles," Fred reveals. "Often beginning with an introduction from distributors, our relationships with food manufacturers are close and active – we aim to keep them involved so that they always know which products are arriving next. We also perform internal taste tests before taking new products external and asking for feedback from some of our most loyal fans.
"When it comes to trends," he continues, "we tend to keep an eye on evolving requests and demands. If there is a macro trend that arises, then we will take it seriously. For instance, the rise in plant-based meat alternatives was a trend we felt was not going away, so we jumped in, tested all the different products out there, and selected the one we thought tasted best. Taste is really where we end up regardless of price and other factors. We want items that our guests will love."
Positive vibes
The thought and care that Amergent puts into its products is reflective of the organization's culture at large; this is not a business that concerns itself only with bottom-line profit, but about the wider positive impact it can have on its guests, its workforce, and all those with whom it comes into contact. As the face of the company, Amergent employees are known as its 'spark team' and stand on the front line of the firm's mission to 'spark positive vibes' in the world.
"All team members at Amergent, regardless of brand or department, are members of our spark team family," Fred declares. "We ensure that everyone in the business has the correct tools, systems, technologies and support for the successful execution of their jobs and we remind them that they are here to make guests happy – creating great experiences is just as important as performing the technical burger-flipping, pizza-tossing side of things.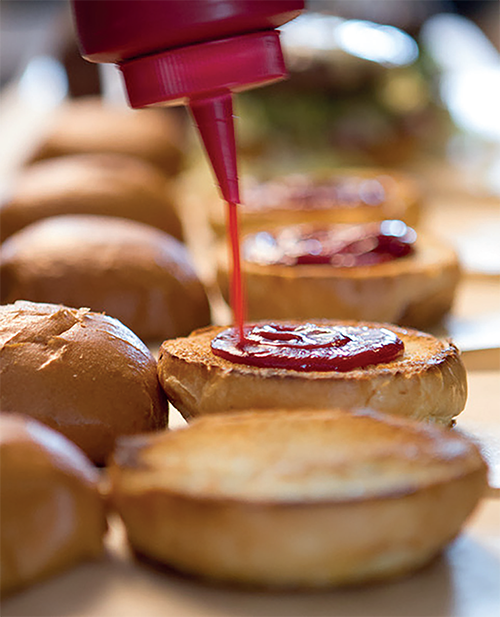 "Of course, ultimately, it is a combination of care for guests and employees that will help us achieve the greatest profits," he affirms. "If you don't take care of your people then somebody else will. Communication, education and trust-building are all part of the process, as well as explaining to our team, whenever we can, exactly why we are in business. I think that last part, especially in terms of our core values and mission, really hits home for many people – especially the younger employees. Nowadays, people don't just work for a paycheck; they want to work for someone who gives them a cause to fight for and someone that gives back to their community."
Love, service and care
Over the course of the last 18 months, as the world battled against the Covid-19 pandemic, Amergent's community focus has seemed more essential than ever. More than just remaining resilient and continuing to deliver great products to its guests, the company aimed to 'soothe the souls' of ailing towns and cities across the US.
"Since the pandemic hit in 2020, it's been a challenge. Many people have left our industry and the ones who have stayed have had to deal with a situation in which people have not always been as compassionate as they could be," Fred says. "Despite that, our employees worked with us and dug deep into our culture of love, service and care. Together, we doubled down on being kind. We didn't get involved with any politics or divisive actions, but simply asked our guests how they wanted their food cooked and tried to create a really nice part of their day whenever they came to visit."
Thanks to its commitment to kindness, along with an ability to pivot to off-premises delivery solutions during the worst period of the Covid-19 crisis, Amergent grew its restaurants' loyalty clubs by more than 100,000 members in 2020. Not content to rest on its laurels however, the company remains on the lookout for technology accelerators to help it create a more frictionless ordering and dining experience for its guests.
"We believe that if we are not evolving, we are dying, so, going forward, we will continue listening to what our spark team and our guests want and devise strategies to give it to them," Fred asserts. "One thing for sure is that convenience is here to stay and guests are willing to pay for it. Technology will certainly help with that.
"During Covid-19, if you didn't have technology, you were out of business because guests couldn't dine-in in most places. Delivery trends established in the pandemic will endure because, in many ways, people now value convenience over food quality. As a result, in this ever-changing market, it is vital that brands have a tech stack that communicates and works together to create a frictionless experience.
"At Amergent, our technology stack includes accounting software from R365, guest feedback from Ovation Up, 7shifts for scheduling and checklists, alongside partnerships with a range of major delivery companies," he adds. "In particular, we have been really pleased with Toast POS technology and the company's willingness to develop its product and collaborate with others. Similarly, Olo is best-in-class for integrating all our order options so that our team is not having to input every order that comes in by hand. Finally, our relationship with Thanx means we can see our loyalty members' purchase history and preferences, from which we can build out promotions and target specific segments of the database."
Optimistic about the future, Amergent is now actively working on acquiring profitable and growing brands to add to its portfolio, with a number of major announcements in this area expected before the end of 2021. With the help of substantial levels of feedback from its employees and guests, the company is looking to learn, adjust and evolve.
"It's not about instigating a revolution. We don't want to change who we are. Instead, it's about figuring out strategies that give guests what they want from our brand, and those things change based upon all kinds of factors," Fred clarifies. "As I mentioned, convenience is the latest key trend and we aim to deliver on that, whilst still prioritizing quality and challenging ourselves to come up with new, innovative products."
As the company journeys onwards, collecting new brands and refining its ability to deliver guest satisfaction, Amergent will rely ever-more upon its growing spark team. Consequently, the firm aims to continue attracting the best people it can to the organization – people that believe in its customer-pleasing formula of 'love, care and service'.
"In 2022, we want to double down on recruitment and retainment," Fred announces. "We hope to come up with new benefit packages and higher wages for our team so that we can stay competitive, as well as continuing to attract the best employees around.
"Hiring in this sector is a real challenge at the moment and we are forced to ask a number of questions: What is the new employment base for the restaurant industry? How do we get great people? How do we make them happy? How do we let them know that this is an industry of opportunities for young people who want to work hard and grow and have a career without, necessarily, having to go to college? These are the demands we will be tackling in the years ahead, along with improving training, education, and helping our current employees to grow in all aspects of their lives, as we grow and evolve with them."
www.amergenthg.com