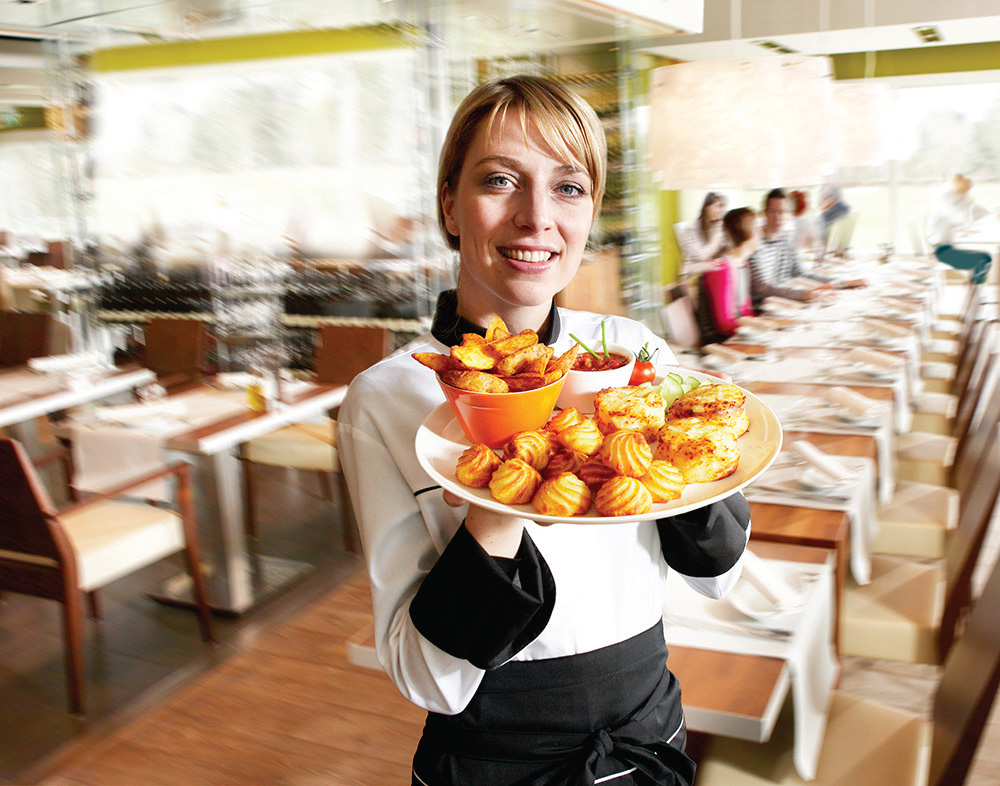 A box of luxury
Combining a significant presence in the European market with detailed knowledge of local needs, Aviko is one of the top four market leaders in the potato processing industry
Billing itself as the only European alternative for a complete range of potato products, Aviko is committed to producing the very best chilled and frozen potato produce through innovation, variety and a detailed knowledge of consumer habits. It sells over four million portions of French fries a day through its customer base that includes some of the largest international or local leading companies in the retail and foodservice. The true international focus lies on chilled potato products and frozen specialities in foodservice Europe.
The company was founded in 1962 as a direct result of six founding members that searched for adding more value to fresh potato. It quickly became one of the top four potato processors, producing 360 tonnes of produce in its first year of business. The early operations consisted  of selling small packs to food retailers through a modern distribution system, an area that remains integral today and forms one of the major assets Aviko offers to the international food sector in chilled and frozen products. After steady growth, in 1970 a Dutch Farmers Co-operative acquired a controlling interest in Aviko. Increased activity, now at 40,000 tonnes a year, forced a move from Hoog Keppel to a bigger head office in Steenderen, where Aviko group headquarters is still based.
The subsequent three decades have seen continued success, characterised by massive expansion across Europe, diversification in the group portfolio of products that it has acquired, creating organic growth and year-on-year increases in production and turnover. In 2002 the Royal Cosun group took complete control of the company having had a 30 per cent stake since 1990. There are presently 1300 employees producing 1.8 million tonnes of potato products a year, generating a turnover of over 450 million euros.
Through continuous focus and investment in innovation and variety, Aviko aims to constantly develop new products using potatoes as a starting point. A dedicated team of marketers, product developers and process engineers are responsible for adding to a portfolio that includes varieties of French fries (chilled or frozen), wedges, whole, sauté, baby, diced, and steamed potatoes. The latter range was developed and introduced based on state-of-the-art home developed unique processing technology, providing large efficiencies in the supply chain and use in customer premises. Once in production the whole chain of the starting product; potato, from the ground to the plate, is intensively controlled and supervised by Aviko. Such attention can be seen from the cultivation process that ensures that the raw materials used are ofthe highest quality. Through its subsidiary Potato BV, all used cultivation farms must be registered, controlled, and certified to ensure a better control of quality and food safety.
This thorough approach has allowed Aviko to gain a significant European volume share of the potato market. It is the business partner to seven of the ten biggest retailers in Europe and to the top European food organisations. As with all of its customers, advice on product choice, obtaining maximum value for the products and the best practices for preparation is given. Furthermore there is close work between the company and its major European customers to achieve maximum efficiency and product innovation through reciprocal information provisions.
By opening a 15 million euro potatoprocessing factory in the Chinese province of Gansu, in 2008, Aviko is convinced to further increase its worldwide footprint by expanding into the lucrative Asian market. It is as well driven by some of its leading international partners with whom Aviko is convinced to grow its long term plans in this part of the world. The plant, which is close to completion, is in the direct vicinity of a major potato processing area and will initially produce dried products such as potato flakes and granules. During the first phase of operations, the capacity will be around 80,000 tonnes. That figure is expected to rise however, as the company establishes itself in the rapidly growing territory. Aviko started the project some years ago by investing its know how and resources for the optimisation of local potato cultivation.
Its new Chinese customers will join the millions of people that eat Aviko products every day through thousands of different food outlets. This is made possible through a close-knit distribution service that has been built up enabling deliveries throughout the continent on a daily basis. As the world's leading producer of chilled French fries, sold under the brand names Lord Chips, Aviko and some local special brand names and the fastest growing producer of frozen specialities, there is a strong emphasis on a high level of distribution and brand awareness. The approach seems to be paying dividends with the company turnover standing at over 450 million euros in 2007.
If the balance sheet represents a picture of health, it is one that Aviko is trying toreplicate in its range of products. Conscious of the growing emphasis on good eating habits, a new range of frozen French fries which contain just 7.5 per cent fat after frying by the user, have been launched recently. Using a special prefrying process in combination with potato starch coating that reduces the amount of oil absorbed when fried, the snackcontains guaranteed 33 per cent less fat than its traditional competitors, being the standard fries. The launch, which is part of the Feel Good Food label, comes at a time when the company is launching new lines to address the healthy eating trend that is prevalent throughout Europe.
The most notable of them is possibly the Aviko 'steam and fresh' products. The food is delivered purely and only steamheated, securing that natural taste and nutritional value are locked in, but for useradvantages more interestingly meaning that it is far quicker to prepare, using less energy. A true healthy food innovation is one that proves to be sustainable as well supports economic values. Sauté, diced, jacket wedge, mashed, and baby potatoes can all be ready to eat in less than five minutes through regeneration in a combiheater, frying pan or griddle, making it ideal for establishments where quick cooking times are essential. In care catering, B&I and school menu's, Aviko 'steam and fresh' has built an international added value reputation that helps to improve the healthiness and quality of food in the out-of-home market.
Further developments are ongoing, consumer panels and databases are frequently consulted to determine trends in the food industry while product innovations across the world are scanned online. Joint ventures with well-known organisations, universities, and market research bureaus and suppliers are also part of the extensive research and development process that is crucial to producing new products that set Aviko apart in such a highly competitive marketplace. The quality of the potatoes is also under scrutiny, the Bintje variety are being fazed out as they are more susceptible to disease and are being replaced by Agria and Victoria, which are both yellow fleshed and retain more nutrients over the course of production.
By reacting to research and listening to its customers, Aviko has been able to steal a march on its competitors by rolling out a range that offers the same renowned choice and innovation but with lots of healthy alternatives. Its expertise and brand recognition coupled with a logistical operation that guarantees delivery Europewide in 24 hours is key to the company's success as is the commitment to quality – from the raw product to the finished article. Looking forward, the future appears encouraging for the company; a worldwide presence that is currently being developed can only strengthen its position that looks increasingly healthy, just like its products.