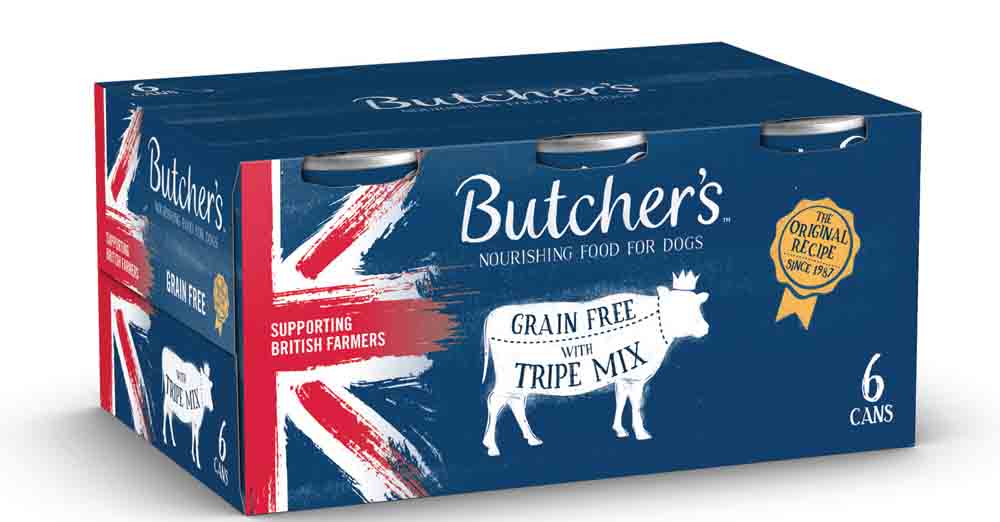 Nourishing food for dogs
Butcher's™ believes every pet has the right to eat great food. It uses natural ingredients for maximum nutrition, with no nasties such as artificial colours, flavours or preservatives. In fact, everything your pet needs and nothing it doesn't
For over 30 years, family-run company Butcher's has stood out from the crowd by doing things 'The Butcher's Way'. Founded by the Baker family, originally as a butcher shop in Rugby,
Warwickshire, it was under the second generation of Baker's that it first applied an in-depth knowledge of meat to the development of the original Butcher's tripe recipe food for dogs, which became an instant success when it went on sale in 1987. Since then, the passion and devotion of its people have helped the business to extend and enhance its range of food for dogs and cats, and establish itself as the number two brand among wet food producers in the UK.
The aforementioned Butcher's Way dictates how the company uses its knowledge and experience to ensure that its shoppers' pets get the natural nourishment that allows them to thrive. This means never using artificial colours, flavours or preservatives, incorporating a well-balanced mix of essential vitamins, minerals and fibre, and carefully sourcing ingredients from British and Irish farms.
Rachel Collinson, Butcher's Director of its Dog Business Unit, joined the business approximately two years ago and, as she explains, what first became abundantly clear about Butcher's was its passion for the products it makes. she says. "This passion, I think, right back to the heritage of the company and exists today as a thread that runs through the company's DNA. Having worked in the food industry for more than 20 years – in almost all the different sectors – Butcher's represents my first foray into pet food, and it was obvious to me from the start that this is a special company trying to do the right things for its shoppers."
At the heart of all of its recipes – and there are many, ranging from those targeting puppy development, sensitive stomachs, adult dogs and those of a more mature age – are what the company refers to as its 'Super Foods'. Whether it be meat, vegetable or wholegrain, Butcher's only uses natural ingredients that will provide pets with the nourishing food that they would naturally choose. "Butcher's has never been about creating overly fancy recipes just for the sake of being 'on-trend', rather we are all about creating great food that your pet would chose," Rachel adds.
Healthy choices
Over the last few years the company has continued to invest considerable funds in improving product quality, itself a part of a much wider programme of investment which, over three years, will have seen a total of £25 million put back into the business to ensure that it is fit for the future. "We know that not every dog owner feeds their pet in the same way, but what we want is for every dog to be able to get great food that comes at an affordable price," Rachel continues. "To achieve that goal, we need to be flexible in the way we present our products to shoppers, giving them a healthy choice of how to access Butcher's, whether they be a purchaser of cans or trays."
As we go on to discover, 2018 was a particularly significant year for the company as it marked the unveiling of a brand-new look for its entire dog food range. The simple, modern blue design focuses on Butcher's farm to bowl ethos, while conveying its passion for using great ingredients that dogs love. When discussing this re-launch, Rachel is refreshingly honest about how it came about. "Around the time that I joined the business, the brand, was in something of a decline having lost traction with new shoppers," she says. "Our loyal customers knew about the product and its
quality, but we needed to conduct market research to properly identify what new shoppers wanted from this category, and the great news was that for the vast majority it all comes down to the food itself.
"Modern shoppers want better quality food for their dogs, with roughly 90 per cent of responders stating that they wanted this, but at an affordable price, which is what Butcher's has always been about. This re-launch, therefore, has been all about highlighting this fact, and ensuring that every dog owner knows that, with Butcher's, they can access fantastic products that their dogs will love. As a result, we have already started to see brand penetration growth for the first time in three years, and we look forward to adding to this further still with the rollout of a national television advertising campaign, set to hit the screens in April."
Big, bold decisions
Ben Ford Director of Cat Business Unit, joined Butcher's at around the same time as Rachel and has been busy reinvigorating the company's cat category. The outcome has been the launch of the natural shredded fillets brand, Blink!, made here in Britain. Focused purely on cats' health & wellbeing, the brand only uses the best, high quality ingredients in their recipes. Blink! sources human grade, British meat & fish fillets where possible- with 90 per cent of their raw materials sourced from in the UK.
Moving into 2019, Butcher's began the year by celebrating picking up the award for Best Brand Sustainability Initiative at Tesco's Household and Pet Supplier Conference. This award was in recognition of the company committing to remove the equivalent of 4.2 million plastic bottles from its supply chain by replacing the shrink wrap on its canned food for dogs. It meant that its six- and 12-pack cans became 100 per cent recyclable, using cardboard packaging made from sustainably grown trees. "This is yet another example of why we are all proud to be a part of a company willing and able to make big, bold decisions 53and gestures that we hope will kick-start the category into doing something positive," Rachel enthuses.
As Rachel goes on to conclude, the outlook for the dog food category, particularly when it comes to wet food, is extremely positive, and thus Butcher's stands poised to build upon the strong foundations it has laid in the last two years. "With the successful re-launch of our dog food category, and our imminent arrival onto television screens, we are reaffirming the company's seriousness towards helping the category grow, giving more and more dogs access to better food," she adds. "From here, it is about making the most of our investment in product and people to drive category growth, before turning our attention to some exciting developments we have planned for 2020, but that is a story for another day."