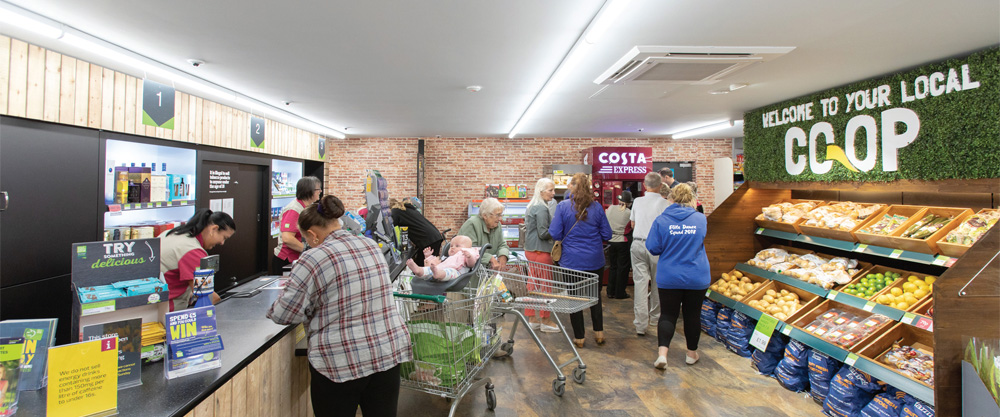 It's now or never
Launched in December 2017, the East of England Co-op's 'Co-op Guide to Dating' has been a revelation within an industry looking to tackle the issue of food waste, and embodies the community-based efforts made by the Society during its 150-year history
The last 12 months has been a period of great significance for the East of England Co-op, one that has in large part provided the Society with the opportunity to celebrate its 150th anniversary.
During 2018, this milestone was marked throughout its stores, at various events and at its annual dinner, where it recognises its local suppliers. "It was with some of these suppliers that we also worked very closely to create a special range of 150th anniversary products, including several that would have been around when our Society first came into being all those years ago," explains East of England Co-op's Joint Chief Executive Officer, Roger Grosvenor.
"Other anniversary-themed initiatives that took place throughout the year have included a competition to win an eco-friendly car, which saw over four million scratch cards issued free to our members and customers with an opportunity for money saving coupons with a collector element to win the car," Roger continues. "We were delighted to be able to announce that the lucky winner was Felixstowe resident, Linda Houseley. We also held a number of small events throughout the year at various county shows, and food and drink festivals, while our colleagues were able to celebrate with an additional day of paid holiday!"
Quality recognition
It would be fair to also characterise 2018 as a year of plenty for the Society, particularly in respect to the number of awards and accolades that were bestowed upon it. "Locally, the Society's Funeral Division was presented with the prize for 'Best Trade Stand' at the Royal Norfolk Show this past summer, and we were also delighted to receive the 'Outstanding Dementia Care Innovation Award' at the National Dementia Care Awards," Roger enthuses. "The latter award was for the bespoke dementia-friendly training we developed for our Funeral Services teams to ensure we could provide the best possible support for affected families."
Also, on a national scale, the Society was also the recipient of two incredibly prestigious awards for the 'Co-op Guide to Dating' initiative. At the heart of this scheme is the desire to reduce waste and keep as much food in the food chain as possible. To achieve this, the Society decided to start selling food past the 'Best Before' date. As consumers, we are becoming increasingly aware that these dates are simply quality dates given by manufacturers, which means that a great deal of products do not deteriorate after this point, unlike those characterised with 'Use By' dates. The food that the East of England Co-op has sold to date as part of this initiative has been mainly tinned and dried goods, making them perfectly safe, however it is now starting to target other ranges.
"The 'Co-op Guide to Dating' has certainly taken the industry by storm, 35culminating in it receiving the Grocer Gold award for 'Waste Not Want Not' and the IGD award for 'Sustainable Futures'," Roger declares. "Winning a single award is a fantastic honour, but to win both of the aforementioned categories is galactic for the Society, especially considering our aim was not to gain recognition, but to make a difference."
Reduced waste
The difference made to date comes in the form of the prevention of more than 250 tonnes of food going into bio-digestion and remaining within the food chain for human consumption. "Since the launch of the initiative, which was originally focused on ambient products, we have included more fresh foods, such as green grocery, breads and cakes, and most recently frozen foods, meaning that all categories are covered," Roger states. "A part of the initiative has also revolved around the speedier reduction of 'Use By' date products, which has also helped to reduce the impact of food waste."
Key partners
Following the phenomenal success of the 'Co-op Guide to Dating', January 2019 sees the Society, in collaboration with Ipswich Borough Council and 37Copleston High School, launch a new
programme targeting the recycling of packaging. "Taking inspiration from the iconic song 'When Will I See You Again' by The Three Degrees, this initiative will aim to better inform our members as to how they can recycle locally, and how those items that can't be recycled locally can be brought to us to take care of," Roger says.
When we last covered the East of England Co-op within this magazine at the turn of 2018, the Society was in the midst of a programme of refurbishment for its stores. "The Society has 255 locations that make up its family of businesses and I am pleased to say that, to-date, we have refurbished 80 per cent of the estate, with the remaining 20 per cent to be completed over the next 18 months," Roger reveals. "During the course of the reshaping of our retail estate we have focused on our food offering, introducing key partners along the way such as Subway and M&Co. We have also worked hard to improve things like the queueing systems in many of our convenience stores. Whereas, in the past, we used to have separate till spaces, we have now introduced a queueing point like those used in large retail stores or post offices, where people are called to a free till point. We have found this system to be very helpful for our members, giving those who want or require it extra time at the till, while at the same time not olding up the queue."
As Roger and his teams are acutely aware, retail trends are always in evidence, and the Society's Food Division is keen to provide customers with the chance to add products that represent these trends to their baskets whenever possible. "A couple of the biggest on-going trends centre on 'free-from' and 'plant-based' products," he confirms. "In the last few years we have successfully introduced a large range of free-from products and we are excited to now be looking at how we can extend this into ranges such as bread and cakes, for example by incorporating gluten-free pea flour. At the same time, we recognise that more people are moving away from consuming protein from animals to protein from plants, and we are looking at where we can add new products to satisfy this demand."
Future focus
As we enter 2019, it will be obvious to anyone with even a passing interest in current affairs that the food industry, like many others, faces an unprecedented degree of uncertainty and change, something with which comes both opportunities and risk. "The Society will always seek to embrace whatever comes its way in order to deliver the best outcome for all of its stakeholders," Roger professes. "We need to respect the fact that, here in the UK, we are working and operating in the most dynamic, eclectic and complex market in the world with one of the highest concentrations of competition, and in order to survive you have to be at the top of your game at all times. With this in mind, the East of England Co-op intends to remain one of the top independent retailers in East Anglia, continuing to develop its products and services, whilst always 39remaining sustainable and, of course, community focused."