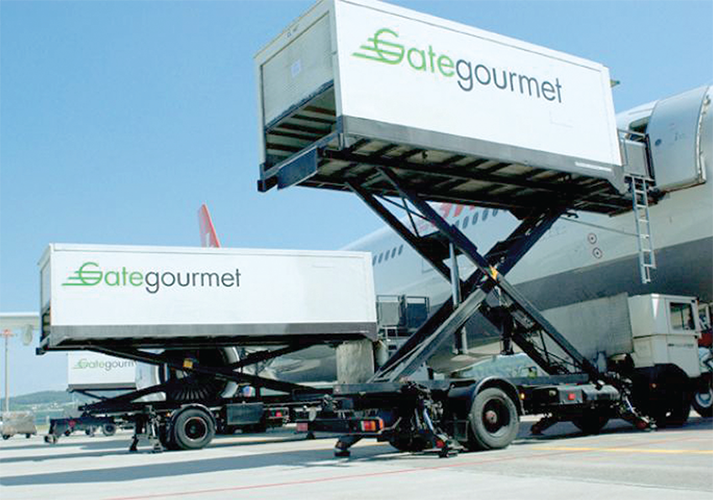 Added spice
Following a restructure of the company, Gate Gourmet has embarked on various developments including the awardwinning SPICE programme
Gate Gourmet, the world's largest independent provider of airline catering and provisioning services, serves 250 airline customers 200 million meals every year from 97 flight kitchens in 28 countries located in five continents, making almost 2.5 billion CHF in revenue. With well over 90 per cent of its revenue generated from the airlines industry, Gate Gourmet supplies major airlines including British Airways, Iberia, Delta and Swiss.
'All the equipment you see onboard like food, cushions, linen, emergency equipment and all the duty free products is handled by us – there's a lot more that happens in the background that passengers are not the slightest bit aware of,' states Philippe Op de Beeck, the senior vice president of Central Europe for Gate Gourmet. 'The food component only makes up about 30 per cent of our services, while the rest is related to handling and equipment. What differentiates us from non-airline catering companies is our Just-In-Time process. Because the airlines have got flight schedules to stick to, we need to deliver on time and in the right quantity every time even though the specification varies day-by-day. From a logistics point of view, it is a very complex business with a lot of SKUs that all need to comply with the specification of the airline and always on target. If we cater late, the plane is then delayed and loses its slot, which is very expensive for the customer, so it's not only the quality of the food but also the quality of the logistics process systems that makes an airline caterer successful.'
Moving on, Philippe highlights a major development for the company: 'Being an airline supplier is a tough business especially after 9/11. Following that tragic event, two changes happened: there was a huge drop in passenger figures, which caused a domino effect to the second consequence where airlines began restructuring and looking for cost saving measures. Because we were one of the three main suppliers in terms of spend, airline companies were approaching us to help them restructure. Following the restructuring we had to undergo ourselves in 2005, we are now an even more successful company. We have been growing organically over the last two years and are expecting to continue the pattern. Because airlines are continuously opening up new routes, including the low-cost airlines, where this helps us grow geographically into areas we are underrepresented or the market potential is bigger than we're making use of like India and China.
'We are also looking to grow by adding additional services – everything above the wing, so to speak. This could include various other services from cabin cleaning to providing security on the planes during their time on the ground. The design of airline equipment is another aspect that provides us with growth opportunities, which includes plates, cutlery, porcelain and plastic equipment. This service could entail providing more disposable plastic equipment or serving customers food in a pre-packed box instead of on a tray.'
Despite the ongoing threat of another tragedy like 9/11, Philippe assures Food Chain that there are still a lot of opportunities in the airline business: 'Ryanair, EasyJet and Air Berlin are all new model airlines that fly predominantly in Europe so there is no real low-cost airline further afield. What we're seeing now especially in Asia is that low-cost carriers are beginning to spread their wings and provide long haul flights, where you buy a ticket and everything else that a passenger requires onboard, from a glass of water and food to a blanket and cushion, all need to be bought. This is a whole new model but one that Gate Gourmet is quite advanced in.'
Contracts form a vital part of Gate Gourmet's business especially with airlines continuously opening up new routes. Philippe highlights the two major contracts attained last year: 'Delta extended its contract to 2011 and the Swiss contract, worth over 500 million CHF over the life of the agreement, has been extended until 2012. Having served both the companies for a number of years, we are deeply embedded into their systems, so changing to another supplier will result in enormous complexities to the customers. However, the main reason we were re-selected was based predominantly on our performance – the quality of our delivery and the handling of the logistics complexities 365 days a year.'
Continuing, he states the continuous challenges present in contracts like these; 'Airlines strive to constantly differentiate themselves either through ticket prices or in the internal environment of the planes such as the entertainment provided, legroom or food component especially in first class. Most airlines are on a three-month menu cycle so they require constant innovation, giving passengers continual development of the menu and new products. Because we still produce a large component of the food ourselves, we need to keep a close eye on what's happening in the food market, what is in the supermarket, what exists in prepacked meals and what are the evolutions in packaging because the airline looks to us to bring this knowledge to them. However, like every other company, airlines need to keep costs under control and are constantly seeking ways to be even more cost-effective either through how the plane is loaded or by changing equipment.'
Gate Gourmet is dedicated to culinary excellence, superior service and technological expertise, which are delivered on a global basis to all its customers. Gate Gourmet's world-class chefs are able to help design and execute a menu that enhances a brand and delights its customers while meeting budget criteria. Philippe highlights the company's unsung heroes: 'We have over 200 chefs in our 97 kitchens, with several chefs in some of the bigger units like Frankfurt and Heathrow. We have two types of chefs: the production chef cooks and prepares the food on a daily basis and the executive development chefs' responsibility is menu development, which means they need to be very aware of what's happening, so we spend a lot of effort and money on exposing them to new food development.'
Gate Gourmet has a long tradition of culinary excellence, but as a result of the current challenges in the airline catering industry, the company wanted to be more active in channelling the talent and energy in its kitchen brigades, which led to the development of SPICE. Abbreviated for Sustaining Progress In Culinary Excellence, SPICE is a skills development and improvement programme for Gate Gourmet's chefs. The programme, developed by vice president Mike Pooley's Centre of Product Information and Culinary Excellence for Gate Gourmet Europe, motivates and empowers Gate Gourmet's frontline chefs in Europe to improve their kitchen management skills, share working practices, and experience the influence of the world's culinary trends. Having only launched this programme at the start of 2006, Gate Gourmet proved its excellence yet again when it managed to scoop the Silver Mercury Award on the 19th of March this year in the category of training and skills development at the annual International Travel Catering Association (ITCA) Convention in Cologne, Germany. The award is a tremendous achievement for all the hard work and enthusiasm the team and the chefs have shown as well as the strong corporate empowerment Gate Gourmet has enjoyed in rolling out SPICE – now Mike's aim is to go global.
One feature of the programme is the quarterly workshops that bring together colleagues from across Europe for an exchange of ideas and best practices, such as a three-day visit last autumn to the Umbria and Tuscany regions in Italy. Philippe explains that the chefs have also recently returned from a trip to London where they visited the fresh food market and cooked with famous chefs with either an ethnic base theme or a focus on Asian cuisine.
Moving on, Philippe outlines the plans for the future: 'Despite our long history, it was very tough after 9/11for everyone involved in the airline industry. We focused all our energy in restructuring the company and now that it is all behind us and we are on a strong financial footing, we can start to focus solely on the customers. Our future must and will be all about growth – we aim to double in size over the next five years.
'We are looking to expand into the Asian market, for instance India. However, it's very different to doing business in the US or Europe because in a lot of these markets you need to find the right local partner, so we will need to grow a base either out of a partnership or acquisition of an existing company. Even though we are confident that our unrivalled reputation will work in our favour, it is still a challenge to find the right partner but it's one we won't shy away from,' Philippe concludes.