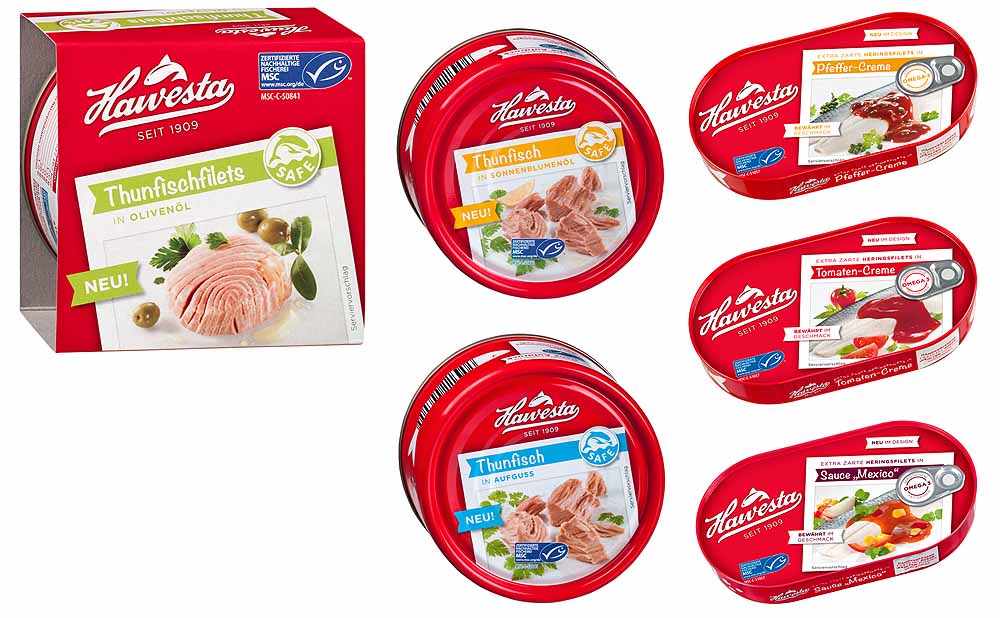 Hawesta-Feinkost Hans Westphal GmbH & Co. KG
Quality first
A firm favourite for customers in both Germany and further afield, Hawesta-Feinkost Hans Westphal GmbH & Co. KG continues to appeal to consumers with new product developments that complement its existing high quality, MSC certified range
With more than 100 years of tradition in the processing of fish, Hawesta-Feinkost Hans Westphal GmbH & Co. KG (Hawesta) has stood for first-class quality, distinctive taste and special care of the product since its inception in 1909. Founded by Hans and Maria Westphal, the company today uses the best raw materials, which are examined in its laboratory, and undertakes all phases of the production process in a controlled manner that is in accordance with a modern quality system. This commitment to the delivery of high quality, great tasting products, alongside its long-standing tradition of fish processing, has ensured Hawesta has retained its position as one of the leading canned fish brands in Germany.
Taken over by Rügen Fisch AG in 2009, the company underwent a period of significant investment, with one million euros spent on its brand-new sauce production in 2010 alone. Approximately 500,000 euros has also been spent on various areas of the company, including new machinery, packaging equipment and improvements to the facility, infrastructure and transport systems. In December 2015, a majority stake in Rügen Fisch was acquired by Thai Union Group, the world's largest shelf-stable tuna processor as well as the owner of a leading global portfolio of seafood brands. With a strategic partnership between Rügen Fisch and Thai Union in place, Hawesta has focused on the establishment of innovative tuna products into the German market since it was previously featured in FoodChain magazine in December 2016.
"As a traditional sea food canner with a focus on herring, which takes up approximately 95 per cent of our production volume, we took the step to establish a tuna salad line in our production facility," says Uwe Peper, Plant Manager and Procurement Director at Hawesta-Feinkost Hans Westphal GmbH & Co. KG. "We integrated this new production line into another that was not utilising 100 per CENT capacity; fitted into the existing structure we created the ability to create something completely new for our product range. We are confident that we will conquer this market and when we do we will develop a fully automatic line, however for now we will continue to work on a semi-automatic line that has satisfying performance levels.
"In terms of the supply of raw materials, this is received from our well-connected mother company Thai Union; these products are already clean and pre-cooked from the headquarters in Bangkok, with the MSC compliant tuna coming from PNA fishery in the Pacific Islands," he adds.
Expanding portfolio
The tuna salad line from Hawesta is ideal straight from the can, as an accompaniment to pasta or directly placed onto bread and is available in the tastes Mexican, Mediterranean, or Indian. The tuna pieces in sauce are available in different tastes as well, as fruity or Mediterranean tomate sauce or Thai sauce. The tuna fish products from Hawesta come in 185g cans, while tuna salads and pieces in sauce come in 160g cans.
Although the tuna market is price sensitive in Germany, the company has made a successful entrance into the market thanks to the development of its significant USP as an MSC certified producer of fish products that ensures it stands out against competitors. "Our launch into the tuna market is a great opportunity for us as the market is growing," says Raja Gabert, Brand Manager at Hawesta. "With Thai Union's support we will be able to develop this product range further and create more innovative lines."
In addition to enhancing its facility and developing a new range of tuna products, the company has been focused on the continued development of its existing portfolio with the goal of attracting a larger customer base; with this in mind, Hawesta has been working on a refreshed range of boxes and packaging designs that were fully launched in the first half of 2017. "We have now finalised the design relaunch of the whole Hawesta line, so that is 27 existing items that we have changed the layout of," says Raja.
Seafood expert
Another development for the innovative company is the delivery of hand-picked herring fillets that are available in two lip-smacking variations, oriental tomato, with light harissa and couscous and exotic tomato, with curry and a dash of coconut, from German TV chef Christian Henze. "With herring our core business we began working on new ideas for this part of our portfolio, which we developed in co-operation with the well-known German chef Christian Henze. This is a new approach as we are using Christian's vast knowledge to re-interpret old fashioned products with a new angle. I never thought coconuts and tomatoes work but it is a good idea that has done astonishingly well on the market," says Uwe.
To further strengthen its competitiveness in the market, 27the company has also launched a promotion, in which customers can win one of three cruises to three different destinations each month when they buy Hawesta products of their choice and enter tracking codes online. Hawesta tuna products have a triple winning chance.
Having made significant changes to its portfolio over recent years through re-invention and the launch of new product ranges, Hawesta is on a strong platform to continue growing in a market that is hungry for high quality fish products. "Our goal is to become the one and only seafood expert in Germany that not only focuses on herring or tuna, but all fish specialities. This aim will of course be supported by our long-term heritage of focusing on quality and responsibility when it comes to MSC certification as well as the delivery of real innovation to the market," Raja concludes.