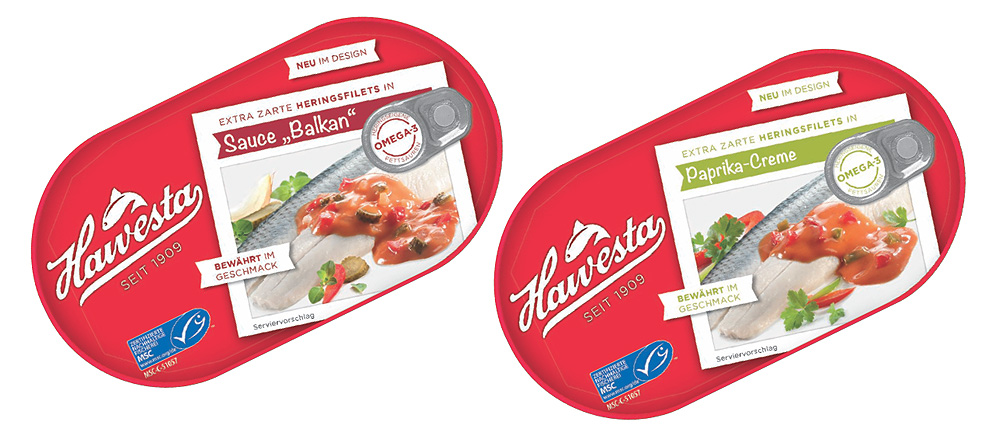 Hawesta-Feinkost Hans Westphal GmbH & Co. KG
The best of the sea
Hawesta-Feinkost Hans Westphal GmbH & Co. KG produces a range of high quality canned fish products that are not only loved in Germany but in growing export markets across the world
Hawesta-Feinkost Hans Westphal GmbH & Co. KG is a medium-sized company with over 100 years of tradition in the processing of fish. Since its foundation in 1909 by Hans and Maria Westphal, Hawesta has stood for first-class quality, distinctive taste and special care of the product. Due to its many years of experience and knowledge it only uses the best raw materials, which are examined in its laboratory, and all phases of the process are controlled in accordance to the principles of a modern quality system. Also, with its long-standing tradition of processing fish and its 90 years of managing and marketing the brand 'Hawesta' it is now one of the bestknown and most popular canned fish brands in Germany.
The company entered a new era in 2009 when it was taken over by Rügen Fisch AG, which allowed Hawesta to make significant investments in the business. Plant manager and procurement director Uwe Peper provided an insight into some of the investments: "Since 2009 we have invested every year, however it was in 2010 that we saw the biggest investment, and this was a €1 million that went into our brand new sauce production. Also, over the last few years we have invested approximately €500,000 every year, which has been in the form of new machines, packaging equipment, improvements to the facility, infrastructure, and the transport system. Another area that has received significant improvement is our production floor – we have a production area of 12,000 square metres and a site of approximately 23,000 square metres that we have improved."
In addition to these improvements there is also a currently process underway to bring a major refreshment to the brand and revamp its website. Hawesta is already a popular and well known brand, however it recognises the importance of continued development and taking its products to a larger consumer base. In December 2017 it will introduce a new look, with new boxes and
packaging designs that will combine a younger appearance with the traditional colours of the company, and will have a Polaroid picture on the lid to show its contents. It is this kind of customer targeted approach to combine its traditional values and standards with flavours and packaging that appeal to a modern consumer.
Due to this focus on its target audience the company has recently undergone an extensive market research process, as Uwe discussed: "We ensured that we understand what our customers want and who they are, which includes what preferences they might have, and what the customer structure is." It is information from this research that has influenced the new packaging, and new products. For example, the company is creating a range of tuna products, which will tap into the popular demand for this fish. The forward thinking nature of Hawesta is not just restricted to the new tuna products, and is indicative of a broader attitude at the company, and has also manifested in its approach to new inventions: "We are working with a chef who is helping advance new ideas and challenge convention, and this will result in a number of new creations. He is taking more old-fashioned sauces and bringing a fresh interpretation aimed at the current market."
The addition of new products will add to the already extensive portfolio of canned fish that Hawesta offers its customers. The range of flavours includes the classic and best selling fish fillet in tomato sauce, herring fillet in mustard cream, and herring fillet in many more variations. Hawesta also has product lines that use other seafood, and some of these include mackerel, salmon and mussel meat, and will soon contain tuna. In all of its products (wild-caught) it is MSC certified and this demonstrates the commitment the company has to sustainable and responsible sourcing of its raw materials. Hawesta helps to maintain healthy and stable stocks of fish for the future, and the end result of this is a high quality product that is better for the seas, better for the business, and better for the customer.
Hawesta has a long history and is a firm favourite for many in Germany and across the world, and appeals to all generations and any demographic. However, the company also understands that it cannot rest on this achievement alone and that it must continue to appeal to the changing tastes and demands of its consumers. This not only means in terms of the contents of its product and its flavours, but also in terms of its visuals and brand recognition. Hawesta is ensuring that its market leading products remain the first choice of its customer for many years to come.