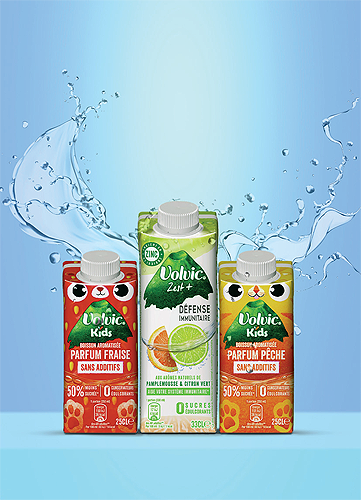 SIG's combismile packaging innovation is the ideal lifestyle packaging option for flavored water. Offering the highest level of consumer convenience and stand out premium feel and appearance, combismile has been designed to meet the needs of modern on-the-go consumers.
"This packaging is perfectly adapted to the new consumption habits of the French and the move towards more mobile and active lifestyles. This innovation is part of our approach to offer more responsible and sustainable packaging, with the ambition to eliminate the use of virgin plastic from our packaging by 2025," commented Nathalie Abrahamian-Deudon, Vice-Presidente Marketing at Danone Waters France.
With an output of 24,000 carton packs per hour, SIG's CFA 1824 filling machine provides the optimum combination of flexibility and speed, with the option to fill five different volume sizes: 200ml; 250ml; 300ml; 330ml and 350ml. Volvic's new functional water range will be available in combismile 250ml and 330ml carton packs.
combismile from SIG is the perfect partner for premium and added-value products and offers responsible on-the-go consumption. SIG is 100 per cent FSC™-certified which means all paperboard comes from responsibly managed forests and other controlled sources. combismile is also fully recyclable.
José Matthijsse, President and General Manager Europe at SIG added: "Our highly convenient on-the-go combismile carton pack is designed to meet the changing demands of busy consumers, to reflect their unique tastes and personalities. Bringing true innovation to the water sector, combismile provides consumers with the perfect product and packaging mix to fit in with their hectic lifestyles, which rely on remaining fit and healthy."
www.sig.biz