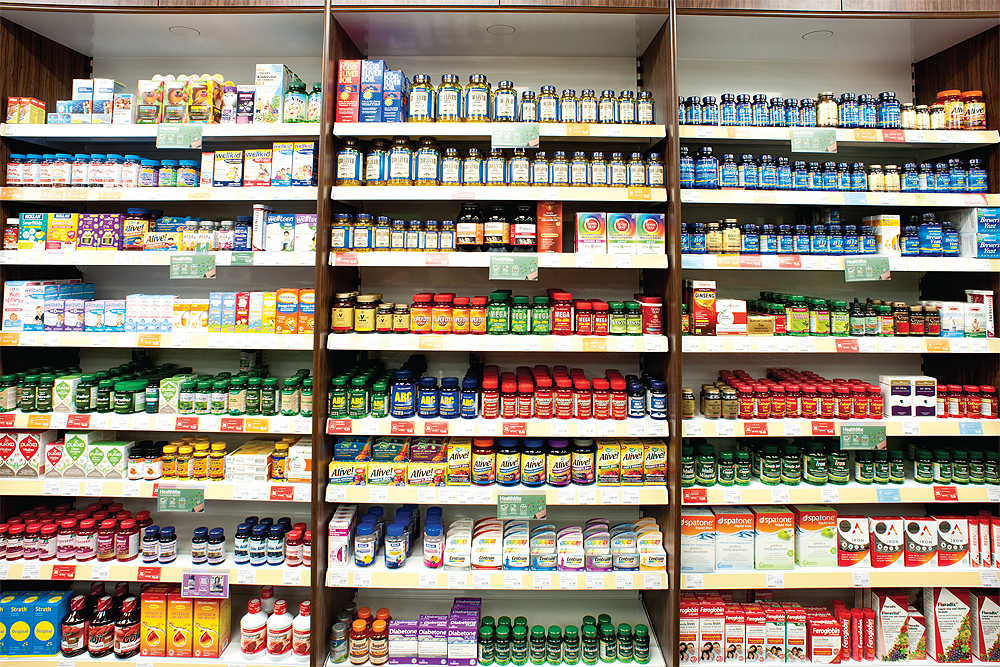 Working for our well-being
With more than 145 years of experience in the health and wellness industry, Holland & Barrett continues to add to its UK and international property portfolio, service proposition and product range while remaining a valued source of health and well-being advice for its expanding customer base
For Holland & Barrett, Europe's leading health and wellness retailer, the financial year to 30th September 2018 was another strong and prosperous one in the history of this heritage British
business, which traces its roots all the way back to 1870. In that year, it opened 66 new stores across its international network; group revenues exceeded £700 million; group operating profit increased to more than £152 million; like-for-like sales increased for the 38th consecutive quarter and group digital sales grew by over 32 per cent. In what are generally accepted as tough times for retail, this is clearly an impressive performance that demonstrates the strength of the business and the resilience of the sector it leads.
The last financial year was also a significant one for the group's leadership team, with a number of key hires made to ready the business for the future. One such hire was the appointment of Hilary Leam to the position of Group Trading Director. Initially joining the group in March 2017, Hilary brought with her a wealth of experience in the retail, health and wellness sectors, having enjoyed 18 successful years with Alliance Boots and a further four with Morrison's.
Today, Hilary oversees the buying functions for all categories of the group, covering all products and for the entire global network of more than 1400 stores. So, what was it about Holland & Barrett that so appealed to her in the first place? "Holland & Barrett, in simple terms, is a massive success story. To this day, it remains one of a select and small number of retail businesses that continues to grow consistently in what is a very challenging retail climate," she begins. "The health and wellness sector is, in my opinion, one of the most exciting and rewarding sectors to work in. There is the constant change and challenge always associated with high street retail, but in this business, we have exciting product development, market-leading change in service propositions and we are able to lead from the front when it comes to ethics and sustainability. I genuinely love having a key role in all of this. What really resonated with me from the offset about Holland & Barrett was the incredible passion for the business and its health and wellness proposition that unites everyone working here, from top to bottom. We operate in health, and everyone here is driven by the desire to do right by our customers."
People, products and passion certainly appear to be the 'three p's' that sit at the heart of what Holland & Barrett does as a business, and imprinting this ethos into its employees begins at the earliest of stages. Each new member of the team undertakes a two-week training programme at the start of their employment where they begin to gain the education and knowledge about nutrition that will help to set them apart from their peers in the health and wellness world. On-the-job development then occurs on a continuous basis, with the end goal being to forge a team that is customer centric, product passionate and committed to providing the best degree of service possible. Indeed, unlike other retailers, Holland & Barrett is the only retailer on the high street to train its store associates in a nationally-recognised qualification, equivalent to an advanced-level standard. This means customers can be confident that they are receiving the most trusted advice
when shopping in store or online.
Not long after Hilary joined the business – in June 2017 – it was announced that L1 Retail, the retail investment arm of international investment firm LetterOne, had agreed to purchase Holland & Barrett for the sum of £1.77 billion. Since then, the business has undergone significant internal transformation, as Hilary explains in detail. "One of the key things that L1 Retail and its future-facing approach has brought to the table is a focus on transformational areas of the industry, such as our digital offering and our IT infrastructure. It has meant that we have been able to take an already successful business and open up even more opportunities for us to improve how we deliver products, services and information to our customers, wherever they may be and whenever they need them."
Of course, in the fast-moving retail world, customer shopping habits and preferences can change rapidly. And like any other retailer, Holland & Barrett has had to strategically evolve to meet these changes, through developing new ways of reaching its customers – for example via its website or through the expansion of its concession models within Tesco stores – or by focusing even harder on new product and range development that either leads or responds to changes in trends. Hilary adds: "There is an ever-greater need within the retail world for companies to increase their responsiveness, and I think one of the things that makes Holland & Barrett so special is our ability to trade in the latest trends in a customer-friendly way. We work with businesses of all shapes and sizes, from big multi-national suppliers to small players at an embryonic stage, in order to bring the products that our customers want to market easily and through multiple channels.
"If you look at both our food and beauty businesses, there is a strong focus on things like clean ingredients, a reduction in the use of additives and chemicals, and improved traceability. We were the first retailer on the high street to ban plastic bags, some six years before the Government legislated, and we were the first to remove microplastics from our beauty range. Food wise, vegan and plant-based products are massively in demand and we have one of the best ranges in the market. There is a greater awareness of protein as a key component in many food products, and for a wide variety of customers. In our VHMS (Vitamins, Herbal, Minerals, Supplements) business we see products like turmeric continue to be a strong play, while new ingredients such as CBD (Cannabidiol) are becoming increasingly popular with our customers across a wide range of product applications. So, as you can see, things are constantly changing and that is what I love about this business. It is important always to remember, however, that we at Holland & Barrett are not about telling our customers what to buy. With our 'qualified to advise' associates in store and online, we advise our customers which products are the most suitable in helping them reach their health and wellness goals."
Thanks to Brexit and international trade disputes, 2019 is proving to be a challenging year for all businesses, not just retail. It is therefore refreshing to hear that Holland & Barrett still has plans to grow and will continue to invest across the board, in its physical store portfolio, its e-commerce infrastructure, its customer service propositions and in new product development. "Health and wellness as a category remains 43incredibly exciting as well as robust. Consumers are becoming increasingly aware of their own health needs, not just in the UK or Europe but around the world. I have absolutely no doubt that we will continue see further evolution and growth in our market as technology and science continues to encourage and empower people to look after their health and well-being," Hilary states.
"Holland & Barrett will be there to respond to these changing needs, continuing to bring great new products to market and working hard to establish ourselves as the brand of choice for customers looking for help and advice in their health and well-being missions, supported by a service and product range that meets their specific needs. I believe we are already well on our way to achieving this, but recognise there is more work to be done in the months and years ahead," Hilary concludes.