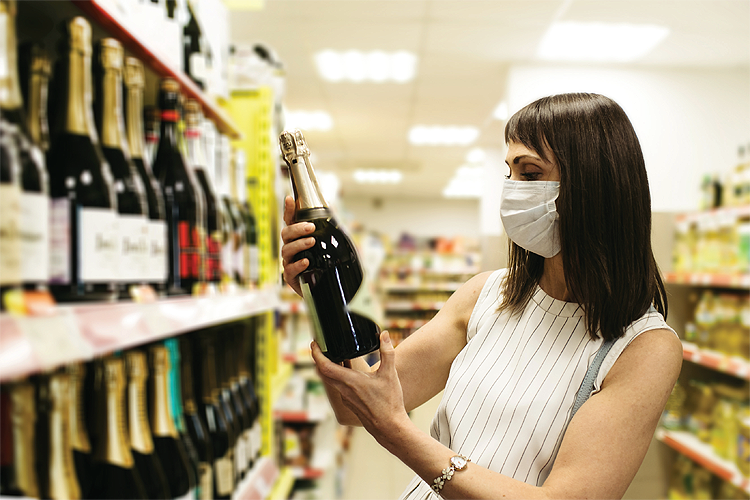 Covid-19 has undoubtedly impacted every aspect of our lives and affected many aspects of people's behavior. There were reports of people rushing to stock up on alcohol in supermarkets, pictures of empty shelves, and fears that people would drink more when confined to their homes.
Now sales figures from last year are available, data from Euromonitor shows that the volume of recorded sales of alcohol fell by more than six percent across markets compared to 2019. Volumes of alcohol sales fell by ten per cent in the UK, the Netherlands, and Portugal but remained stable in the United States and Sweden. In contrast, Brazil (four percent), Argentina (three percent) and Australia (one percent) all saw volumes rise*.
Of course, changes in volumes purchased only tell us part of the story when it comes to understanding drinking patterns and, importantly, if people are drinking responsibly. More precise information, such as how often and how much someone is drinking, are a crucial part of understanding the bigger picture. Surveys commissioned by the International Alliance for Responsible Drinking (IARD) and YouGov* last year in May and October both reached similar conclusions, that the majority of people are drinking the same or less alcohol during the pandemic. Eighty-four percent of drinkers were drinking the same or less during lockdowns, with almost one in three people (30 per cent) saying they were drinking less or had stopped altogether. These results were broadly consistent with other surveys during 2020 which showed the bulk of respondents drinking the same or less than before (PAHO, YouGov, Government of Spain).
Although it is certainly encouraging that the majority of drinkers continue to consume alcohol at moderate levels despite the pressures of a global pandemic, we recognize that Covid-19 has reinforced harmful drinking patterns for some people. For example, in the UK, provisional figures from the Office of National Statistics (ONS) show an increase in the rate of alcohol-specific deaths in England and Wales last year, and a recent Drinkaware survey highlighted that half of drinkers (48 percent) drinking at high-risk levels were consuming more than before the pandemic.
As societies begin to reopen, it's essential for private, public, and civil society to come together to ensure that targeted and appropriate support is available for those who need it most.
One shift that the pandemic has certainly caused is a significant change in the way people shop, with consumers increasingly opting to buy goods online. As a result, the alcohol e-commerce sector saw global sales growth of 33 percent*.
In response to this trend, IARD and 14 prominent online retailers, e-commerce and delivery platforms formed a global partnership to build on the strong safeguards already in place. With online sales and alcohol deliveries accelerating, it is critical to ensure there are robust responsibility standards throughout the entire supply chain in response to the increased demand. E-commerce is expected to continue to grow significantly (IWSR), and this presents an important opportunity to further combat the harmful use of alcohol – providing a direct channel to consumers that can amplify information on harmful drinking.
The partnership launched their global standards in June, which included:
Improving safeguards and security measures that aim to prevent minors from being able to buy alcohol
Putting in place mechanisms to prevent beer, wine, and spirits being delivered to minors, to individuals showing visible signs of intoxication, or where prohibited by law
Providing tools, information, and education, or other support to drivers to empower them to deny delivery
Enhancing consumer information and control
Promoting global standards as a resource to support the development of national level codes and practices for the online sale and delivery of alcohol that build on local and national regulation
We are proud that IARD's members have worked together with leading online retailers and e-commerce platforms to set global standards for the online sale and delivery of alcohol beverages, taking further concrete steps towards the elimination of alcohol sales to minors.
This is part of our ongoing commitment to reducing harmful drinking and support international health goals.
Similarly, as we start to emerge from the Covid-19 pandemic, our members will continue constructive dialogue with experts, international organizations, civil society, and national governments to better understand what they can do to raise standards and protect lives, livelihoods, and communities. IARD members are determined to keep contributing to the fight against Covid-19 and helping protect communities across the world, as part of a whole-of-society approach, and continuing to build on the declines in harmful drinking seen in many countries over recent years. This includes delivering on the recommendations presented to the sector in the United Nations 2018 Political Declaration on non-communicable diseases. D
*Euromonitor International Proprietary Alcoholic Drinks data
*All figures, unless otherwise stated, are from YouGov Plc. Total sample size was 11,678 adults. Fieldwork was undertaken between 13th and 21st May 2020. The survey was carried out online. The figures have been weighted and are representative of all country adults (aged 18+)
The International Alliance for Responsible Drinking
Henry Ashworth is President at The International Alliance for Responsible Drinking (IARD) a not-for-profit organization dedicated to reducing harmful drinking and promoting understanding of responsible drinking. It is supported by the leading global beer, wine, and spirits producers, who have come together for a common purpose: to be part of the solution in combating harmful drinking. To advance this shared mission, IARD works and partners with public sector, civil society, and private stakeholders.
For further information, please visit: www.iard.org