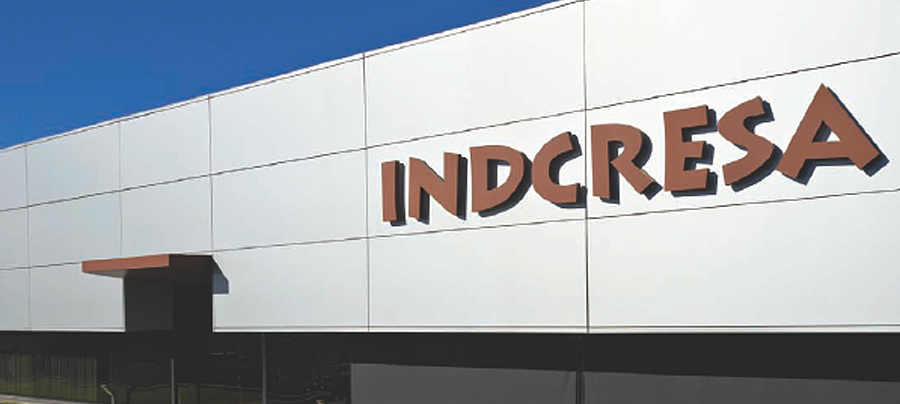 Cocoa conquers Spain
Indcresa is a story about a family of entrepreneurs committed to growing and developing the cocoa industry
Indcresa dates back to 1915 when its forward thinking founder Enrique Crehuet Roig built his first factory on land purchased in downtown Barcelona. Despite low consumption levels of cocoa products at that time, he decided to install cocoa processing equipment. "Our grandfather had a great vision of the future. The civil war between 1936 and 1939 stopped many initiatives, but everything began to change in the 1950s with the creation of cocoa based products. Cocoa powder overtook the Spanish demand for butter as he predicted. It was the beginning of our grandfather's innovative strategy to manufacture cocoa powder by importing cocoa cakes, to avoid generating butter surpluses," said Mario Crehuet, Enrique´s grandson and CEO of Indcresa, together with his
brother Carlos.
The growth in cocoa powder grew more quickly than the Crehuet family could have imagined. In 1988 Indcresa inaugurated its first factory in the world dedicated exclusively to manufacturing cocoa powder, in an industrial zone 20 kilometers from Barcelona. At the time its main suppliers were from Brazil, Ivory Coast and Malaysia, but over time it started to incorporate other areas. Mario explains: "Little by little cocoa powder applications were growing and we required more raw materials thanks to very popular products like instant drinks such as Cola Cao or Nesquik, syrups like Hershey, spread creams like Nocilla or Nutella, the biscuits that we all seem to love like Oreo and Principe, compound coatings, chocolate substitutes, the fillings in bakery and confectionery, dairy products such as milkshakes, yoghurts and ice-creams and cocoa breakfast cereals."
Further innovative developments have taken place over the years, and today Indcresa has a modern factory with a capacity of up to 70,000 tonnes per year. It exports 75 per cent of its cocoa powders across five continents, thanks to subsidiaries in Holland and the US. The family run company's vision will grow it further: 'Our philosophy is to continue growing and to continuously adapt to the market place and changing customer demands, while always keeping the identity of our family business and willingness to remain very close to our customers.'
Cocoa powder processes
As consumers want more products the family has had to look further a field for suppliers. After a careful selection process Indcresa obtains raw materials from the leading cocoa producers in Ghana, Ivory Coast, Malaysia, Indonesia and South America, many of them long term suppliers. Mario states: "We are in permanent contact with all our manufacturers, especially in Africa and Asia, with the majority of presses in Europe and with all the traders in the world. The relationship with our suppliers is very reliable because we have been building it for many years, reaching
future agreements with many of them."
When the raw material reaches the warehouse it is analysed to determine its properties, and through the most appropriate processes of control it's optimised and improved, taking into account its subsequent behavior when used in the final products. "Careful selection of cocoa powder is essential to improve the flavour, colour, aroma and texture of all its applications," explains Mario. "We produce a wide variety including natural, light, medium and strongly alkalised cocoa powders and ultimately different kinds of red and black colours." Due to ever increasing demand Indcresa has recently invested into new processing lines to manufacture larger volumes of alkalised and red and black products. It has also added a new and more sophisticated packaging building with the latest available technology and built new factory warehouses in external facilities to expand the levels of stock of both raw and finished products. Its facilities have grown to 50,000 m2 just outside of Barcelona.
Global sales
The company's main customers are large multinational companies with very popular products such as instant drinks, bakeries, biscuits, syrups, dairy, chocolates, coatings, creams, ice creams and desserts. Indcresa also has medium and smaller customers producing similar products, but on a localised scale. Its predominant markets are the USA and Spain, but it also has a strong presence across Europe, where France, Germany, UK and Italy are the leading countries. In Latin America and across the Mediterranean strip in Algeria and Turkey sales are also good, while Russia, South Africa and India purchase large amounts of cocoa powders. Mario puts a lot of Indcresa's successes down to his sales team: "Our sales department is very proactive and constantly opening new markets and getting new customers, which allows us to expand our customer base and sales every year."
The innovative nature of the company doesn't end here. It's already planning future changes. In the next three years there are plans to expand capacity and capabilities. "We expect that the cocoa business will develop in an even more demanding way. Consumers want sustainable and healthier products," says Mario. The company received approval to manufacture cocoa that is certified as ecological in July 2015. This all comes with investment into processes, machinery and the right people; the future is looking good for Indcresa.