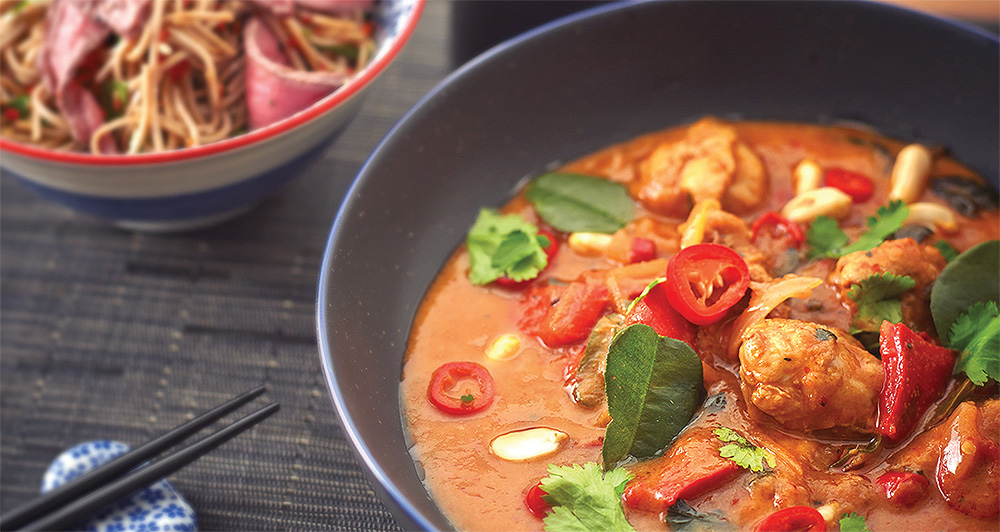 Passionate creators
Delivering award winning frozen foods and ready meals, KK Fine Foods represents a trusted supplier to pubs and wholesalers throughout the UK
Since the company was first established in the kitchen of its founder and current CEO Leyla Edwards during 1987, KK Fine Foods has grown into a leading brand in the delivery of high quality meat, fish and vegetarian meal solutions to the UK pub and wholesale sectors. From its base in Northern Wales the business has nurtured a trusted reputation in the supply of frozen foods and ready meals and fostered strong relationships with some of the UK's leading brands.
KK Fine Foods was originally founded to produce a comprehensive range of vegetarian frozen foods and following the success of the business the company later diversified into the manufacture of foods incorporating meat, poultry and fish. This resulted in an unprecedented demand for its products that has enabled KK Fine Foods to grow from a small business into a mid-sized market leader, twice winning the Welsh SME of the year award.
The company today employs in excess of 250 people at its Deeside location, having completed a £4.2 million expansion project in 2015. The investment into additional manufacturing space and new equipment created as many as 90 new jobs within the business and increased its production capacity to more than £40 million worth of frozen food in a year. More recently during November
2015, KK Fine Foods announced the creation of an additional 100 jobs with the further investment of £833,000 into the business following the award of several major contracts from key customers.
The investment will enable KK Fine Foods to create a third production hall including new freezing facilities and cooking lines, as well as new equipment and IT control systems to increase productivity and efficiency. "This latest expansion is part of our strategic longterm growth plans which we have been able to bring forward thanks to recently winning several new contracts that widen our presence across the market place," explains Managing Director Samir Edwards. "It will enable us to meet the growing demand from some of our key customers and we anticipate it will increase our turnover to £40 million within three years."
The announcement of the company's latest round of investment coincided with an exciting end of 2015 for the firm, with the KK Fine Foods winning the coveted British Frozen Food Federation (BFFF) Catering Product of the Year prize at a prestigious gala dinner. The company was awarded Catering Product Of The Year 2015 for its Korean Spicy Vegetable Curry as well as the competition's gold, silver and bronze awards. As well as taking the competition's top prize, KK Fine Foods' Korean Spicy Vegetable Curry also won the gold award for 'Best New Meat Free/Vegetarian Product', while its Slow Cooked Roasted Shredded Pork achieved the silver award for 'Best New Multi-Portion Product' and its Pumpkin, Kale and Sweet Red Onion Tart claimed the bronze award in the Best New Meat Free/Vegetarian Product category.
"KK Fine Foods' profile has increased considerably after winning a string of awards at the 2015 BFFF Gala Dinner. These awards, combined with our ongoing investment in the business and high quality innovative range of recipes and dishes, is a winning combination and has resulted in significant new orders from our customers," reveals CEO Leyla Edwards. "Managing Director Samir Edwards is driving sales forward with a young and dedicated team of new product development chefs who are aware of the ever changing trends in food consumption based on global innovation."
"We had an amazing evening and these awards demonstrate our commitment as a business to continually deliver quality, innovative and great tasting products to our valued customers," Samir adds. "Twelve months ago there was no demand for Korean curry, but through remaining at the forefront and predicting the development we have been right on the money in terms of the timing of the product, and the feedback has been that it's been one of the best products available."
The development of new products within KK Fine Foods begins with the company's passionate product development team, which creates dishes with the aid of market research to determine current industry trends. The firm's 'Product Champions' then take on a hands-on role throughout the factory by training teams in new product preparation and make-up to ensure that its dishes not only taste great, but also look authentic to their respective country of origin. Only once the new dishes are given an all-important seal of approval do the new products finally enter full production. "For us, it is all about relationships and delivering what you say you are going to deliver," Samir concludes. "As a family owned business, there is a lot more passion, a lot more energy, and ultimately care and attention. Building upon our experience within the food business, our aim is that clients look to us to develop solutions, and that we are always their first point of call for every brief."