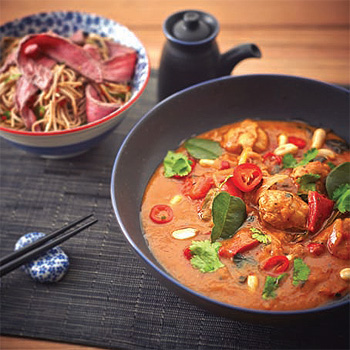 Made with passion
KK Fine Foods is a passionate, fast moving business built on family values and integrity with a forward thinking approach that creates award-winning food
The company was started in 1987 by current CEO Leyla Edwards, and from the humble beginnings of her kitchen it has since grown into a business that operates out of a 120,000 square foot factory and boasts state-ofthe- art capabilities, and employs over 350 staff. This represents the huge distance KK Fine Foods has come, and is indicative of the drive and innovation that the
company has constantly displayed, always taking itself to the next level in producing ready prepared food. Today KK Fine Foods is an award winning company that delivers high quality meat, fish and vegetarian meal solutions to the UK pub, restaurant and retail sectors.
KK's extensive portfolio offers British favourites plus many ethnic dishes from India, South East Asia, China, Mexico and South America. KK's Italian classics, including pasta and risotto, are hugely popular as are its handmade pastries and pies, fishcakes, vegetarian burgers and sausages. In addition to this, KK is developing balanced, healthy, low fat dishes, and has a huge interest in 'free-from' such as gluten free, vegetarian and vegan. The success that KK Fine Foods enjoys has not only resulted in increasing growth and sales, but also a number of prestigious awards, as well as a number of significant investments that help to push the business even further forward. Managing Director Samir Edwards discussed some of the most recent investments the company has made: "Last year we finished off quite a major round of investment that has been happening over the past two years, this involved in excess of six million pounds being put into various aspects of the site. This not only includes factory investments, but also into our people, all of which we have completed, which means that 2016 was our first year with all the investments in place. As a result our capacity has doubled and it has opened up the additional volume for our existing customers and new clients."
The investments not only demonstrates the intent of KK Fine Foods, it also displays the demand from consumers for the company's products, as once its developments had been implemented its growth rate increased. The business has recorded double digit growth for the past two years. This impressive trajectory clearly shows the popularity of KK Fine Foods and the positive impact that its re-investments have made and will continue to make.
Another key factor behind the company's success over many years has been its ability to understand its customer's needs and the tastes of the end consumer, both of which KK Fine Foods prides itself on. In order to do this it uses extensive market research, which takes a number of forms, from attending food events in the UK, and in countries across the world, while also watching for the early stages of new food trends, as well as a number of other methods. All of which ensures that KK Fine Foods remains at the forefront of the industry, developing meals that appeal to the latest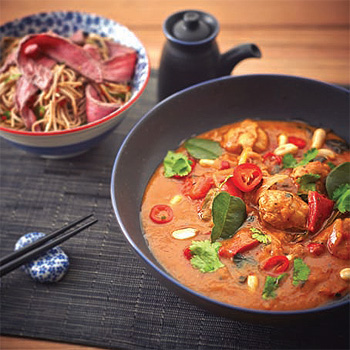 trends and tastes of tomorrow.
Customer satisfaction
Fundamental to it creating food that appeals to the end consumer is the vast amount of research it conducts, and what underpins all of this is the company's passion for customer satisfaction, something that Samir highlighted: "We see ourselves as a proactive and forward thinking business, and we are able support both customers that have an idea of what they want and those that do not; as such we have a very firm understanding of what our clients are looking for. We want to ensure that we give our customers 100 per cent satisfaction, we want to make sure there is a happy customer at the end, because we also want repeat business."
The many positives of KK Fine Foods were once again demonstrated in 2016 – this time in the form of a number of awards at the British Frozen Food Federation (BFFF) Annual Awards 2016. At this occasion the business won two gold and three bronze awards for a range of products; it gained Gold in best new meat free or vegetarian product with its Thai edamame burger, and a Gold in best new vegetable-based product with its mushroom, cranberry and brie wellington. It also won a Bronze award in best new meat free or vegetarian product with its aubergine, butternut squash, Greek style feta and pomegranate moussaka, while also receiving the Bronze award in best new multi-portion product with its Korean shredded chicken, plus a Bronze in best new meat-based product with its wild boar cracker with red wine sauce. This long list of awards is a clear sign of the variety that KK Fine Foods offers, and the depth of expertise and passion that its staff put into developing foods. In addition to all of this Samir added: "We also had products nominated for this years Q Awards, and were nominated in the final three products for the frozen ready meal category."
Therefore, with a plethora of awards in 2016 KK Fine Foods is making itself stand out as a leader in creating innovative and popular foods that tap into the market tastes, and this has been added to with the completion of its two year investment project. The distance that the company has come, from its start to where it stands today, is a clear reminder of the determination and ability of the company, and with all of this in mind there is surely no limit on how far KK Fine Foods can go.