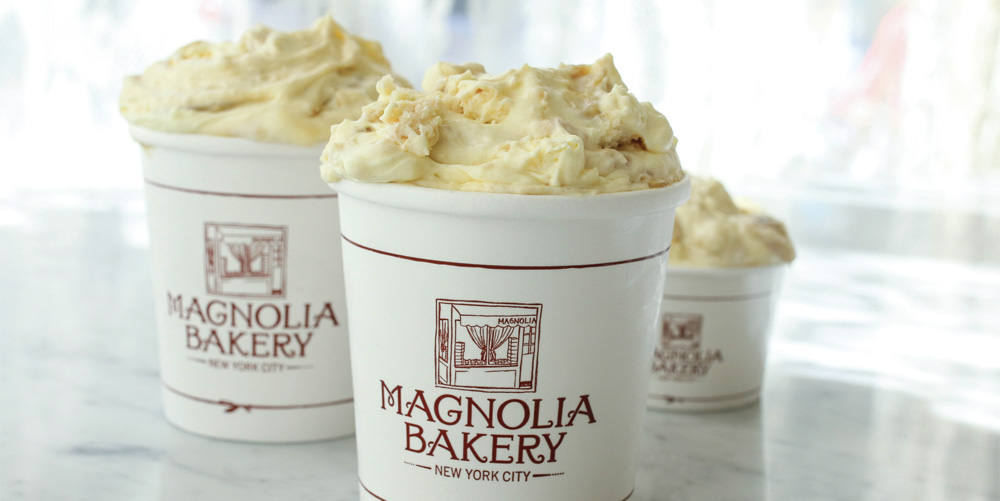 A star performer
Famous for cakes, cupcakes and an epic banana pudding, Magnolia Bakery has continued on its path of growth since last appearing in FoodChain
Nearly two decades have passed since the iconic Sex and the City cupcake scene was filmed outside Magnolia Bakery on Bleecker Street in New York, and not only have Carrie and Miranda grown
up and moved on, but so too has Magnolia Bakery, expanding from its one shop into a multitude of locations; becoming a household name across the entire US, and developing a new wave of fans across the world from Jordan to Mexico, and from Korea to the UAE.
FoodChain previously featured Magnolia Bakery in January 2018, where CEO Steve Abrams went over the history of the bakery and its development – when we spoke to him for this issue, he highlighted how the past 12 months have been an exciting time for the business: "We opened our first stores in Boston's historic Faneuil Hall Marketplace and Washington, D.C.'s Union Station," he began, "and additionally, in the US, we've continued to focus on growing our online business, launching cake shipping and increasing sales for banana pudding and holiday basket shipping."
"Internationally, we have opened new locations in Saudi Arabia and the Philippines, and we've found a franchise partner in Brazil. This is a continuous process, opening new locations and looking for new ways to increase business, including delivery sales, custom cake orders and events," he added.
He went onto note that the UAE (where Magnolia Bakery works with the Al Tayer Group) is seeing positive growth, with another new opening on the agenda in 2019 and some interesting menu adaptations. "In particular, their delivery business has grown substantially in the past two years and their team is continuing to identify new delivery partners, new packaging options and new products to offer through those channels," noted Steve.
"The UAE stores also offer a savoury menu and in 2018 they updated the menu to offer more shared plates. As a result of the new menu offerings, savoury sales have increased year-over-year. They continue to build out new revenue streams, including a special Tea Time offering, which features small bites of a selection of desserts."
It is clear that the magic of Magnolia Bakery appeals to a wide variety of markets and regions, and Steve explained how the business manages to achieve the perfect diverse mix of products to keep fans coming back to its stores: "We follow a general 80/20 rule. Our core brand elements – classic American baked goods made in small batches; warm, inviting décor; an icing theatre; and offering a diverse product mix – are consistent across all locations and cannot be changed. This makes up about 80 per cent of the brand.
"The remaining 20 per cent gives franchise partners an opportunity to localise the Magnolia Bakery experience to their market. This is done primarily through local flavour profiles, but can also include local partnerships and events."
Customer response
As a result of this 80/20 approach, international visitors to Magnolia Bakery not only enjoy the traditional American baked goods that have made it famous, such as banana pudding, cheesecakes, cupcakes and cakes, but also market-specific products that are developed with the local culture in mind. "We have found that customers respond very positively to our product variety, décor and
the icing theatre, and we work hard to create exclusive products and/or product lines in our franchise markets that best resonate with their customers. In the Philippines, for example, we created an ube cake and cupcake and in Saudi Arabia they offer a range of milk cakes (tres leches) which is the most popular dessert they sell," Steve explained.
Plans for expansion
A look at the Magnolia Bakery menu on its website not only tempts the taste buds, but also illustrates the wide range of products for which it has become renowned, with everything made fresh from scratch on the premises every day. In addition to those mentioned by Steve, are muffins, loaves and scones, and also a range of recipe books, T-shirts and other accessories. "Trends come and go, so we focus primarily on developing classic desserts around different tastes and ingredients," Steve noted. "With that said, we are always open to integrating new and different options, including sea salt caramel, Lotus in the Middle East and the aforementioned ube in the Philippines." For those unfamiliar with ube, it is a purple yam, which gives the products not just an amazing hue but also a distinctive sweet and earthy flavour.
Looking to the rest of 2019 and unsurprisingly, Steve and his team have further plans for expansion for new locations across both the US and the globe, still within the franchising model: "The target markets include India and Malaysia, among others. Additionally, we're shifting our focus to franchise domestically in addition to the international growth," he revealed.
All of the stores, both old and new, will continue to create the most amazingly delicious baked products, with Magnolia Bakery's best-selling categories continuing to be cupcakes, cakes and banana pudding. "We're proud of the diverse product mix we offer which includes more than 250 individual products – in addition to those listed previously are pies, cookies, 53brownies, bars and icebox desserts," said Steve. "But banana pudding, in particular, has been a product category that's grown over the past year with the addition of new flavours. We now have more than 12 banana pudding flavours that are featured monthly. As a result of increased promotion and flavour offerings, the category sales have increased more than five per cent year-on-year."
Since Magnolia Bakery's original owner passed her oven mitts to Steve and his wife in 2007 the company has gone from strength to strength, with its expansions always thoughtfully considered and planned and its menu always carefully adapted to maintain traditions but reflect local tastes. It may have only had a cameo in a trendy TV series a few years ago, but today Magnolia Bakery is certainly the star of the show.