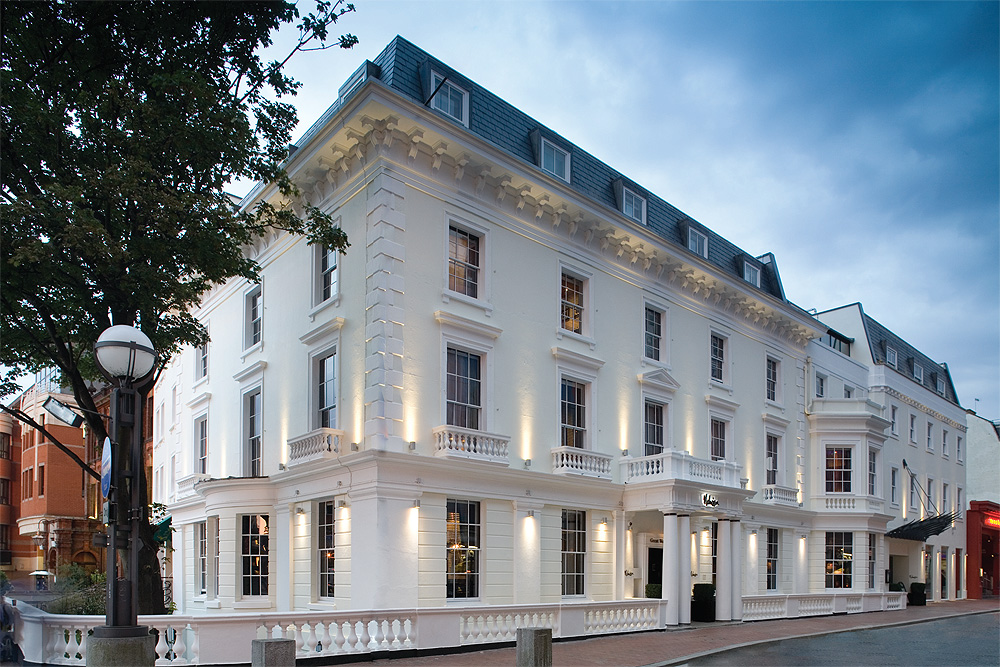 High on style
There seems to be no rest for Malmaison, as it launches yet another hotel to add to its portfolio of architecturally unique buildings
The 11th of Malmaison's hotel has finally been launched, marking another important milestone in its history. This eagerly awaited hotel is located in Reading, a town that is at the top of its game just like the flourishing Reading Football Club. This new location began life as the Great Western Rail Hotel, the brainchild of Victorian engineering genius, Isambard Kingdom Brunel – it was originally built in 1844. Malmaison has brought the old girl from the Golden Age of Steam into the 21st century with an unmistakable Malmaison twist. All 75 restyled and refurbished bedrooms and suites come complete with the 'Mal' ingredients – great beds for sleepy heads, power showers, dramatic lighting, CD and DVD players, and libraries, satellite TV, serious wines and naughty nibbles.


The design is inspired by the old railway, though it's not necessarily targeted at 'train-spotters', with each suite named after well known trains. Boasting 75 suites and rooms, a Café Mal, a wine bar, a brasserie, and a gorgeous private dining room, this is a luxurious, unconventional location for an indulgent weekend.
Today there are eleven Malmaisons in the UK: Edinburgh; Glasgow; Newcastle; Manchester; Leeds; Belfast; Birmingham; Oxford; London; Liverpool; and Reading, all distinctive, architecturally unique buildings that exude flare. Each one is bold in design and rich in colour. Doing the simple things consistently well attracts a loyal following of discerning business travellers and weekend pleasure seekers keen to enjoy a stylish alternative. Malmaison has always believed in being different with its blend of flamboyant design and refreshingly innovative service. Its new initiatives also include complementary high-speed internet access for all guests, cabled in the rooms and wireless in the bars and brasseries.
Bars and brasseries are the hub of each hotel and destination in their own right, similar in set-up to the first Malmaison, which was primarily a brasserie and bar with rooms for guests that came to dine. The food has always been tasty and wholesome, cooked by award winning chefs in a relaxed, fun environment.
Malmaison's hotels certainly do have it all, and they stick to these simple but winning ingredients. Other luxuries include same-day laundry, generous toiletries that guests are encouraged to take with them, 'vroom' room service and a hi-octane gym. Also available are bespoke rooms for business meetings, presentations or private parties as well as private dining rooms dedicated to wine and champagne.
If awards were the defining factor of a company's overall quality and success, then Malmaison would be dominating the market, having been voted the AA Hotel Group of the Year 2006-2007, won the World's Best Smaller Hotel Chain by the Business Traveller Awards 2007 and short-listed for Best Marketing Campaign and Best Hotel Website, whilst Malmaison's sister company, Hotel du Vin, won the Guardian Business Travel Award for the Best UK Hotel Group Company and Best Restaurant Group in the UK at the Eat Out Awards, and was voted Guardian/Observer Reader Awards Best UK Hotel Group 2007. More recently, on the 18 February 2008, Malmaison and Hotel du Vin took home two Best Places to Work in Hospitality Awards by Caterer and Hotelkeeper.
Acquired in October 2004, Hotel du Vin & Bistro is a collection of stylish and unpretentious properties striving to be elegant but relaxed, classic yet quirky. Beautiful bedrooms are furnished with luxurious 'basics' such as large, comfy beds with Egyptian linens and duvets, monsoon-like showers, deep baths, fluffy bathrobes and plentiful bathroom products. With 11 hotels located in Birmingham; Brighton; Bristol; Cambridge; Cheltenham; Glasgow; Harrogate; Henley-on-Thames; Tunbridge Wells; Winchester; and York, Hotel du Vin has major plans with further properties opening in 2008 in Poole, Newcastle and Edinburgh.
Malmaison is named after a Chateau on the outskirts of Paris – the original home of Napoleon and Josephine that he famously decorated for her, which became an icon of great style. Two hundred years later in 1994, Malmaison revolutionised the UK hotel industry by opening its first hotel in Edinburgh, heralded as the birth of affordable chic in the city.
The first Malmaison is an architectural gem of a building – a former seaman's mission built in 1833, with an impressive baronial façade overlooking the recently rejuvenated bohemian area of the Port of Leith, just minutes from the hustle and bustle of Princes Street, the Old Town and the Georgian elegance of the New Town.
This is one of the charms of Malmaison, earning it a reputation for converting very old and unusual buildings. It has, in its portfolio, hotels that are a converted brewery, a former church as well as the old boys' school at Charterhouse Square, amongst its collection of interesting buildings. The company remains passionately high on style yet grounded by its desire to deliver real value.