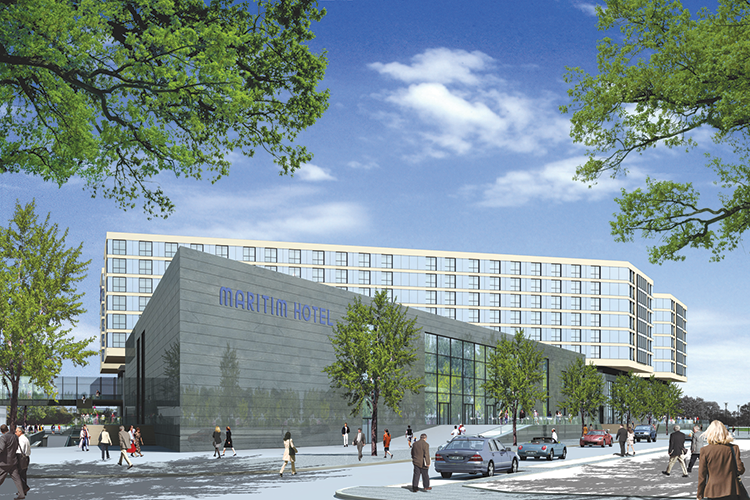 Planning ahead
Maritim Hotels has exciting plans for the future, as Mark Spivey reveals
When Maritim's first hotel was opened in 1969 on the Baltic coast in Germany, it paved the way for another 37 first class deluxe hotels to be opened in Germany and a further ten leisure resorts in exotic places like Mauritius, Tenerife, Latvia, Malta and Tunisia. Today Maritim Hotels is unique in the hotel industry, as it is not only still privately owned by a lady, but it also owns more than half of all of its hotels. As an entire group portfolio, Maritim is predominantly geared towards the conference/meetings and corporate market, but the beauty of its locations and its diversity also appeal to the holidaymaker.
Mark Spivey, Maritim Hotels' director of international sales, takes some time off his busy schedule to speak to Food Chain about the company's exciting developments: "Last August we opened a hotel in Potsdamer Platz, which is located in downtown Berlin. This is our second hotel in Berlin and is the largest conference hotel around with an auditorium that holds approximately 3000 people, making it rather unique in that respect. The presidential suite in this hotel is by far the largest presidential suite in the whole of Berlin with its 350 square metres of space. It is absolutely massive and even has its own private lift specifically for that floor, not forgetting a breathtaking view overlooking the entire Potsdamer Platz. The design of the hotel has been really catered to conference groups with features including the biggest stage in any of the hotels in Berlin and 72 fully-fledged conference rooms. As for the main auditorium, it even has its own road leading up to it, allowing direct access to load/unload. Even though the hotel was newly built, its interior has been designed to relive the 1920s when Berlin was the primary city in Europe though the rooms are excellently equipped with all the requirements for a conference such as WiFi points.
"We chose this location strategically because Potsdamer Platz is an up and coming area, which is also probably why major companies like Sony, Mercedes Benz and Deutsche Bahn have relocated their offices there. This is fundamentally the new district of Berlin and with various art and design buildings as well as museums, it makes this area even more attractive.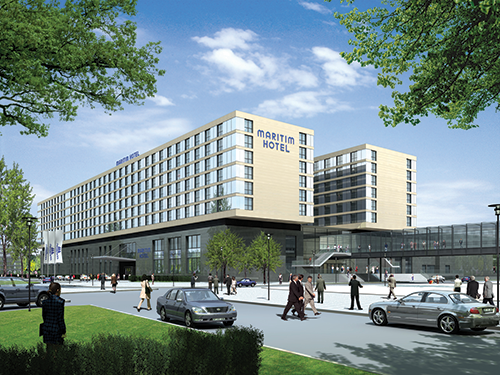 "We injected an investment of 550 million euros into this hotel and it has been extremely successful. The resonance in the international meetings market is that Berlin is crying out for a major meeting hotel in downtown Berlin because as soon as you enter the 1800 delegates mark, you would have to go to the HIS, where trade shows are held. But this new venue has really given Berlin the accessibility and ability to accommodate large conferences, and this has also helped the city significantly. After a year of operation, I think it's safe to say that we've done extremely well in the German market and are also attracting a lot of international conferences because they are now aware of this new product on the market."
Thanks to World Cup 2006, Germany has been in everyone's thoughts, and Mark is confident that this will benefit the country for the next three to five years. "Companies that have never considered Germany for conferences and people who perhaps were around for the World Cup are all returning for a private holiday or to hold a meeting. Germany will always do well as the central hub of Europe and now there are additional flights coming in from America with Continental and Delta considerably increasing their operations into Germany. In comparison to places like the UK, France and Brussels, Germany is definitely one of the top destinations in terms of value for money," says Mark.
He also goes on to highlight the company's progress and plans for the future: "Besides the hotel in Postdamer Platz, we recently opened one in Dresden in May of this year. The hotel has 328 rooms with an attached conference centre and a main auditorium that holds approximately 4000 people. The only major city we're missing in Germany is Düsseldorf, but by the 1st of December 2007 we will have a hotel with over 500 rooms there. More excitingly, this hotel will include the biggest conference room in Northrhine Westfalia and it will be about 2500 square metres.
"As for outside of Germany, I am only able to confirm that by the 1st of January 2007, we will commence business in Marmaris, which will increase our operations in Turkey to three hotels. We are also in the middle of redesigning a hotel in Alanya in Turkey. To give you a little insight into the future, there will also be a five-star luxury hotel in Estepona in Spain by 2008 with 166 rooms."
He concludes: "Ideally we would like to open two to three new hotels a year and in the next four to five years, Maritim Hotels aims to have 55 to 60 hotels in the market."