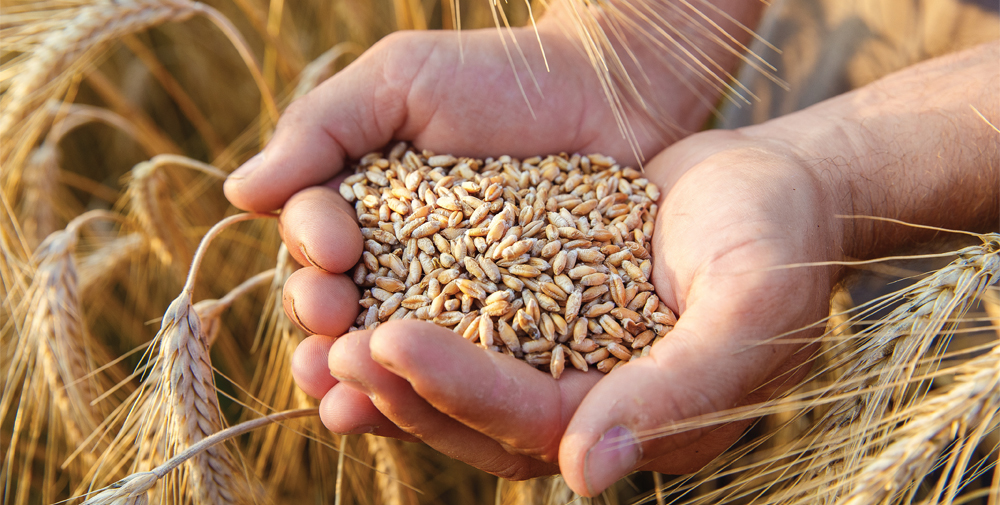 Tending the land
Silvery Tweed Cereals has been a prominent cereal and seed ingredients supplier for the last 175 years. Following targeted investment in its production plants, the family-owned business has expanded its capacity and evolved its proposition in recent times
Based in the Northumberland border town of Berwick-upon-Tweed, Silvery Tweed Cereals specialises in supplying premium quality cereal and seed ingredients to many of the leading names in
the baking and cereals-based industry. Drawing upon 175 years of experience, Silvery Tweed intertwines in its operation traditional family values with modern business practices, which have enabled the company to establish productive and long-lasting partnerships with its customers. As a specialist at adding value, the organisation makes sure it works closely with clients and continually researches customer and market trends to accurately predict future demand and improve the services it offers.
Throughout its history, Silvery Tweed has built a reputation of an innovative and creative company, willing to drive the industry forward with the introduction of efficient technologies. The business was one of the first British companies to coat cereals and its state-of-the-art blending plant was the first of its kind in the UK. Committed to continually investing in its development, Silvery Tweed is regularly upgrading its four plants, thus building on the established tradition of expanding its capabilities.
Since moving to its current site, the company has invested more than £7 million in the latest equipment housed in two mills, a coating plant, a blending plant, and a seed plant, all of which are nut free. In February 2016, Silvery Tweed completed a £1.5-million investment programme successfully, which saw it add new machinery and automate a number of processes using state-of-the-art food processing technology. This way, the business managed to boost its capacity, raise productivity levels, and open eight new full-time positions.
Smooth progression
Another recent infrastructure development took place in the summer of 2017, when Silvery Tweed sought to improve its grain cooling capabilities by investing £250,000 to upgrade its flaking line. The project resulted in an increased efficiency, flexibility, and hygiene, as well as a reduction in pre-pack product temperatures. In keeping with the business' reputation for technological innovation and progressive process development, the plant staff keenly moved away from the industry standard of drying, cooling conveyors that use individual slats on a chain drive. The new, bespoke cooler belt, which was designed in conjunction with a local engineering company, brought additional benefits, such as lower floor waste and a simplified cleaning process.
Equipped with modern machinery, each of the four Silvery Tweed sites performs different functions, vital for the smooth progression of the business. One of the mills – Trading Estate – produces a large range of flakes, cut grains, and specialty flours; while the Henry Ogle Mill houses Silvery Tweed's purpose-built blending operation offering state-of-the-art production and packing lines, supplying cereal and seed blends to some of baking industry's most prominent names. The site also provides total product protection, including in-line X-rays, metal detection, and magnets; 29as well as extensive raw and finished product warehousing facilities.
Employing the latest colour sortex technology, metal detection and in-line magnets to ensure product integrity, the business' seed plant is dedicated to the cleaning and blending of seeds to a world-class standard. Last but not least, Silvery Tweed runs a coating plant that is able to apply a wide variety of sweet and savoury coatings to cereals and seeds, including oats, barley, wheat,
extruded, and puffed cereals.
Anniversary celebrations
Kicking off the jubilee year of its 175th anniversary, Silvery Tweed announced a new supply partnership with Durham-based spelt producer Craggs & Co in January 2018. Under the agreement, Silvery Tweed will be able to provide its customers with a reliable supply of competitively priced, locally-grown spelt products – a rarity in the UK grain market. Based in Sedgefield, commercial wheat grower Craggs & Co expanded into spelt production after cultivating a test batch for a family friend and finding that the conditions on their land were ideal for growing the grain. Now, in addition to milling the grain into flour for its own range of products, Craggs & Co's spelt will also be used in Silvery Tweed's own processed cereal products, such as flakes and kibble, which will then be supplied to the food manufacture and breakfast cereal industries.
The good news for Silvery Tweed continued as the year progressed, with the business' certification under the BRC Global Standard for Food Safety being upgraded to an AA rating – the highest score possible, in May. The industry-leading rating was awarded following a rigorous external appraisal by food industry certification body SAI Global and illustrates Silvery Tweed's commitment to high-quality standards and food manufacture best practices, as well as building confidence in the supply chain.
In an initiative marking its birthday, the company hosted a dinner for growers and suppliers at the Born in the Borders brewery in Jedburgh, in July, at which Silvery Tweed unveiled two commemorative, limited-edition beers, created in collaboration with Born in the Borders. Indeed, Silvery Tweed has used its 175th anniversary celebrations as the perfect platform for a range of activities, many of which are philanthropic in nature.
For example, the business has approached a local school, Berwick Middle School, with the forward-thinking plan to invest in the next generation of food developers. The company is paying for a £15,000 refurbishment of their Home Economics kitchen with new cookers, kitchen equipment, a nutrition software package and so forth.
The approach of investing in the community continued with the purchase and installation of a defibrillator on the Tweedside Industrial Estate, and local charities were also supported through a traditional Family Fun Day held in July. This was attended by 250 staff, friends and family and included fairground rides, a dunk tank (for the Directors), face painting, bouncy castle, traditional games, hog roast, afternoon tea and prize draw. A tremendous day was had by all and £1500 was raised for local charities.
Glorious success
2018 has definitely been a year of celebrations for Silvery Tweed – the company revealed continued growth when it published its most recent financial figures in late 2017. Sustained year-on-year increase in volume and profitability was evident across all product lines and in all of the business' production and processing plants shone through the report, instilling confidence in the company's workforce that its efforts have led to quantifiable results. Equally important, longer-term figures demonstrated that the positive trend is no nine days' wonder; across the five years from 2011 to 2016, records showed a general upward volume trend over the whole business, amounting to a volume increase of 37 per cent per annum – no small achievement for a 31firm identifying itself as a local, family business.
The strong financial performance by Silvery Tweed certifies that the company is taking the right decisions, and acts as a source of inspiration for its future activities, proving yet again that hard work and wise investment moves pay off. With the milestone year of 2018 nearing its end, it is understandable that spirits are high, fuelling the business' ambitions for even more glorious success in the coming years.