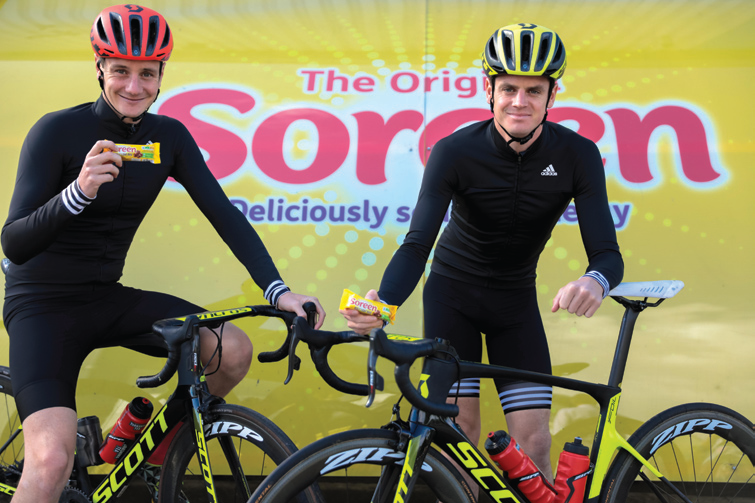 Everyday energy
With sales across its portfolio of products increasing year-on-year and its name attached to some of the UK's biggest health initiatives, and sporting events and teams, more and more consumers are discovering the nutritional and energy benefits of Soreen
While it can rightfully be proud of its 80-plus year history, during which time its much-loved, deliciously squidgy malt loaves, bars and snacks have been baked in its home city of Manchester, it is
only in the last three years that Soreen has been actively repositioning itself to also be seen as a nutritional energy snack company. When FoodChain last spoke with Soreen's Managing Director Mark Simester in the latter half of 2018, this was one of the main topics of conversation. Catching up with Mark a year later, he is keen to extol the fantastic progress the business is making.
"We continue to gain excellent momentum in a number of areas, which is reflected in the fact that our sales across the board are very strong – rising by ten per cent this year alone – in a grocery/packaged goods market where things are generally flat at present," Mark begins. "One of the biggest drivers of that is the fact that more and more consumers are discovering the positive nutritional values of Soreen, and are subsequently attributing it as being a healthier snack choice for people of all ages."
Contributing to this has been the company's targeted marketing which has successfully linked the brand, and its nutrition and energy credentials, to organisations such as British Cycling and has seen various elite athletes – such as Laura Kenny and Alistair and Jonny Brownlee – brought in as Soreen Brand Ambassadors. "We are also very pleased to be continuing our association with the Tour de Yorkshire and the Tour of Britain, the latter of which recently culminated in Manchester, where one of our own highlights was the appearance of our ¾ of a mile-long advertising banner – the longest ever produced – that ran along the length of Deansgate.
"Meanwhile, since we last spoke, Soreen is now officially used by a 47number of professional sports teams, including the Leeds Rhinos Rugby League side, Manchester United Football Club and the Liverpool Football Club Academy, as a means of energising their athletes. We are thrilled to be providing energy to these partners, and we are actively speaking to a number of other organisations with a view of working with them in the future."
In case Soreen needed any further endorsement of its nutritional credentials (which it most certainly does not), the company has also been a partner of the Public Health England (PHE) for four years now, and counting. "Soreen represents a mainstream snack that boasts amazing nutrition, and that can be enjoyed by anyone from 18 months old to 80 years plus. Our partnership with PHE is all about doing our bit to improve the nation's diet, such as encouraging the cutting down on consuming high-sugar snacks," Mark states. "Soreen has as much as 50 per cent less sugar than the average cake bar, and it is such facts that PHE helps to publicise when recommending Soreen amongst its list of healthy alternatives that people can try. We are delighted to receive such support, and we work hard to support PHE and its initiatives in kind."
Turning to the company's previously referenced increase in sales in the past year or so, Mark discusses some of Soreen's product-based highlights that have driven this success. "Our bars business continues to be the main growth engine for the brand, with our lunchbox loaves format – five x 30g bars – motoring forwards with sales ahead 20 per cent year-on-year for the last two consecutive years," he reveals. "Targeted initially towards primary and infant school children – whose parents remain among our biggest purchasers – these bars have now gone beyond this one demographic and are now seen as a great snack choice for people with small appetites or those on the move.
"At the same time, our impulse products have been doing very well also, with collective sales up by an excellent 48 per cent year-on-year. Our individual, 42g loaf bars – including our new Banana loaf bar which is available in Tesco Express and WH Smith Travel stores – have gained some serious traction in terms of both sales and distribution, as have our pre-buttered slice packs, which are finding a good home for themselves in the sandwich aisle as part of retailer's meal deals. Meanwhile, when it comes to our latest innovative creations, we have recently launched a new premium offering in the form of our Seeds & More large core loaf. Packed full of super ingredients, bursting with cranberries and topped with seeds to create a crunchy yet squidgy texture, it is already
performing very well indeed."
Busy times ahead
Now coming off the back of what Mark says has been the company's biggest ever "back to school" season, its focus almost immediately turns to the Halloween period, which is marked by the limited release of its incredibly popular Chocolate & Blood Orange and Toffee Apple lunchbox loaves packs. "This year, we have secured wider distribution for these products than ever before, and we expect to see them contributing to another amazing sales month in October, which has been a very pleasing pattern in recent years. Then, hot on the heels of Halloween, we begin gearing up for the festive season, and the return of our Winter Spice Festive Fruit Loaf, which continues to do so well for us."
Heading into 2020, January is one of the most important times in the company's calendar, with it historically being the biggest month for sales, coinciding as it does with consumers' desire to seek out healthier foods. As one would expect, Soreen has been working closely with its retail partners to ensure that its products are positioned in the best possible way to capitalise on this, but as Mark goes on to conclude, January will be just the beginning of another fruitful year for the company.
"We anticipate another very successful year of growth for the business," he says. "As far as strategy is concerned, we will continue to work as hard as possible to make sure that as many people in the UK as we can reach gain an understanding of Soreen's nutritional properties and energy-boosting credentials. In the meantime, we will be working to get our products distributed in more outlets and impulse locations, while also following up on 49those opportunities that exist outside of the UK, where we think we can also have a positive impact."