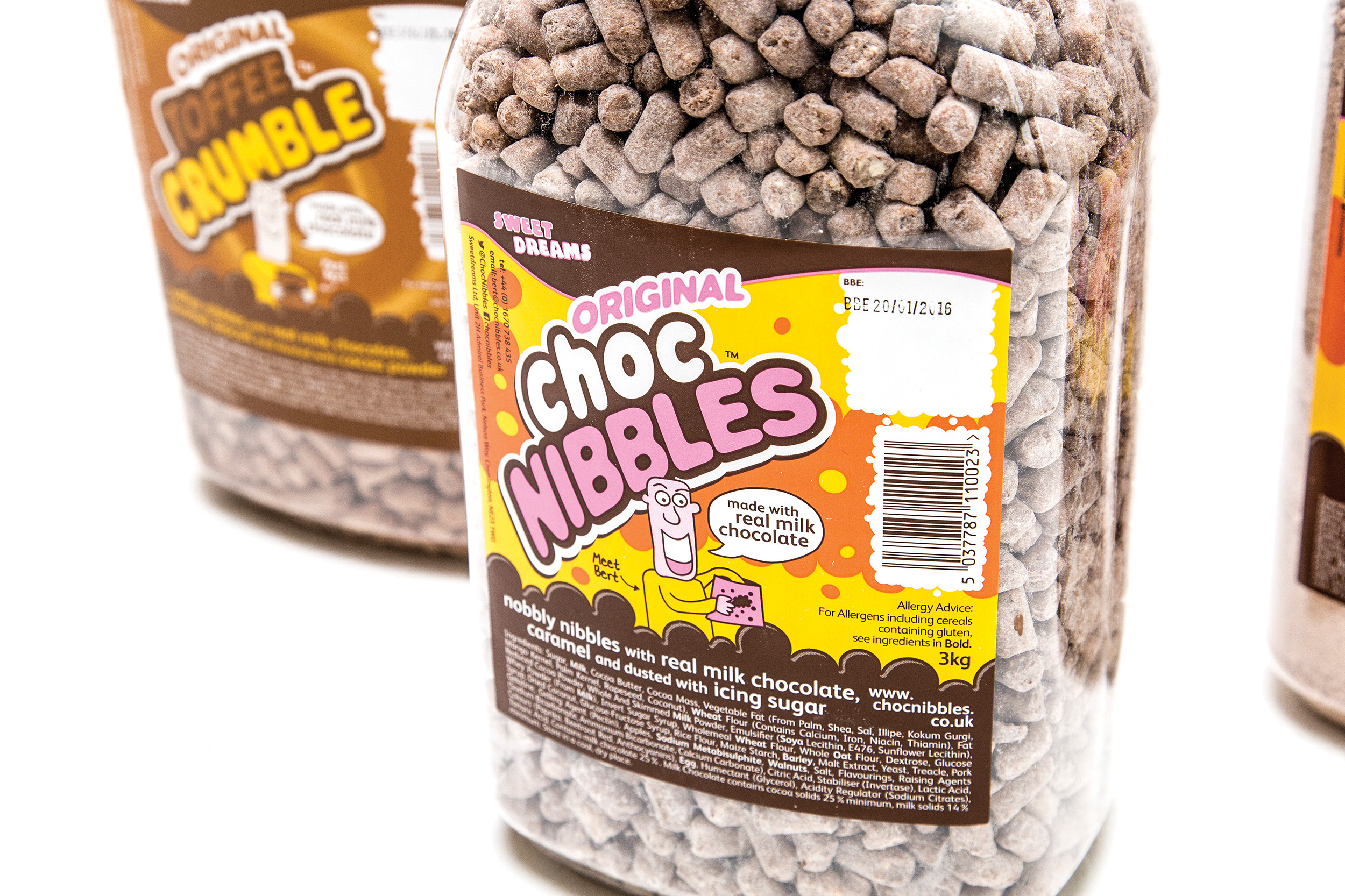 Sweet success
Northern confectioner Sweetdreams has undergone a programme of reshaping and now looks to the rest of the UK for continued growth
With a loyal following in the North of England, Choc Nibbles have been part of the Northern confectionery landscape for 30 years. Originally an accidental creation by Dobsons Confectionery in Ponteland, the unique milk chocolate snack later formed the foundation for Sweetdreams Ltd. Matthew Stephenson bought the company eight years ago and the company remains 100 per cent family owned and managed as it sets about evolving into a nationally successful brand of chocolate products. Indicating Matthew's turnaround, over the eight years turnover has increased three and a half times as it dispatches over 15 tonnes of product every week.


"The core product is Choc Nibbles," begins Matthew, "but as we have developed flavours and ingredients the product range has increased. The second largest seller is Toffee Crumble, followed by Choc Lick, and then we have introduced flavour variants of orange and mint. In 2015, we have launched two new products, which are Jammie and Posh. Our products are completely unique and can't be mixed up with being anything else as we're the only one doing it. We affectionately call it an 'ugly' treat, which can be a struggle to get new consumers to buy into, but those who have tried it, trust it and keep coming back."
With a loyal brand following established in the North, Sweetdreams' success has come from maintaining strong wholesale and distribution relationships, with its ability to offer high margins. "Of course we use high quality ingredients but from the way we process and the way we source to the fact that we have strong distribution partners and no sales force, means that we are able to keep costs down. We are very value driven," he continues.
However, having reached a financial plateau 18 months ago, Matthew decided to pursue a strategy of growth with the view to double the business in five years. In the time since a £100,000 investment programme has been implemented to bring the company up to a point where it can deliver to a national market. At the heart of this have been new products, and in particular the Posh Choc Nibbles offering, which overcomes the challenge of the 'ugly' treat being an unappealing product to new consumers. "The Posh is an original Choc Nibble coated in high quality Belgian chocolate," says Matthew. "The ugly treat disappears with a nice polish and shape to it. We had identified that it would be difficult to enter these new markets as a company of our size with our existing product range. Therefore this product is very much part of the strategy to break into markets like discount and pre-packaged, as opposed to the traditionally jarred, wholesale products that we have launched before."
The investment at Sweetdreams has been about positioning the business in the best way possible to achieve its growth strategy. "We have upped quality control and comfort infrastructure within the facility, sorted out the warehouse and of course brought in new capital equipment and machinery," outlines Matthew. "Along with developing new products and packaging, this allows us to be far more reactive to the market, as we can start doing smaller runs and we can get into different distribution channels. We've also been upping our game with regards to quality systems and consultancy. However, the biggest problem has been getting the right people. It's easy to buy machinery and develop packaging, but its is extremely challenging to recruit the best staff, but we're nearly there with that."
As Sweetdreams now looks beyond the UK North-South border it is working on establishing strong distribution partnerships to bring the product to market. One particular recent success has been to get listed with Bonds Confectionery as the first company in its three-for-a-pound range to retain its original Choc Nibbles brand.
If the last 18 months have been about reshaping the business, the next are about deploying it to achieve growth. Even throughout the investment stage Sweetdreams hit 10 per cent growth, and Stephenson is confident of meeting this target again in the next year. "It's now all about bringing these things together and sweating the assets in a controlled way to achieve our growth targets," he comments. "I made the strategic decision 18 months ago to double the business in five years and we're taking small steps to making this a reality. It will be tough but I think we will get very close to achieving it."
The Northumberland confectioner is taking sure steps towards becoming a strong player in the UK value confectionery market. A lot of hard work has been put into getting the Sweetdreams to a position from which it can grow and initial results appear to be positive. As Matthew concludes: "It's an exciting time for us and because its such a unique product is exciting for our buyers as well, because we have something that can give them the correct margins that they can't get else where."