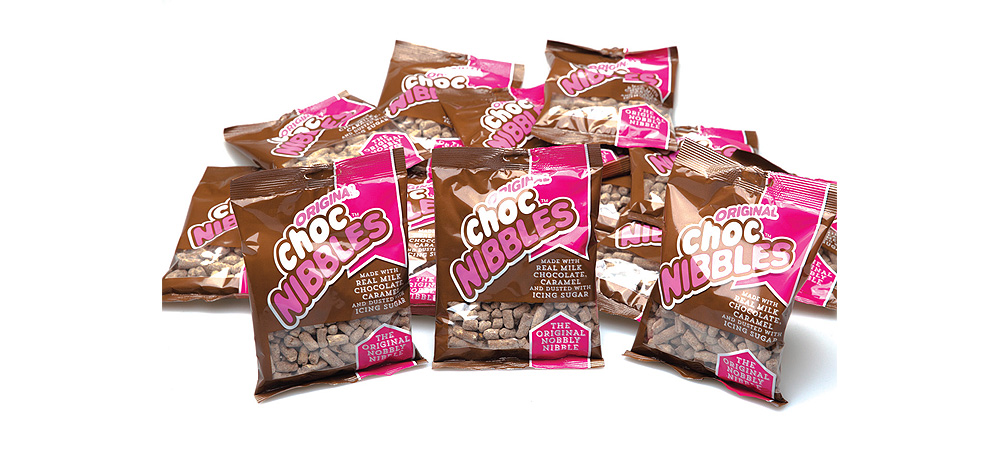 Living the dream
Having doubled in size over the past two years, Sweetdreams has laid the foundation for a future choc-full of success through relocation, investment in machinery and a passionate management team
With a loyal following in the North of England, Choc Nibbles have been part of the Northern confectionery landscape for 30 years. Originally an accidental creation by Dobsons Confectionery in
Ponteland, the unique milk chocolate snack later formed the foundation for Sweetdreams Ltd. Since acquiring the business a decade ago, Matthew Stephenson has developed the brand into a national success, with Choc Nibbles, Toffee Crumble, Choc Lick, Jammie and Posh sold in stores such as B&M, Poundland, Poundworld, 99p Stores, PoundStetcher, The Range and Heron Foods throughout the UK.
Since previously being featured in FoodChain magazine in August 2016, Sweetdreams has enjoyed a period of positive transition and growth, with the company relocating to a new factory, taking on a new management team of experts in the confectionery world and adding a new coating and panning line to name a few developments. "At the beginning of 2016 I looked to buy a factory a few miles from where we were based with the goal of growing the business. However, I realized buying a factory wasn't the right choice for us but relocation was a must," says Matthew Stephenson, Managing Director and Owner of Sweetdreams Ltd.
"Since August 2016 we moved from a 9000 square feet factory to a 15,000 square feet factory; the former factory was not built to BRC standards which held the company back. The new unit we have leased had to be completely rewired creating the correct amount of power to run, and has been designed to our specification as well as BRC specifications. As such, the new factory is designed for work flows, work stations, efficiencies, hygiene and quality," he adds. "We have also built staff facilities that enable us to treble in size the number of operational staff we have got and also invested in a whole new production line to coat and pan chocolate; this includes a custom-built area with controlled environmental temperature and humidity. We were doing some panning and coating activities, but on a small scale; this investment allows us to go into higher volume production and also develop more technical products. The factory was operational by the third of October and we now have a shiny, brand new factory that makes me smile."
Product innovation
Complementing the factory move and the company's £500,000 investment in equipment and machinery is the appointment of four new senior managers. This team includes Operations Director
Mike Flower, Technical Director Andy Baxendale and non-executive Director Mark Robinson as well as Financial Director Alex Roberts. "I'm really proud of what we have done here since we last spoke to FoodChain magazine, with where I have got the company and also the people I have wrapped around me," highlights Matthew. "The fact we have people like Mike Flowers, with his 40 years of experience in the chocolate industry, and Andy Baxendale who has been on TV is fantastic; we also managed to talk wise old soul Mark Robinson, who has vast experience from his time at Derwent Lynton, Kinnerton and Hancocks, out of retirement. I feel honoured at the calibre of people I have working here as they are nice people, first and foremost, they are good fun and do everything for the same reasons I do. We aren't corporate and don't do things just to make a bit of money, but instead have managed to be successful based on our technical skills, product line and, of course, Choc Nibbles."
Having increased its market presence nationally through contracts with a number of high street retailers, Matthew is keen to progress into the supermarket arena and grow from a small family business to a medium enterprise. "We want to break into the top four supermarkets and are already part of the way there since we passed our first audit," says Matthew; "the Choc Nibbles brand is going from strength to strength and we intend to build on that with product innovation and improved distribution. Also, through using our state of the art in-house panning and coating operation, we are able to develop new and exciting confectionery 49products under our own label, or develop products for customers under their own brand. This will open up new markets for Sweetdreams in gifting, seasonal, ingredients and functional foods."
Keen to reap the benefits of its £500,000 investment, Sweetdreams will be focusing on the implementation of BRC standards and processes in-house. With this cultural change within the business anticipated to take between six to 12 months, the company is set for another period of transition that is certain to take the business from strength-to-strength. "My job is to keep control over Sweetdreams so we deliver the right product at the right price, on time, rather than getting excited with all the good news that is currently taking place. However, it's a nice, fun place full of laughter and a great atmosphere and I couldn't imagine anywhere in the world I would rather work than here," Matthew concludes.