Cheese dreams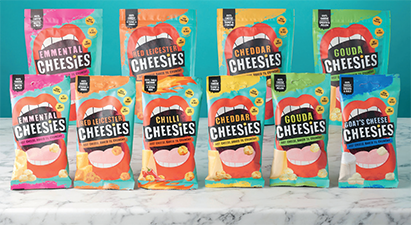 A new, crunchy taste sensation has arrived in Sainsbury's in the shape of Cheesies, naturally high protein, vegetarian and gluten-free snacks with no carbs and no sugar, and only around 120 calories per serving. Literally made from 100 percent cheese with nothing else added at all, Cheesies are great for those following keto diets, but equally are great enjoyed with a glass of wine or pint of beer.
Cheesies began in 2019 when Founder Craig Jones had the simple idea to turn a block of cheese into a tasty, crunchy snack, just by baking it. Amazed that crunchy cheese was somehow 'not a thing yet', Craig quickly realized he had to bring these flavorsome, versatile and filling treats to the snackers of the world.
www.cheesies.co.uk
The team really loved Cheesies, in particular the Editor! "I reached for the Cheesies to snack on every day and really looked forward to testing each flavor (they come in Cheddar, Red Leicester, Gouda, Goat's Chees, Emmental and Chilli Cheddar). It is hard to pick a favorite but I think Gouda came out on top, with the perfect level of cheesiness and a not-too-crunchy texture. I would definitely buy these again."
Sour soda sensation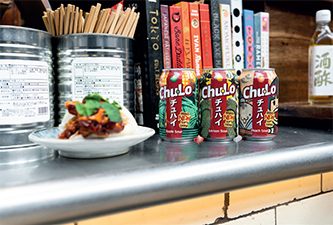 For anyone with a thirst for something out of the ordinary, a brand new range of Japanese-inspired sour soft drinks is bound to tickle their tastebuds. With tantalizing Peach, Lemon and Apple flavors to choose from, and a brand new sour cherry hitting the shelves very soon, Chu Lo was inspired by Japan's hugely popular alcoholic sour tipple, Chuhai, and fuses the same freshly squeezed fruit juice and delicious flavors into a lower sugar, alcohol-free, super sour soda with a unique fizzy kick.
Steph Buttery, Founder of Chu Lo explained that she was inspired by the punchy, sour flavors she found in Japan while she was stationed there, serving in the Royal Navy. She was also able to reveal that the brand recently signed an exciting new deal with YO! Sushi so hungry customers can enjoy a can of Chu Lo there too now to complement their Japanese meal perfectly.
www.chu-lo.com
The team loved the exciting packaging of the cans, which really echo the Japanese culture that inspired the drinks inside. They were impressed with its vegan friendly, gluten free and aspartame free credentials, too. "The drinks really are packed with flavor and give a great sour kick, with just the right amount of fizz. They are nice and fruity too," said our tester. "I love how different this is to other drinks I have had, and would definitely order it in a bar or restaurant! It was deliciously sour and I did find it quite addictive!"
Go for a dip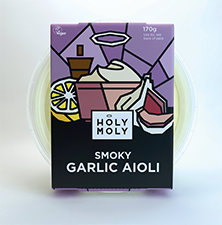 For vegans that are looking for creamy, indulgent tasting dips, Holy Moly has the answer in the form of its Tzatziki and Smoky Aioli. One hundred percent plant-based, free from nasties, in fully recyclable packaging, the dips are rich and versatile. Created using the finest ingredients – just like an authentic homemade recipe – they have no unwelcome additives, fillers or preservatives.
The brand recommends dolloping some Smoky Aioli on fries or sides – its velvety smooth blend of plant-based mayo and yogurt, infused with garlic and zesty lemon can elevate the simplest of dishes. The Tzatziki mixes vegan mayo and yogurt with cooling cucumber and mint and is perfect on a toasted pitta.
www.holymolydips.com
The Taste Test team's resident vegan was highly impressed with the quality and the flavors. "I tried these in a variety of ways, in a sandwich, with falafel, with couscous and even with chips and they did not disappoint!" he said. "I wouldn't hesitate to serve these to guests as a nibble with crudités and now I have experienced the quality I am going to be looking at more Holy Moly products in the future."
Let's go Rogue!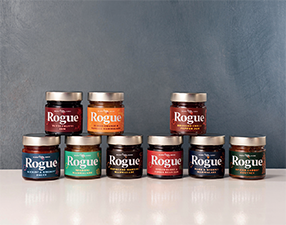 For anyone looking for a secret weapon in the kitchen, they can turn to Rogue – a brand of handmade artisanal jams, marmalades, sauces, and chutneys that can quickly and easily up a breakfast game, be used to marinade meats, added to a cheeseboard, give sandwiches a boost or pep up a dessert.
The range, which was born in South Wales and is newly HQ'ed in East London, is vegan, all natural, free from major allergens and is handmade in the UK in small batches. Bringing innovative flavors that reflect modern food trends to the home kitchen, Rogue started life at a farmers' market in Cardiff and before long, founder Asher Flowers had raised the funds to scale up the business. Having rallied to secure funding, Asher is a keen champion of diversity in business and mentors other ethnically diverse founders into entrepreneurship.
www.enjoyrogue.com
FoodChain was privileged to trial the entire Rogue range and each product was impressive and stood out in its own way. The newest member of the Taste Test team, Ivan Howard (aged 91) was keen to endorse the Dark & Stormy Marmalade as he was really impressed with it – rating texture and spreadability as 'very good' and taste as 'excellent'. "I would definitely recommend it," he said. "For me, a bit more ginger would make it even better, but that is just personal taste – I would buy this again as I found it so delicious."
Swing with zing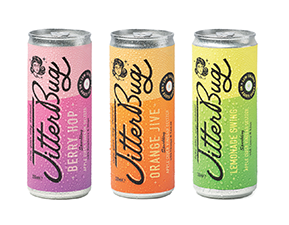 Jitterbug Apple Cider Vinegar, the winners of The 2019 World Beverage Innovation Awards; has scored a Holland & Barrett listing. Jitterbug Founder Mollie Obileye was thrilled that the brand is now available nationwide in the UK's 'very best and biggest health food chain'. "We're super excited to be shaking up the premium soft drinks category with Holland & Barrett and spreading the Jitterbug love," she said.
The Vegan soft drink comes in at under 40 calories per serving, and can be served neat, over ice or as mixer for non and alcoholic cocktails; whilst still enjoying all the benefits of Apple Vinegar Cider. Mollie noted that the drink was created with a clear mandate to make an alternative soft drink that is fun, functional and delish.
www.jitterbug.life
The team liked the Jitterbug range and any fears that there would be sour notes from the vinegar were quickly alleviated with a sip or two. "I like how refreshing this is, and that it's a drink to savor, with an interesting flavor," said one tester, who was trialing the Berry Hop option. "I am glad there's no sugar or sweet¬eners, or any E numbers in here, as I like a healthy drink but also ap¬preciate the taste of the Jitterbug Lemonade Swing. I would grab a can over a normal soda for a healthy thirst quencher."
Easy squeezy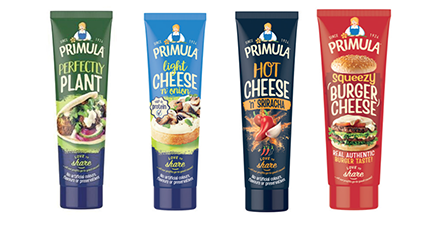 Primula, the world's first spreadable cheese, has revealed four exciting new flavors: Perfectly Plant, Light Cheese 'n' Onion, Cheese 'n' Sriracha and Burger Cheese, which will be available in various supermarkets across the UK.
Commenting on the new varieties, Lisa Thornton, Head of Marketing at Kavli UK, said: "Primula Cheese is the UK's fastest-growing cheese spread brand … the new additions allow us to continue to meet changing consumer needs and tastes as well as attract new shoppers into the cheese spread category.
"Primula Cheese works closely with its incredibly loyal consumers to understand the new and emerging flavors exciting them, and those that they want to see available on supermarket shelves."
www.primula.co.uk
Primula is a great favorite of the Taste Test team, and new varieties are always popular trials. "I love how nostalgic Primula makes me feel as I remember it as a kid, but I also admire how the brand always keeps up to date and on trend with flavors," said one tester. "The burger cheese was rich and I enjoyed it on crackers, while the Sriracha had a great heat and added bite."
The Perfectly Plant variety was given five stars by the team vegan, who was delighted with a new cheesy option to add to their menu.