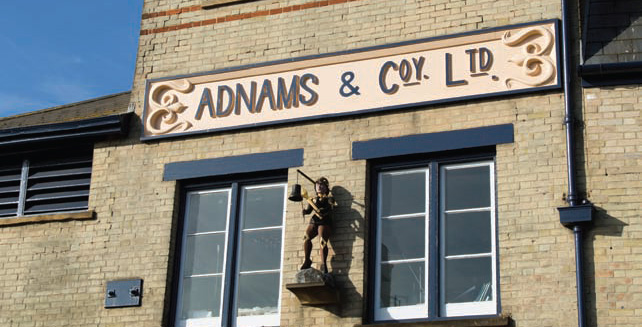 Always something brewing
Adnams is an award-winning producer of beers, wines, and spirits. It has an expanding network of shops, a constant stream of new products, and more recently started producing spirits
Established in 1872, Adnams is proud of its long history of brewing, and is constantly experimenting with new, innovative techniques. Adnams brews a range of beers that reflect its heritage but also challenge conventions. Each one has its own unique and vibrant character that will appeal to drinkers who cherish individuality and seek out beers, wines, and spirits with personality and style.
Adnams began in the 19th century as a brewer of fine ales in Suffolk, and while it has kept its roots in Southwold and authentic ales, it has also expanded into more areas. These range from new award winning drinks, such as its gins and vodkas, to operating a number of pubs and hotels, and much more. What unites all of Adnams' activities is that they are distinctively unique, and yet also undeniably Adnams, and this is at the heart of the company – a reliable and constant quality product or service that is always individual.
Expand and improve
In order to achieve some of the diversification that Adnams has seen through its many years in business, the company has invested in expanding and improving its facilities. Investments began in the 1970s, continuing through subsequent decades, with the overall aim to significantly improve its drinks production. As a result of this approach, over the years the brewery has substantially
enlarged and modernised, and this process continues to this day with state-of-the-art brewing equipment regularly being installed. It is currently investing a total of £7 million on boosting capacity, including a brand new kegging line, and a new beer filtration and conditioning facility. The company also invested in 2013 in a distillery to enable Adnams to produce gins and vodkas – which have since both won best in the world awards.
Indeed, many Adnams products have won global awards, including various bronze, silver, and gold medals, such as Ghost Ship pale ale, Sloe Gin, East Coast Vodka, Longshore Premium Vodka, Copper House Dry Gin, and many more. The sheer number of these denotes a level of consistency in what the company produces, it also demonstrates that there is a great deal of care, passion, and knowledge that goes into making every beer, wine, or spirit. The company is always working on new products for its customers, and these take many forms – such as seasonal products tailored to the time of year, or the Adnams Diamond Ale – made to commemorate the Queen's Diamond Jubilee in 2012. Adnams also has the unique option of providing bespoke products, an example of which is Bill's IPA, created for Bill's Restaurants. Two new Adnams spirits were also released in August 2016 – Rising Sun Gin and Rye Hill Vodka.
With modern distilling techniques, traditional values, and high quality staff, it is no wonder Adnams received the Queen's Award for Enterprise: Sustainable Development. Adnams is grounded in everything it does with a commitment to being environmentally aware and finding innovative ways to be a responsible brewer, such as its partnership working to develop the UK's lightest branded 500ml glass premium ale bottle, which results in packaging and carbon reductions. The company has also undertaken extensive work to make its facilities and processes more environmentally friendly.
Community work
Adnams also applies this ethical business approach to the local community in the form of the Adnams Charity, which was founded in 1990 to celebrate the company's centenary, and which has recently been renamed the Adnams Community Trust. Adnams Community Trust supports worthwhile causes within a 25-mile radius of Southwold, the home of Adnams, through a grant system. The grants range from £100 to £2,500 and can be used for educational, health or social welfare, arts, recreation, community facilities or environmental and conservations purposes and projects. The Community Trust is funded by a percentage of Adnams annual profits, donations, legaciesand mandated dividends. Since its formation, more than 1200 grants have been awarded totalling over £1.2 million. These have taken many forms but one recent milestone has been the company celebrating achieving half a million charitable donations by its customers that were made via Pennies – the electronic charity box. Over 500,000 donations have been made since Adnams began working with Pennies in 2012, raising over £120,000 through purchases of wine, beer, spirits and kitchenware across its Adnams stores.
This once again demonstrates the combined sense of tradition at Adnams in a modern business. Its products often receive rave reviews from customers and awards bodies, and it is a business that is always moving forward with new and interesting products. Adnams' positive approach, leading facilities, and talented staff, make its products popular across the UK and the world. There is no reason to think that its product range, customer base, or popularity will do anything other than continue to expand.