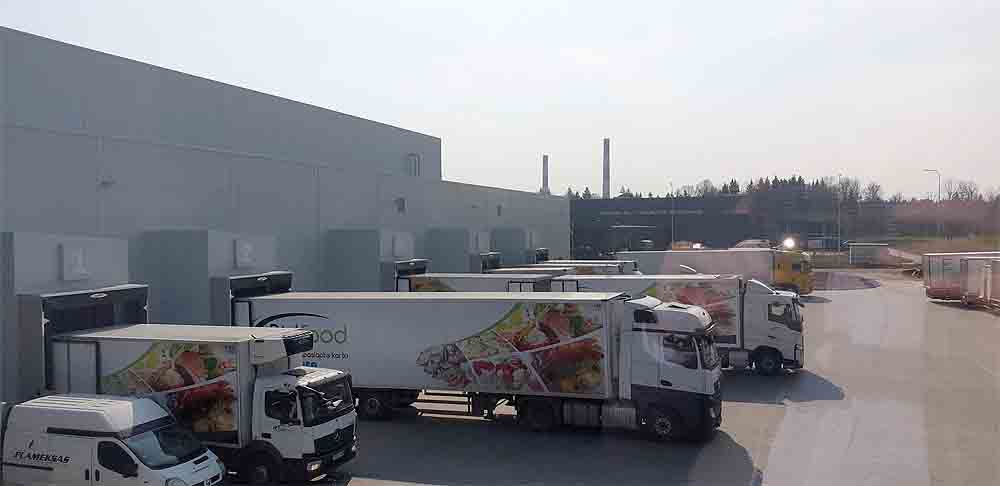 The beginning of a new era
Bidfood Baltics has just opened its first wholly-owned depot, which has a capacity that promises aggressive growth for the Lithuanian supplier of frozen and chilled products
Transformative changes are happening at Bidfood Baltics. For the first time in its 25-year history, the leading distributor of frozen and chilled foods in the Baltic region can call the facility it operates from 'home'. Having outgrown its rented sites on multiple occasions in the past, the company has just completed the construction of its own super-sized depot in the city of Kaunas, in south-central Lithuania, hoping that it will serve as a platform for significant expansion in the coming years.
The new facility was built with the financial support of Bidfood – the parent organisation of the Baltics' branch, and has the capability of holding 6700 pallets, thus extending the company's capacity more than twice. Ramunas Makutenas, CEO of Bidfood Baltics, discusses some of the depot's key features: "We have areas that are kept at five different temperature ranges. We have a
freezer at -24°, two chillers – one for meat and fish (0° – 2°) and one for dairies (2° – 6°), an ambient space (15° – 20°), and, finally, a new marshalling area (4° – 7°) where we prepare the goods to load onto the trucks. Crucially, this enables us to manage the wide range of products our clients need."
Ramunas also expects the new depot to allow Bidfood Baltics to strengthen its presence in the chilled and ambient fields. "We have traditionally been very strong when it comes to frozen products, but as we see lots of good opportunities in chilled and ambient, we have been meeting different suppliers in recent months to see how we can develop our offering. Our idea is to make life for our clients easier by becoming a one-stop shop, which provides them with everything they need from one place."
Although Bidfood Baltics did not extend its product range last year, the company still enjoyed annual growth of more than ten per cent, and Ramunas credits his staff for managing to keep the business on an upward trajectory, despite the inconveniences caused by the construction of the new depot. "The fact that we thrived under difficult circumstances is a testament to the maturity of the company and the intelligence of our people, which is always encouraging, going forward." The CEO is also optimistic that moving to the new site will make the business a lot more efficient, especially in driving costs down, and thus enable Bidfood Baltics' even more substantial growth in the future.
Auspicious conditions
Ramunas goes on to comment on the company's performance in each of the three Baltic countries: "In our home country of Lithuania, we are well-known for our retail fish and seafood brand called Nowaco, which we supply to the biggest retail chains in the entire region. Arguably, we are one of the leading players in the frozen fish and seafood category and 2018 was another year of growth for us, even if our sales figures did not quite reach the heights of the year before.
"Moving onto Estonia, we are currently at a stage where we have to decide what approach we need to apply there. There is no doubt that we would like to grow in the country, but at this moment in time, we do not have our own infrastructure, relying, instead, on two local distributors to supply our clients," Ramunas points out.
"As far as Latvia is concerned, we are doing incredibly well there, with 90 per cent of our sales being to the country's foodservice sector," he continues. "It merits saying that the businesses in Latvia and Lithuania are very much integrated into each other. Twice a week, we deliver goods from Lithuania to Latvia and then, on the way back, we load our trucks with the chilled fish the Latvian business provides its Lithuanian counterpart with, to distribute across Lithuania. We are really pleased with how we fare in Latvia and we look forward to growing further."
2019 marks 15 years since Lithuania, Latvia, and Estonia joined the EU en bloc, which triggered processes that have become characteristic for the majority of the ten countries that became part of the Union in 2004. Ramunas explains: "Having been granted the right to move freely within the EU, a lot of people have emigrated to the developed countries of Western Europe in search of better-paid jobs. On the one hand, this means that the market has been squeezed to a degree, but on the other, foodservice has benefitted, because the habits of people who have stayed here, are changing. Their standard of living is rising and, as a result, they eat out more and they travel more. The latter means that they are now showing strong desire to have the food they have had in countries like France or Italy, here. This, in turn, has led to the opening of many new restaurants in our region. All in all, the foodservice sector is going from strength to strength."
As market conditions remain auspicious, Ramunas regards the rest of 2019 as crucial for Bidfood Baltics' continued success. "The new depot is an excellent springboard for us to get to a higher level, but first of all, we need to learn how to best manage it and take full advantage of its operation, and this will be our main task in the months to come. What is more, we will start increasing our range in earnest, in order to cement our position of a valued partner across the region," he concludes.