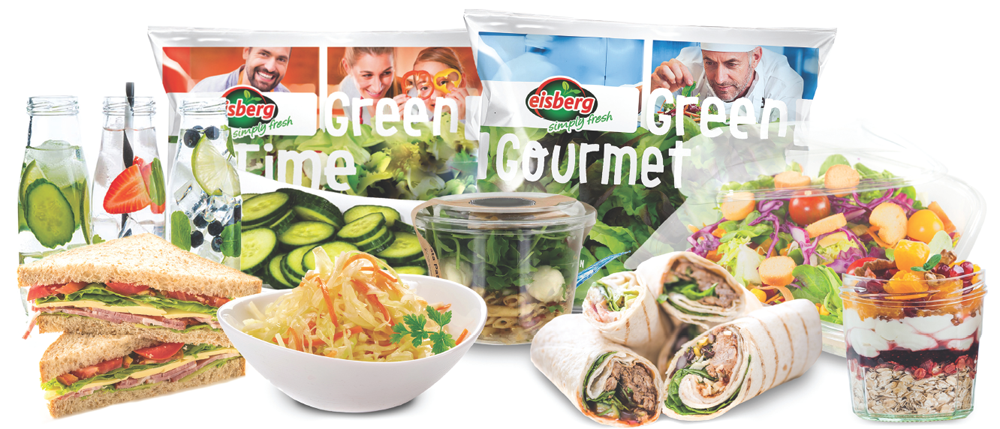 A fresh way of thinking
A European market leader in the production of fresh convenience salads, fruits and vegetables, Eisberg has taken the next step in its development with the opening of a cutting-edge production facility in Austria
On 18 March, 2019, following an 18-month construction phase, a ceremonial opening celebration was held in Marchtrenk, Austria to mark the opening of Eisberg's newest production facility. This
ultra-modern new facility will ultimately be the recipient of more than €70 million in investment and will bring together various fresh and convenience products and brands of the Bell Food Group – parent company of Eisberg – under a single roof for the very first time. Ultimately, the facility's four separate production halls will be responsible for producing the Eisberg range of salads, fruits and vegetables, snack products and vegetable convenience goods from the Hilcona range, poultry convenience products marketed under the Hubers brand, and meat products from the Bell collection.
In its own right, Eisberg is one of the leading companies in Europe when it comes to the production of ultra-fresh convenience salads, vegetables and fruits, supplying customers in 14 different countries from its various facilities in Switzerland, Poland, Romania and Hungary. The 23Bell Food Group, meanwhile, is one of the continent's leading meat and convenience processors, boasting an annual turnover of more than €4 billion. For both parties, the opening of the aforementioned Marchtrenk facility marks a significant milestone.
"We first approached the idea of building a local production base in Austria following discussions with our clients in the region, during which we identified a strong demand for ultra-fresh convenience products, from fresh cut salads, vegetables and fruits, to sandwiches, baguettes and pasta meals," explains Franco Mühlgrabner, Managing Director of Eisberg Austria. "Consumers in the country, and indeed further afield throughout Europe, have moved in large numbers towards fresher convenience products, and this is a trend that has been recognised by our customers across the retail and hospitality industries. Whereas most of our competitors still tend to produce things like sandwiches using lots of preservatives, giving them a shelf life of up to 21 days, today's consumers want to eat things made with fresh ingredients and with much shorter date ranges. This is part of a big culture change in our key markets, and with the introduction of our new Marchtrenk facility it is great news for us!"
Utmost safety
What began, back in November 2017, as a single 6000 square metre production hall quickly evolved into what will ultimately be four fully operational halls with a total of 19 lines, spanning 24,000 square metres in total. These halls are joined by a number of offices, and a fully equipped research and development department, which will act as a knowledge centre for the entire Eisberg Group, in which to develop new products and sustainable packaging solutions.
The facility itself boasts a number of innovative, cutting edge initiatives, technologies and processes that give it a best-in-class standing and make it one of the most modern, advanced buildings of its kind in Europe. "One example of how the Marchtrenk is leading the way is its incorporation of what the Bell Food Group calls its Hygienic Design 2021 format," Franco continues. "This concept, specially developed in partnership with the manufacturers, helps to guarantee the utmost product safety as each line is kept completely separate, meaning that there is no risk of cross-contamination."
Automation will also play a hugely important role within the new facility, with a fully automatic salad production line already in operation. "To ensure the highest levels of product quality are retained on a constant basis, the facility makes use of optical sorters for detecting foreign bodies," Franco adds. "By utilising two lasers and six cameras, the system measures each and every component that progresses through the line, taking approximately 6000 images to record density, colour, size and structure. These are then used to identify any foreign bodies or components that
do not match our standards, and these are removed using a pulse of compressed air. The cut good components are then transported to our automatic packaging machines."
Valuable acquisition
For Eisberg, the opening of its new Austrian facility is not the only major development to have occurred in the last year or so. Back in April 2018, for instance, the company completed the acquisition of Sylvain & CO SA, a Swiss family business specialising itself in the processing of fresh, ready- to-eat salads, vegetables and fruits. The company has since continued to be managed by its former Managing Director, Sylvain Agassis, who Franco is full of praise for. "Sylvain is truly an innovative individual and someone who brings a lot of fresh ideas into the business," he professes. "By bringing Sylvain & CO into the Eisberg Group we have gained access to new product lines, as well as additional knowledge and expertise which we have already transferred to our Austria facility. It also provides us with increased production capacity in Switzerland, and will allow Eisberg access to its network of shipments to France, which is a market that we have previously not ventured much into."
Next steps
Turning back to 2019, and the company's plans for the rest of this year, focus naturally shifts back to the Marchtrenk facility. "When you commence with the operation of something as important as a new 6000 square metre production hall, you can never be 100 per cent certain of what will happen, however, we could not be happier with what we have achieved to date at our new facility," Franco enthuses. "Today, we are processing 40 different articles in larger volumes than we had previously expected, and we now plan to increase this further still as we start up the remaining lines in hall number one.
"From there, the next big step will be to finish the work on production hall number two, ahead of operations commencing in July 2019, upon which we will be able to increase volumes of our sandwich meals that are made in Austria. When it comes to hall number three, we plan to have that ready for production by the end of the year, and that particular area will be dedicated to the creation of meat and chicken convenience products. The fourth and final hall is currently something of a strategic reserve, but we have ambitious plans for this area of the facility, and we will be bringing in equipment for this in the near future."
When Franco began overseeing work on the Marchtrenk facility, he was one member of a very small team. Through his and his colleagues' dedicated efforts, it is today home to 110 employees and will ultimately generate 250 new jobs, bringing fresh blood, ideas and creativity into the business. 31No wonder, therefore, that these are exciting times for both Eisberg and the Bell Food Group!