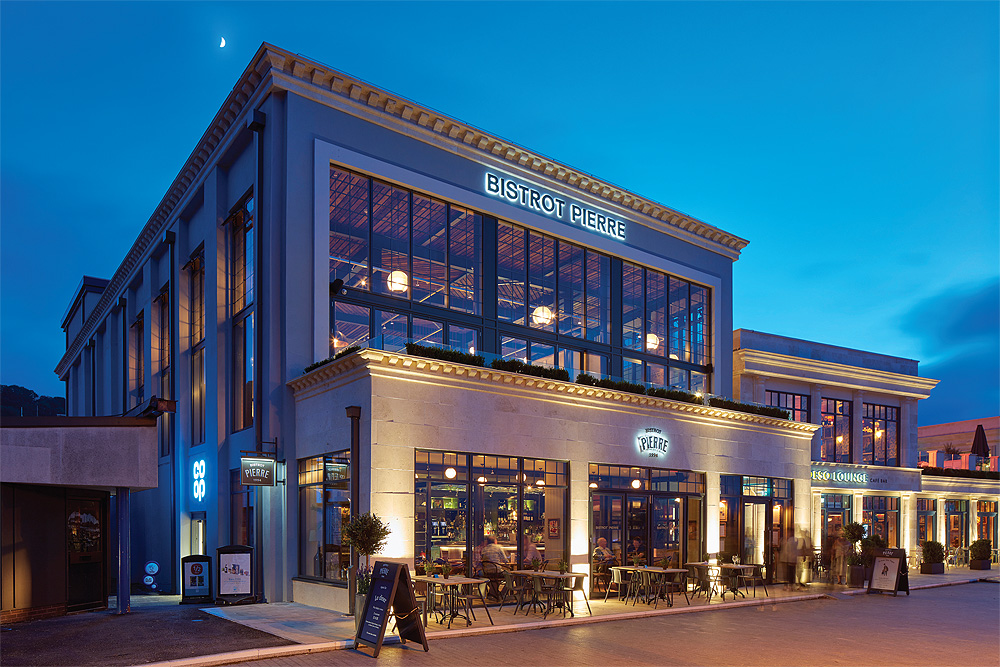 The Anglo-French connection
Bistrot Pierre has been serving its charming take on Anglo-French cuisine since 1994 and this brainchild of childhood friends John Whitehead and Rob Beacham has now grown to 22 restaurants around Britain
Since then, this Midlands eaterie has become a nationwide brand, with 22 restaurants across Britain, offering a new take on favourite dishes such as duck confit with cassoulet, as well as a more Gallic take on British staples like rhubarb crumble.
Cuisine
The philosophy behind the company is about building on iconic recipes, albeit with a few added twists.
"It's very much built on classic bistrot favourites; moules marinières, steak frites and crème brûlée, terrines, just to name a few examples," said Adam.
"There is also that multi-cultural element you get in Britain, throwing in influences from around the world to further develop the range of flavours involved.
"Provenance is truly important to us and as a result a lot of cheese, cured meats and so forth are sourced from France. Additionally, local British suppliers are also sought out, so there is the balance between the two," continued Adam.
As any agent will tell you, the location of any commercial operation is crucial and, in the case of a restaurant, there are a few factors that can affect the final decision.
"When looking for a new site, ideally we look for an iconic building, preferably in a busy spot in a town or city with heavy footfall. Our sites tend to be somewhere with a great deal of culture and interest, but somewhere that may not currently offer a great deal of options in terms of eating out.
"We like to be able to offer something new, creating a client base which may not have previously had a quality dining option. Picking the right site is much like creating the perfect stage for the main event which, in this case, is the food," he added.
In terms of a showcase, a great example is the bi-monthly six course Soiree Gastronomique. Dishes are wide ranging and include a freshly baked crottin de chèvre, cassoulet de moules, 21 day aged bavette steak, followed by a dessert and a cheese board.
Adam can pinpoint the exact appeal of this regular event: "It's simply fantastic value!
"It's a chance to showcase new dishes combined with classic favourites in a six course tasting menu format. The concept is quintessentially French, a great way of providing a fabulous feast at a reasonable price point and, at that value, it really is giving something back to the customers," he proclaims.
Drive
Adam has a crucial role in the organisation: "I am also the head of development, looking after a range of duties, including menu writing, recipe design and culinary strategy."
He is part of an impressive workforce of 750 employees, ranging from waiting staff, through to the chefs in the kitchens, not to mention the group's management staff. Adam is insistent about what he expects from anyone looking to come on board.
"A passion for food is key, if you don't have that then you are in the wrong industry, it doesn't matter if you are the front of house manager or the head chef a passion for food is vital! It is possible to guide people, teaching them skills and technical competency, but you can't teach someone to be passionate, you either feel it or you don't."
Solid foundations
There are genuine concerns about the environmental impact that the hospitality industry is inflicting on the environment – but Bistrot Pierre has a firm commitment to reducing wastage, something Adam is strongly insistent about.
He said: "Throwing usable goods in the bin is not only commercial suicide but morally and professionally irresponsible, which is why we structure our menus to offer vast variety whilst also minimising the use of individual ingredients.
"Dumping lots of plastic and cardboard into landfill also isn't sustainable, which is why our recycling policy is also very strict."
It is this driven approach which has resulted in the group achieving an annual turnover of £30 million.
"It's taken a great deal of hard work to get to where we are today. You don't get something for nothing nowadays and we're committed to providing the best possible service, quality of food and dining experience for our customers – which doesn't come without putting in the work.
"It's about staying true to the company's values: satisfying customers and delivering quality food, in a fantastic environment, with a really friendly, warm and welcoming service."
As 2018 begins, Adam is looking toward the New Year.
"At the moment, it is about scouting locations as there will be five or six new sites opening over the next 12 months. Bistrot Pierre is making some great noise in the industry – and we'd like to maintain this momentum into the New Year and beyond."
Finally, Adam summarises the ethos that will keep the company going and developing as it further spreads around the country: "Our business is based on high quality, classic bistrot cooking being served at an excellent value for money and this is an idea we have always kept at our core. We ensure that each of our sites has its own character and maintains the idea of honest, authentic service and provides diners with a bistrot experience they'll remember.
"Bistrot Pierre has a bright future as it has been built on solid foundations, forged with quality-driven customer focus and we have no intention of changing that."