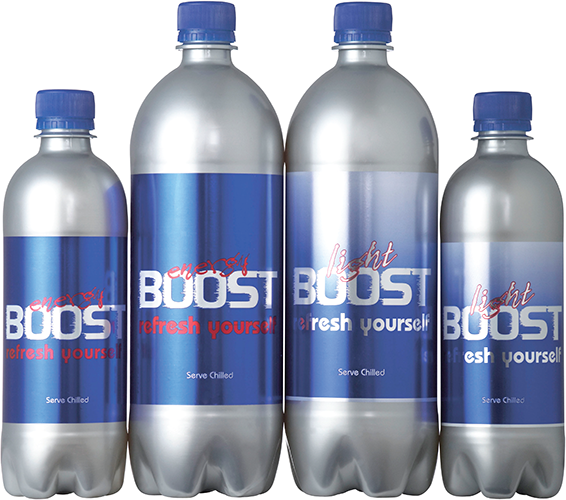 Boosting awareness
Boost Drinks, celebrating its fifth birthday this year, has ambitious plans to expand into the future
Boost Drinks Ltd opened in August 2001 with the aim of supplying a larger, resealable, value for money alternative to what was on offer in the ever-increasing energy drinks market.
Boost is the drink designed to improve alertness during times of fatigue and enhance energy levels whether you are in the car, at work, on the move or on a night out. The Boost Drinks product range is extensive and all its members are designed to lift energy levels and increase alertness, no matter what you are doing. The Boost collection, which started with the original Boost energy, has been added to many times over the last five years. The most recent 'funky' addition is Boost Iron Brew. Great as a soft drink or a mixer, the product was launched to cater for the different taste requirements of energy drink customers. The carbonated soft drink, which has added taurine and caffeine, can be stored conveniently by retailers in the chillers or on the shelf.
A further addition to the original portfolio is Boost Cranberry, which has added vitamins, caffeine and taurine. Available in silver one-litre size PET bottles, Boost Cranberry is a bigger offering than most other energy drinks and comes with a resealable lid – a unique selling point. All Boost products provide excellent value for money, with no compromise on taste; Cranberry and Iron Brew are no different.
The company's flagship product is the original Boost in one-litre format, but due to increased demand for the brand in the impulse sector the soft drink was subsequently launched in a 500ml size. As a result of the rise in consumer trends for low calorie products, Boost light – a sugar free alternative – was also added to the range.
Simon Gray, managing director of Leeds-based Boost Drinks, said: "We launched the original Boost energy drink in August 2001 to target the gap in the energy drinks market for a larger and more value for money product. Boost Drinks Limited was born out of this ambition, so following the success of the one-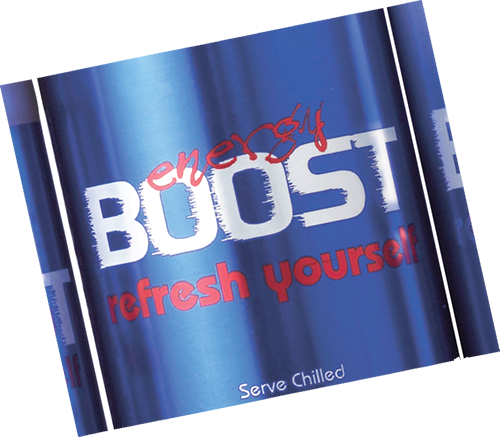 litre bottle of Boost, we introduced the 500 ml for the single-serve sector and also subsequent products, which have gone on to become great successes.
"All products come in a distinctive silver PET resealable bottle and the range is extensive – in fact, there is a new addition coming soon. The Boost brand is available through a wide variety of distribution channels covering the wholesale and cash & carry sector, large multiple and independent retailers, convenience stores, symbol buying groups, forecourts and off licenses," he adds.
Boost Drinks is always looking to progress in innovative and exciting ways, as Simon explains: "Our product is unique; it can be consumed at any time, in any situation and is a refreshing soft drink, as well as an excellent mixer, which keeps consumers going when needed. Importantly, it can also be consumed in more than one serving. One of our other unique selling points is our distinctive labelling and strong brand, which means we are highly visible on the shelf. Buyers in the trade have responded to Boost very well and I am happy that they look to alternatives to the traditional market leaders. Bigger worldwide names have tried, but failed to achieve the sort of results we have, which highlights how strong we are as a brand in the UK."
He continues: "Competition in our sector is tough and the quality of that competition is high, yet we bring an added value to the market, which really fills a gap that we felt was present. Our aim at present is to expand our export, gaining greater penetration in markets outside the UK. We plan to exhibit at the Sial 2006 tradeshow in Paris very soon and will use the exhibition as a way of raising awareness of our products and brand, getting our name round to a wider range of people and perhaps find new agents and overseas distributors.
"At present the market is very buoyant and we are in a state of continual growth. I believe this will continue; at least in the short to medium term. We are a brand and a brand is nothing without a solid reputation, good name and, most importantly, it must be an outstanding product. We have the product, we have a good name and those who have tried our product are delighted with it. Yet, despite this relative success, we aim to build a stronger foothold in the market, which is what any successful business would aim to do. I can't stress enough how price competitive we are – what we offer to the market really wasn't available before Boost."
Simon concludes: "Our strategy is to keep driving forward in terms of volume, driving that volume through the customer base we are working with now. We also intend to get a stronger foothold in the UK, as well as expand overseas. We have been around now for five years and I believe we will enjoy even more success in the coming years."