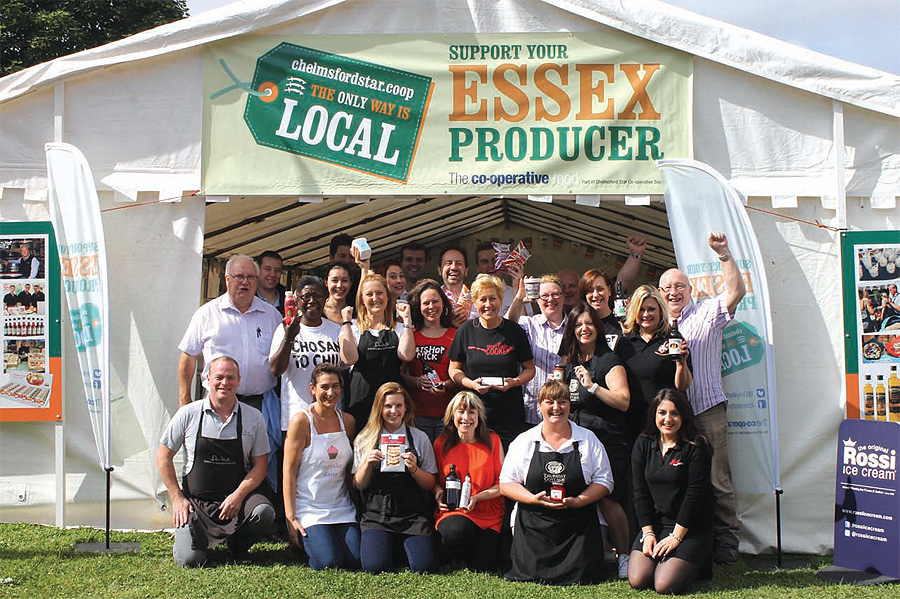 Chelmsford Star Co-operative Society Ltd
At the heart of the community
Celebrating 150 years in operation in 2017, Chelmsford Star Co-operative Society Ltd. has become an integral part of the local community thanks to its portfolio of operations that includes convenience stores, funeral directors and department stores
Established by foundry workers in Chelmsford in 1867 with the intention of becoming 'the star of the county', the Chelmsford Star Co-Operative Society Ltd. went on to merge with Braintree Co-
Operative Society in 1969 to create the currently structured co-operative society under the name Chelmsford Star. Developed over the years through prudent investment, insightful management and the support of members as well as other customers, the Chelmsford Star Co-operative Society has become a significant trading presence throughout mid-Essex. Today it boasts 41 convenience stores, one off license, a petrol forecourt, five post offices, two department stores, two travel agents and seven funeral directors, which together generate an annual turnover of more than £100 million.
Discussing the company's major historical milestone and recent developments since the business was previously featured in FoodChain in December 2016 is Barry Wood, CEO of the Chelmsford Star Co-operative Society: "To celebrate our 150th anniversary we are running a two month exhibition in the local museum, which is all about our history. We have also published a book that partly highlights this major milestone by showing our developments over every decade since 1867, but also celebrates the last 18 years since Chelmsford Star went through a renaissance in 1999 and came back from the brink. It is all about getting the message across on who we are, what we do and why you should shop at the Co-op, whether you require food, furniture, travel, fashion or funeral services."
He continues: "The competition in the convenience sector is hotting up and the offers available to customers are getting better. To remain competitive we are investing heavily in our stores to ensure we stand out as a quality convenience store offering, with six refurbishments on our stores completed in 2017 already within the food store estate. We have two more refurbishments planned in the second half of the year, which will bring us up to eight refits and is the most we have ever done in one year. This work is being completed with the goal of protecting our market share and showing the quality offer that Co-op delivers on every level within our business, with membership continuing to be at the heart of what we do."
For those who are a member of the Co-operative society, benefits include money off vouchers to save on everyday shopping, a chance to win every time you shop with the organisation's Member of the Month promotion, exclusive deals with many local businesses and the opportunity to assist over 350 community groups and charities every day.
On-going success
"We also have our community card scheme where every time the member of this particular scheme shops and swipes the card they get points that a normal member gets; however, when they draw the money out we then add 50 per cent of whatever they have earned. It means charities can raise money via their supporters going out and doing what they do, buying food," says Barry. Since its formation in 1999, the Community Card Scheme has gone from strength-to-strength and today there are more than 300 local community and charity groups with an account.
While the company continues to refresh the Chelmsford Star estate and generate awareness on the benefits of being a Co-operative member for both shoppers and the local community alike, it has enjoyed ongoing success within its food offering, as Barry highlights: "Our local food offering, which is named The Only Way is Local, is going extremely well and is in a lot of stores. We are always looking for new suppliers, however it is all about finding the right balance of supporting local suppliers without being squeezed on price but also being commercially viable to ensure we deliver dividends to members. Trends on a commercial basis include a high demand for fresh food and we are getting large sales increases in this segment compared to tins and packets. We have also added food-to-go such as Dunkin' Donuts and rollover hot dogs to our offering, which are going well as this is a massively growing market. The challenge for us now is the delivery of this expanding range of fresh food to our customers and the minimising of food waste both in the supply chain and in customers' homes.
"Nevertheless, research undertaken within our stores by HIM under the CTP programme shows people are happy with what we are doing but it is surprising how over time the importance of what people want from stores varies. For example, in 2017 the survey shows that cleanliness is the most important thing for customers; this is followed by staff friendliness and helpfulness, so our refit programme is certain to please our customers thanks to their fresh, modern and high quality feel."
The Co-op difference
Looking ahead, Chelmsford Star Co-operative Society will remain focused on improving the look of stores, expanding its portfolio and seeking out complementary market trends that will aid further growth. "We want to keep up with market trends and exploit these while also offering the Co-op difference when it comes to membership and making a difference to the local community," Barry concludes.