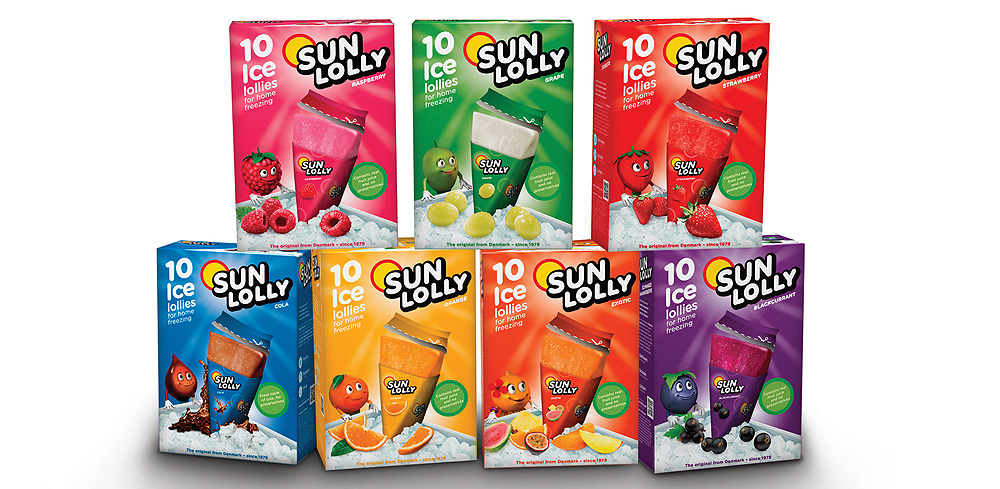 A matter of taste
Incorporating more than seven decades of innovation and development, the Danish soft drink manufacturer CO-RO represents a global leader in the provision of delicious soft drinks and home-freeze ice lollies
The story of CO-RO A/S dates back to 1942 when the business was founded by the two brothers Jep and Flemming Petersen, in a 16-m² room in a suburb of Copenhagen. The company was originally established to provide flavourings and essences for mineral water, ice cream and bakery industries before moving into the development of soft drink concentrates and candied fruits. By the 1960s the Petersen brothers decided to create their own brands through the development of the Sunquick line of concentrated fruit-based cordials. Driven by a strong commitment to high quality, a compelling brand strategy and continuous product development, CO-RO has steadily grown to represent a leading market player with a strong presence in close to 80 countries around the world with strong footholds in Northern Europe, the Middle East, North Africa, China and South East Asia.
The CO-RO group today continues to be 100 per cent owned by a single private foundation and currently employs more than 1100 motivated staff worldwide. Its ambition is to expand the role of its brands in people's lives, leading in markets through a series of firsts using its independence to create strong partnerships and invest in long-term, sustainable growth. During 2015 the company enjoyed revenue valued at DKK 1.95 billion, resulting in a pre-tax profit of DKK 326 million. Furthermore, its equity capital for 2015 of DKK 1.45 billion puts CO-RO in a strong position to seize new opportunities and to establish long-term strategic plans.
The company's present product portfolio is comprised of three core brands made up of Suntop, a fruity non-carbonated, cartoned soft drink; Sunquick, a concentrated cordial available in over 20 flavours; and Sun Lolly, a home-freeze ice lolly, which leads the market in Denmark. CO-RO also further enhances its brand portfolio through the delivery of its Suncola noncarbonated cola and
Sunjoy fruit drink products, which allow it to provide a refreshing selection of fruit-based drinks and home-freeze ice lollies to suit all tastes.
CO-RO was previously featured in FoodChain magazine during September 2015 since which time it has continued to develop its product range. The company currently provides more than 3.5 billion servings of products each year, among which its Sun Lolly has featured as an increasingly welcome treat during the warm summer months. "CO-RO's home freeze ice lolly has been popular among kids as well as adults ever since it was first introduced. It is a high-quality product, based on an original Danish recipe and as the packaging says, it is 'the original from Denmark – since 1979'," says Anne- Marie Navarro, VP Europe. "What makes them unique is that they are made from refreshing, real fruit juice, without preservatives and they contain no artificial flavourings and sweeteners."
Ice lollies made convenient for the home and for trade
The home freeze ice lolly concept is convenient as it is able to be transported and stored in ambient room temperatures at at retail outlets, this means that there is no need to store the product in chillers or freeze them and that they can be easily placed on shelves or on displays in retail environments. Furthermore, the packaging of Sun Lolly ice lollies is designed for easy handling and the brand's associated displays and packaging has clear instructions on how to handle and prepare the ice-lollies, which results in a clear, ready-to-sell solution.
"The design of the Sun Lolly box makes it easy for the consumer to handle and when shopping there is no need to be afraid of the ice lollies melting into the shopping bag. The product can just be brought home with no rush and put in the freezer for 24 hours, before the consumer cuts off the top, squeezes the lolly and enjoy a delicious treat! The small triangular shape of the individual ice lollies makes them easy to handle and perfect as an everyday treat for kids and adults. Sun Lolly comes at an affordable price for a pack size of ten and is available in a variety of flavours, including of a total of eight refreshingly great tastes comprised of strawberry, raspberry, pineapple, exotic, grape, blackcurrant, orange and cola so that there is a flavour for every family member," Anne-Marie says.
Ever since the first introduction of the home freeze ice lolly, it has captured the hearts of Danish consumers and CO-RO has since grown into a clear market leader for home freeze ice lollies in Denmark, Sweden and Norway. CO-RO is now concentrating on bringing the home freeze concept to new markets such as Germany and Benelux. "It is clear to us that we need to further market the home freeze ice lolly concept in countries where this is a relatively new category. That is why we in our marketing put emphasis on the simple steps of freeze, squeeze and smile, which the consumer needs to follow in order to end up with a delicious and refreshing treat," Anne-Marie explains. "Talking to consumers it seems clear that for both children and their parents, Sun Lolly is a firm favourite for its great taste. The general feedback from consumers and increasing numbers of followers on Facebook and Instagram, who post images of everyday breaks with their kids eating Sun Lolly, is highly positive and a great sign of that the CORO brand has turned into a much-loved brand for children and grownups."
As CO-RO continues to develop its impressive market presence, the company is focused on increasing its range of products within all of its brands by making them available to consumers on more occasions.
"We have taken the refreshing flavours of the home freeze ice lollies and developed them into three fruitbased ready-to-drink variants. The new products hit the market this spring and have received very positive feedback. Just like the ice lolly the drink contains real fruit juice and is free from preservatives, artificial flavours and artificial sweeteners," Anne-Marie concludes. "While the ice lolly is a seasonal product we expect that with the introduction of the new fruit drink the season can be expanded beyond that of our Sun Lolly home freeze products. We are also continually working with further tastes and new product concepts, to be on the forefront of market trends. Not just within home freeze ice lollies, but just as much within related products."