Pop stars
With two plants and seven distribution centers across the country, Coca-Cola HBC Hungary produces, packages, and distributes some of the world's favorite beverages
Operating as the largest bottler of Coca-Cola products in Europe, the Coca-Cola HBC AG Group encompasses 28 countries and serves more than 615 million customers. As a member of this group, Coca-Cola HBC Hungary has become one of its key regional production centers. Boasting the largest soft drink bottling plant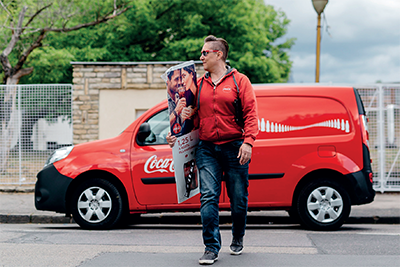 in Hungary, as well as one of the most important domestic food-processing factories, the firm has established itself as a 'total beverage company', offering beverages to consumers for every occasion throughout the day.
"Our portfolio is one of the broadest in the industry and includes more than 100 different products – 90 per cent of which are produced in Hungary," explains the firm's General Manager, László Békefi. "We expand our portfolio every year, introducing new developments, new flavors, and new presentations of existing products in the domestic market. Among the leading soft drink brands we distribute, we have Coca-Cola, Fanta, Sprite, Cappy, and energy drinks such as Burn, Coca-Cola Energy and Monster. We also distribute premium spirits, such as Jack Daniel's, Bacardi, and Famous Grouse, as well as non-alcoholic 'mocktail' beverage compositions like Fluére. Beyond this, we operate cold drink-, warm drink- and snack vending machines."
Technological developments
Headquartered in Dunaharaszti, Coca-Cola HBC Hungary directly employs around 1050 local people, and provides jobs for nearly 13,000 people in its larger supply chain, which exists as part of the largest FMCG sales network in the country. In 2019 alone, Coca-Cola HBC Hungary connected with over 1240 suppliers, 1081 of which were located in its home country. Approximately 80 per cent of payments to suppliers went to local business partners, but the company also exports more than 40 different products to 26 countries. Much of Coca-Cola HBC Hungary's continuing success can be attributed to the strong relationship it maintains with its parent company. Since the Hungarian business was founded, the Coca-Cola HBC AG Group has invested more than 120 billion Hungarian forint (Ft) into its operations.
"Thanks to the investment we have received over the years, Coca-Cola HBC Hungary possesses state-of-the-art production plants, all of which have warehouses and distribution centers. These facilities help us produce products responsibly and each one is key to our profitability," says László. "We recently benefited from a 1.8 billion Ft investment in technology unique in Central Europe, to help with the production of GLACEAU Smartwater. Previously, the technology had only been used in the UK and Netherlands, but now, we too are capable of bottling the premium product. The raw material of GLACEAU Smartwater is the mineral water of the Zalaszentgrót bottling plant from which the extraordinarily clean and fresh drink enriched with added electrolytes is made with a production process imitating
cloud formation. Building on this, our goal for the future is to become the largest production base in Central Europe through the expansion of our production capacity and modern technological developments."
As much as Coca-Cola HBC Hungary aims to maximize its output, the firm is equally keen to minimize the environmental impact of its operations. Amongst a number of sustainability strategies it has in place, the business is proud to manufacture with green energy; the firm's Zalaszentgrót facility has used 100 per cent renewable electricity since 2016 and operates almost completely carbon-free. No stranger to recognition for its green efforts, in September 2020, Coca-Cola HBC Hungary picked up a Bronze Stevie Award at the International Business Awards for its World Without Waste strategy.
Responsible leader
"We were incredibly proud to receive what is considered one of the industry's most coveted prizes. It was a true honour to be singled out from over 3800 entries from 63 countries this year," László declares. "The amount of waste generated on our planet has received increasing attention recently and we are taking part in managing the problem by implementing a comprehensive, multi-year plan that directly addresses packaging issues. This approach – World Without Waste – has a goal to collect and recycle the equivalent of a bottle or can for each one we sell by 2030. As a step towards this, we have launched a set of commitments to be achieved by 2025, designed to ensure that we drive sustainability through our entire business. These guidelines seek to make consumer packaging 100 per cent recyclable across the Group – this is already true of Coca-Cola HBC Hungary – and guarantee that we source more of the total PET plastic we use from recycled PET – 35 per cent by 2025 and 50 per cent by 2030. Alongside this, we continue to reduce the weight of our bottles. Thanks to these ongoing developments, today we need 15 per cent less plastic to manufacture one PET bottle than we did in 2010. Due to some of our 2019 projects, aluminum can waste will also be reduced by 170 tons from 2020 onwards.
"In summary, we believe that the most efficient method of waste management is circulation, made possible by collecting and recycling packaging waste. We are on the right path, as our pioneering packaging solutions support our global goals to work towards a World Without Waste, where all packaging is collected, recycled and reused."
For Coca-Cola HBC Hungary, the firm's sustainability goals are inseparably linked to its business goals. The company's approach aims to maintain business success and value creation, while remaining in line with its social and environmental responsibilities. As a leading soft drink producer, bottler, and distributor, the organization is determined to lead by example as a responsible market leader.
"In the summer of 2019, Coca‑Cola HBC Hungary partnered with the water management directorate and an NGO to clean the Tisza, Hungary's second longest river," László reports. "The Zero Waste Tisza program, supported by The Coca‑Cola Foundation through a 73 million Ft investment, focuses on continuous mitigation: collecting and recycling waste at the highest level possible and cleaning the river of increasing waste. We have had three volunteer days so far, which involved more than 160 employees who collected 3.3 tons of waste from the upper Tisza regions. The preservation of our natural resources is a great opportunity to recycle waste and facilitate team building.
"As a business, we regularly earn recognition for our community-focused environmental work from organizations like the International Public Relations Association, the Communitas Awards, and the Hungarian Business Leaders Forum (HBLF). We look forward to this continuing in the future."
People power
As a value-driven company, it is no surprise that Coca-Cola HBC Hungary sees its workforce as the cornerstone of its sustainable growth. Research by Ranstad ranked the business first within the domestic FMCG sector for workplace practices and the organization has also been recognized by PWC's Excellence Awards as an ideal place for career starters. László elaborates:
"The main factors behind our employees' top performance are job satisfaction, continuous development, safety, and the creation of an attractive career path. This company provides all of those things, and it was proven throughout this year's Covid-19 pandemic, where maintaining the safety of our colleagues and their family members was one of our main priorities, alongside saving jobs and avoiding disruption to our operations. We did everything we could to ensure the safety and health of our employees and we are very proud to have retained the jobs of everyone at the company. To top it off, we have remained available to our partners and customers at all times, despite the global challenges."
Sustainability commitments
Year on year, Coca-Cola HBC Hungary aims to move forward, expanding on its product portfolio and developing new market innovations. Following the launch of Coca-Cola Energy in March 2019, the company recently introduced Costa Coffee products to its offering, which now includes over 100 products in more than 500 formats. In September 2020, the firm launched its latest product variation – Espresso Monster, a ready-to-drink triple shot espresso beverage.
"Our company's vision is to make further investments by 2025. We would like to establish the largest Central European production base of the Coca-Cola System in Hungary," László states. "We believe that our success depends heavily on the wellbeing and strength of the communities we represent and our responsible operations demand that we react to the needs of the communities surrounding us. We stand for openness, partnership, and mutual respect everywhere we work, live, and distribute our products. We are on track to achieve our Mission 2025 sustainability commitments and we will continue to participate in volunteering programs, such as the Zero Waste Tisza River and #YouthEmpowered initiatives, the latter of which aims to improve the prospects of those between the ages of 18 and 30, who are 'Not in Employment, Education, or Training' (NEET). Furthermore, we continue to fight against food waste and highlight conscious and careful consumerism by cooperating with the Hungarian Food Bank Association." D
www.hu.coca-colahellenic.com