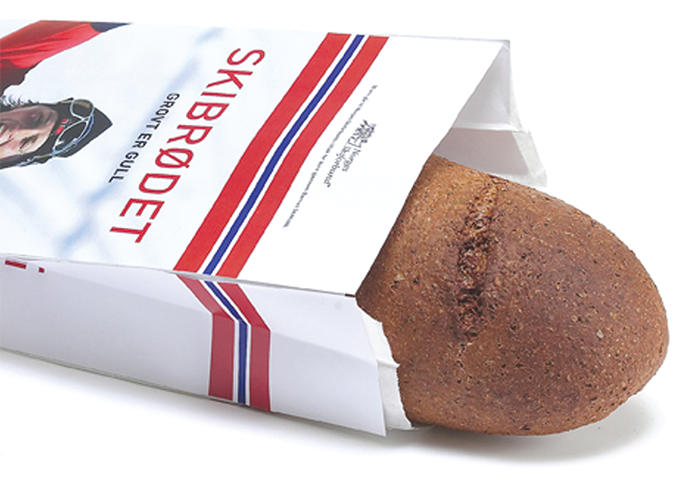 Rising to the challenge
Din Baker has recently won a major contract, which will give it increased purchasing power
Din Baker AS, a name associated with freshness, is Norway's only nationwide chain of high profile bakeries and confectioners delivering premium bakery products for over 2000 grocery stores. The company's customer portfolio comprises of some of the country's leading hotel, grocery, restaurant and canteen chains as well as the Norwegian Army and 316 of its own stores. All 86 of its shareholders are locally based craftsmen and these bakeries represent quality and know their business as well as their market. Delivering everything from bread and cakes to bake-off and semibaked, Din Baker offers its customers uncompromised quality and authentic taste in every one of its products.
Having worked in the company for the last four years, the marketing director, Frode Olsen explains: "When we started 20 years ago, we only had 26 bakeries to negotiate prices for. It was not until seven years ago that we became nationwide enabling us to arrange delivery agreements for all of our 86 members. In terms of customers, there are four main grocery chains in Norway. We have a central delivery agreement with two of them, and also with Lidl that opened up two years ago to which we are the only supplier of bread and bakery products. However, Lidl only takes up 1.5 per cent of the market in comparison to our biggest customer, Norgesgruppen, with a market share of approximately 35 per cent.
"We have recently won a new major contract that we're very excited about. Ica is one of the main grocery chains in Norway and winning this contract gives us the possibility to deliver more than we have done before. We currently take on the responsibility for what our members did before, but this central contract will enable us to sell more goods as well as innovate new products for the benefit of our members. In short, this contract means a lot to us."
He adds: "We were and still are the best when it comes to fresh bakery goods. Because we have a number of factories, we're the only ones that are able to deliver freshly baked goods every day to all of the stores and hotels around Norway. We are known to be the total distributor for every bakery product from breads to cream cakes. In the future, it will be even more vital to be a total supplier all over Norway for everything and anything the customer needs."
Frode outlines how well the members integrate into the group: "Regardless of their size every one of our members owns Din Baker, so basically we have 86 very demanding owners. We aim to give them all the best purchasing price even though market conditions in the North of Norway can vary dramatically from the South. The whole idea is to help them realise that they wouldn't be able to afford the ingredients if they were outside the chain and because of the central delivery agreements, they could possibly also lose their customers outside of Din Baker. There is immense loyalty within the chain because 98 per cent of the buying goes through our system, which gives us colossal purchasing power. The chain is more integrated today than it has been in the last three or four years."
The year 2005 marked a very important milestone in Din Baker's history with the opening of its first overseas bakery outlet in The Curve shopping centre next to Ikea on the outskirts of Kuala Lumpur, Malaysia. The Bakery, Din Baker's new concept, was developed with the aim of introducing Norwegian quality bakery products to the Malaysian market and launched as a new style of shop design with a Scandinavian-inspired sales counter. This bakery is the first of many, beginning its days slowly, simply by opening its doors, to ensure proper training of staff and that all details are in place before the next outlet is opened in the heart of KL sometime this year. Din Baker is proud to introduce Norwegian breads, buns, cookies, waffles and cakes to Malaysians as well as offering a variety of Norwegian take-away items as in a 'normal' Norwegian bakery, but is also focusing on its café, which makes up part of the outlet. The Bakery is not only selling Norwegian bakery items but also Norwegian coffee, excellent sandwiches, salads and beverages.
Frode adds: "We're certainly planning to expand the Bakery concept and currently in the midst of conversation with Sweden and Denmark because they're the closest countries. Sweden is slightly different compared to Denmark because they only have a few large industrial bakery chains and not as many small bakeries as we do in Norway. We are trying to see if we could do something similar there and work together – it is all still in the discussion stage so we could be expecting some exciting developments in the very near future."
Following recent healthy eating trends, Frode explains how the company is approaching a noticeable change in the Swedish market, with consumer wanting more and more fresh bread that they have done. Looking forward, Din Baker is focusing its attention on gaining even more contracts from customers in Norway as well as in the Nordic countries.