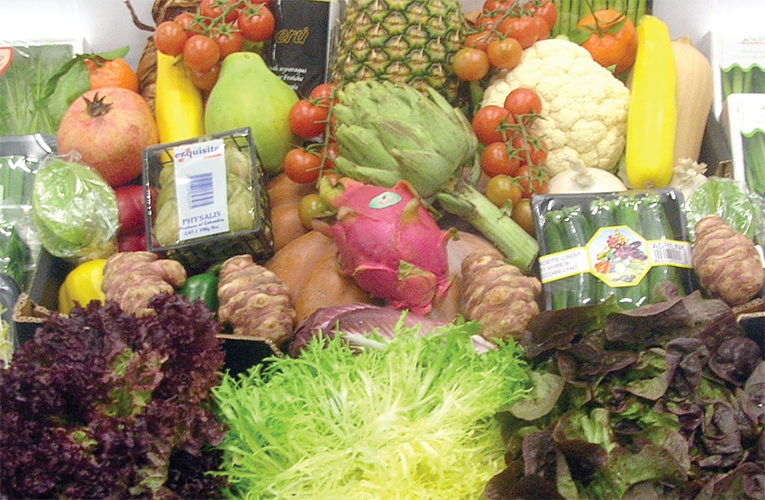 Quality without compromise
Having experienced 12 successful years, Freshchoice sees no reason to stop progressing now
Freshchoice Ltd is a family-run wholesale distribution company that supplies fresh fruit and vegetables as well as sundries, dairy and specialist prepared vegetables. Starting life in 1995 by merely supplying a few selected restaurants and catering outlets, Freshchoice's impressive list of clients today include universities and colleges, hotel chains, public houses and restaurant groups, contract caterers and football stadiums as well as entertainment complexes.
The man behind the success of the company over the last 12 years, Iain Mallanaphy states: "We purchase most of our products daily from approved suppliers and from local farms because we believe in sourcing the best produce for that season. This also enables the chefs to visit the farms because there are a significant number who like to trace a product back to its seed.
"When it comes to sourcing specialist products that are either out of season or rare, we go further afield and import from the Rungis market in France. This secures freshness, quality and competitive prices and has enabled us to establish a rapport with these suppliers, ensuring our policy of 'quality without compromise' is always adhered to."
The company ensures that every one of its suppliers is under instruction to deliver class one produce at all times. The produce is directly sourced on a daily basis from its agents in the United Kingdom and imported produce from Holland, France, Spain and South Africa also ensure a continued supply of class one produce at all times and to all customers.
Iain comments: "Due to the nature of our philosophy, we do not believe in gambling with price fluctuations and only carry stock that does not deteriorate quickly so this means that we have to keep our 'fingers on the pulse' with regards to availability. The standard range of fruit and vegetables are not a problem to attain as they are always available during their respective season, though we do tend to advise our customers to place their specialist orders in advance. Even though we offer an extensive range of fruit and vegetables, we do our best to obtain the unusual too, from the rare to the exotic, if our clients should require them."
Freshchoice's quality assurance and quality control manual is based on the standards as set out in BS 5750. The company also prides itself in its health and safety management philosophy and uses the guidelines as set out on the Health and Safety Executive's Accident Prevention Advisory Unit book called 'Successful Health and Safety Management' and the Health and Safety Commission book, 'Management of Health and Safety at Work', which give guidance on the application of the Management of Health and Safety at Work Regulations 1992. Freshchoice also applies the Control of Substances Hazardous to Health (COSHH) regulations as set down in the COSHH Regulations 1988 and it also sets the standard to BRC accreditation.
With schemes and incentives like 'five a day' being promoted by the government, associated bodies and organisations, consumers are finally waking up to the importance of healthy eating, and fresh fruit and vegetables suppliers like Freshchoice have been reaping the rewards. Over the last 12 years, the company has steadily been growing organically to meet the rising demands of the market, and this trend continues to this date. Iain states: "We have been constantly expanding over the years and Freshchoice has recently moved to a new purpose built premises and invested over £200,000 in full refrigeration, new equipment, cold rooms and preparation rooms. This expansion also caters for new products with an extensive new dry and frozen food range now being offered. However, it won't take long before we outgrow these new premises and look forward to expanding even further again in the near future."
Freshchoice also invests in its fleet of vehicles and all of its delivery vehicles have refrigeration units where produce is kept at temperatures between one degree Celsius and five degrees Celsius during delivery. "Our distribution network covers a wide area in the North including Greater Manchester, Cheshire, Merseyside, Staffordshire, Yorkshire, Lancashire and North Wales, and we are constantly looking at opportunities to expand without jeopardising our current client base," Iain explains. "We deliver to our clients six days a week and begin as early as six o'clock in the morning with our last delivery dropped off at one in the afternoon. However, we believe in being flexible, which is why we are able to cater for deliveries outside of the normal delivery times as long as it has been pre-arranged. We are also able to deliver on Sundays for special occasions that have been arranged in advance."
He adds: "We also understand that items can be easily overlooked when placing an order, so we do have a back up service that is available during working hours, and because we aim to meet our customers' every need and go that extra mile, we also have a dedicated mobile number that can be used in emergencies outside working hours.
"We have a first class management team, dedicated drivers and warehouse staff who are loyal and have been with the company for many years. In addition to all of this, the reasons for our phenomenal success are our excellent customer service, which subsequently enables us to build strong relationships with our clients by listening to their needs, and our ever-expanding range of products that provides excellent quality, which is why our motto is 'quality without compromise'."
Like many other companies where challenges form a part of every day business, the same goes for Freshchoice where the nature of its business means that prices fluctuate on a daily basis. Dealing with perishable products also makes up one of its main challenges. However despite these ongoing concerns, Iain is confident about what the future holds for the company: "We are steadily growing and are currently actively seeking opportunities to acquire another site in the UK to continue our journey of expansion. I can confidently say that we will see our business progress steadily over the next few years, doubling our turnover and increasing our client base significantly."