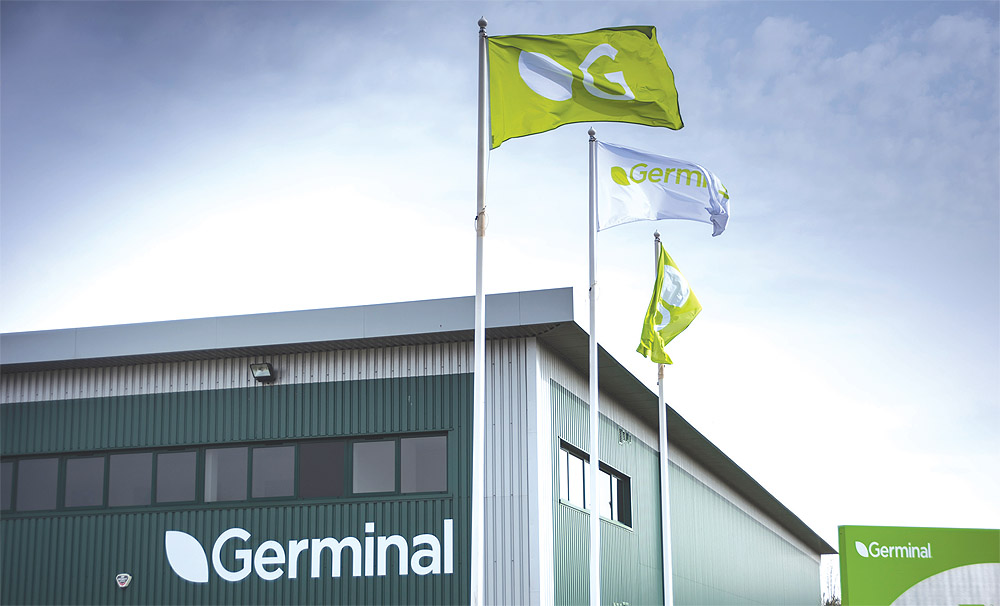 Carrying the industry forward
Germinal's ambitious devotion to develop innovative products for the livestock feed industry has turned the company into a knowledge-based market leader, whose capabilities can successfully tackle some of the pressing global challenges of the day
Benefitting from its nearly two centuries' long tradition in seed production, Germinal is the largest family-owned British and Irish forage and amenity seed company. An active player in
researching and developing livestock feed solutions, it aims to tackle serious global challenges, such as climate change and feeding the world's growing population. The company consistently launches products, which enable farmers to maximise their production throughout the whole year, regardless of the system they use.
"The Aber High Sugar Grass (HSG) and clover mixtures are formulated from the highest yielding and highest quality varieties available, and are among our most popular products," Germinal's Group Managing Director, William Gilbert tells us. "We also have solutions for those farmers who do not graze animals, including grass mixtures that produce high quality silage (winter feed), red clovers that provide high levels of homegrown protein over many years, and forage maize for high energy winter feed. Similarly, for those on extensive forage systems, we have a full range of forage brassicas for summer, autumn, and winter grazing."
William sees the competitive edge of Germinal in the receptiveness of its forward-looking farmer clients, who are quick to spot the difference the company's products make. "More and more farmers are eager to produce feed at home, rather than buying it, because the price of cereal feed is a massive cost for them. Therefore, those who are really interested in improving their efficiency look into the best varieties in the market, and it is normally they who are the early adopters of new and innovative products like ours."
Modern varieties
It is clear that Germinal's R&D department plays a key role in setting the company apart from its competitors. Over the years, the business has established a number of valuable relationships, not least with the Institute of Biological, Environmental and Rural Sciences (IBERS, now part of the University of Aberystwyth). "We have worked with IBERS for over 30 years and our partnership has led to major developments in plant breeding, allowing UK and Irish farmers to benefit from improved the production and efficiency created by modern varieties. Many of our joint projects are organised by two funding bodies – the Biotechnology and Biological Sciences Research Council (BBSRC) and Innovate UK. We have also developed our overseas relationships and are now testing and marketing varieties in over 25 countries," William reveals.
"Germinal's partnership with IBERS produces market leading varieties with improved characteristics, be it higher nitrogen use efficiency (NUE), which improves sustainability by requiring less fertiliser; Aber High Sugar Grass (AberHSG), which mitigates climate change; or other exciting new products, such as high lipid grass. The lipid content is the most energy-dense part of a grass plant, but only accounts for between two and four per cent of the dry matter. Our goal is to increase this figure to between four and six per cent and at the same time change the profile of the oil –
from saturated fat to polyunsaturated fat. This would bring health and production benefits to the animal and potentially improve the quality of red meat and dairy products, ultimately raising the quality of food people consume," William reasons.
Research Station
He cites the UN's estimates, according to which 50 per cent more food needs to be produced by 2030, compared to 1990, in order to feed the growing world population. He deems that "a Herculean task", but Germinal remains determined to continue researching and introducing efficient practices to address the issue. "Human diets have changed and areas like Asia are now consuming red meat and dairy products in greater quantities than ever before. Unlike grains and vegetables, these products are inefficient in production per unit area of land. To counter this, we believe it is possible to produce grassland on more marginal land and leave the first-grade fields to these crops. We recommend improving pastures on marginal land to increase its capacity, and we see greater dry matter yield and balancing protein and energy in the plants as ways of increasing production per unit area of land."
To reinforce its research capabilities, Germinal is currently building its own Research Station, which is expected to be one of the highlights of 2018 for the business. The company will also be keen to extend the collaboration with progressive farmers it has advanced in the past few years through holding open days and demonstrations, designed to share knowledge and best practices to those willing to learn. "It is encouraging to see that many farmers have a better idea of how their systems can work and that they view our products as a way to improve their processes," William points out with satisfaction.
Long-term prospects
As a seventh-generation business that started in 1825, Germinal has been through a lot in its history, having witnessed first the heyday of grass seed manufacturing in Northern Ireland between 1850 and the end of the World War II, and then the decline of the industry in the country from the 1950s onwards, which led to the company expanding into England in the 1960s, The Republic of Ireland in the 1980s, and finally New Zealand in the beginning of the 21st century. This being said, it is in Germinal's DNA to think a couple of moves in advance, so it is no surprise that William is clear about the long-term prospects for the business. "We have been around for a long time and we are regarded as a trusted expert in our sector. We want to keep things that way, but our key message has to be that we are more than just a seed business. Germinal can offer forward thinking, innovation, and originality in the solutions we develop. To us, knowledge-based market leadership is key, and I believe that our work so far has proven that we can bring huge experience and expertise to the market," he concludes.