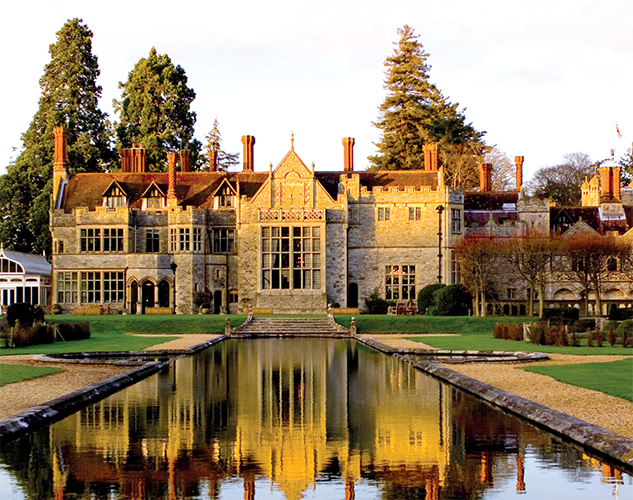 Hotel heaven
In the last 12 months Hand Picked Hotels has completed major development work on three of its grand country house hotels
Hand Picked Hotels is a collection of 14 hotels across the UK notable for their architectural excellence. Each of the country residences has its own individual features unlike the more generic buildings that typify the UK's larger hoteliers. Offering charming surroundings and the very best service and finest quality food and drink, residents are afforded maximum pleasure during their stay. The group was started in 1999 and is privately owned by Julia and Guy Hands.
Each of the hotels has been awarded four-star except for one, which has three red-star status. The last year, which has seen significant construction to three hotels, marks the start of a transformational stage of development for the company following five years of upgrading work. The largest project has taken place at Norton House, near Edinburgh Airport costing £13m. Julia Hands, the chief executive officer, details the development saying: "We have added a 36-bedroom wing to the hotel along with new conference suites and a beautiful health and beauty spa that incorporates a pool, gym and treatment rooms. We have almost doubled the amount of bedrooms at a hotel that is located in a booming part of eastern Scotland. We will now be able to attract far bigger conferences and events of that nature. I think it will change the business quite radically."
The Rookery Hall hotel in Cheshire has also had extensive work. A £10m investment has been used to create what the company bills as a haven for wellbeing. The transformation of a former Georgian stable yard has created a luxury health club and spa including a hydrotherapy pool, seven treatment rooms, steam and sauna rooms and a rasul, which is a Turkish mud treatment. The new facilities are supported by a further 24 bedrooms that have been fitted with modern luxuries such as LCD televisions in the bedrooms and the bathrooms. The development has been undertaken in line with the company's position at the high end of the hotel industry.
A further £4m investment has seen 16 bedrooms, a large conference room and three syndicate rooms added to the Rhinefield House hotel in New Forest. Further work to improve the building is underway. "We are building a 20-bedroom staff accommodation and transforming the existing accommodation, which is a Victorian hunting lodge, into a luxury six bedroom suite. This will mean a £1.6m further investment. It will be a really highclass facility that offers a massive amount of privacy. We estimate that it should be completed by early 2009," says Julia. The tireless work and improvements the company has undertaken were recognised in the Queen's birthday honours when Julia was awarded an MBE. Speaking about the accolade she says: "I am very proud of the honour because it is recognition of what we have achieved over the last six years here at Hand Picked Hotels."
Having upgraded its existing hotels, Hand Picked is looking at the possibility of acquiring new sites to add to its portfolio. Douglas Waddell, the group operations director says: "If you look at a map of the UK and the locations of our hotels you would see gaps in our distribution. We are light in the Midlands and the areas around Bath and Bristol. We would also like a hotel in the West of Scotland if possible." Although the group is keen to add locations, Douglas says that any investment will be carefully considered. "We have a clear picture of what we want and we will not compromise our brand or our vision simply to add a property." Douglas says.
The belief that any addition must be carefully analysed is one supported by Julia: "We have spent a large amount of time putting together a business plan for the next five years. We are looking to add six more hotels. We would like to add a new one every six months but we recognise that life is never as simple as that. We are looking around at the moment and we will add to the portfolio if the right opportunity arises."
Any new hotel will also have to live up to the high culinary standards that have been set by Hand Picked's current venues. All but one of the company's hotels has two AA rosettes that are awarded for food and drink excellence, while Norton House has three.
"We make it our business to recruit good chefs; we have a robust recruitment process in place. The general manager of a hotel will find a chef that they like; we will then meet with them. It is very important that they are given exposure to the company and us. Our chefs have a lot of freedom: they are free to buy local produce and there are no set menus in place, which we feel is a great strength," says Julia.
This is just one of the strengths that Hand Picked Hotels possesses – it also offers luxurious accommodation and the best of health and spa facilities. Add in fantastic food and drink in tranquil, countryside surroundings and its hotels offer the perfect setting for a weekend getaway or a company event. When Douglas says: "We are very optimistic about the next year," it's extremely hard to argue.