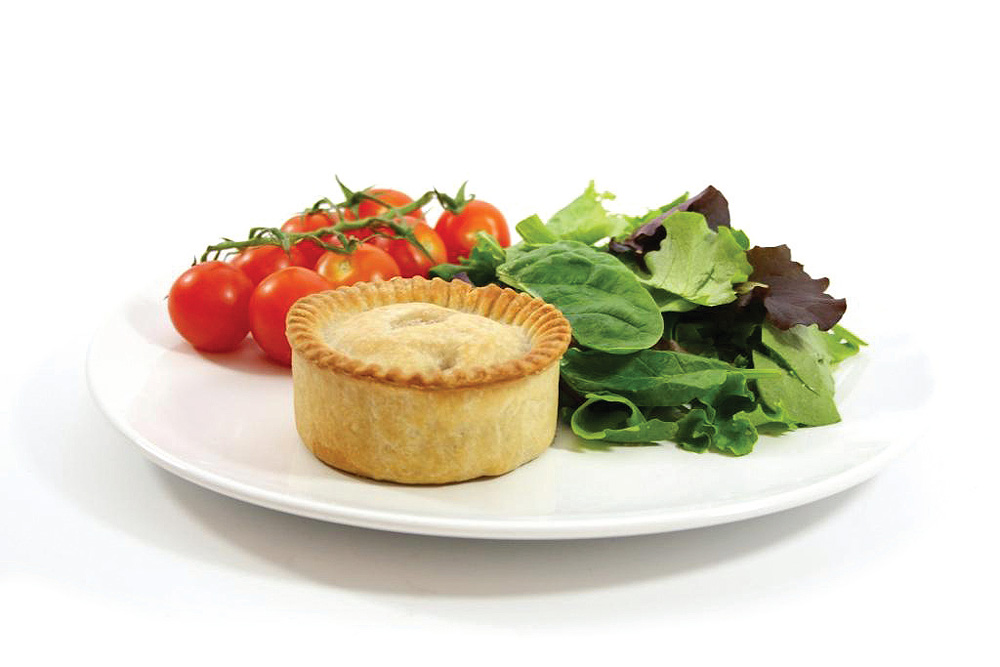 A passion for pies
Traditional pie maker, Holland's Pies, goes 'back to the future' as its 'Best Ever' range is launched
Established in 1851 by John Whittaker, the company originally operated as a confectionary shop in Haslingden, in the UK. In 1869 it was taken over by the founder's son-inlaw, Richard Holland, who rebranded it Holland's. Since then the company has strived to provide quality food products, prepared in a traditional way. In 1907, it established a base in Baxenden, UK, and from here Holland's continued to grow in popularity, making daily deliveries by horse and cart to the local area.
Today, the company is serious about maintaining its long-established reputation for quality, service and value, and has rigid quality control and environmental targets in place. Having addressed processes at the factory with a review of each and every one of its products, the Lancashirebased pie producer has improved the quality of its pies. As a result Holland's has restored the famous jelly to its pies, placed more meat in its steak and kidney pies and puddings, and increased the fill of its potato and meat pie.
When current managing director, Neil Court-Johnston, took over the company in 2008, he stated that he wanted to create a company that is recognised for its quality, service and value. Speaking to Food Chain, he outlines his mission to revive the nation's passion for the great British pie: "We're a company steeped in tradition with an iconic brand. I felt very strongly when I became managing director that we should not compromise on the quality of the products upon which we've built our success. That's why we listened to feedback from chip shop owners and their customers about our products and what makes a truly great pie or pudding. Now we're acting on that feedback."


To accelerate the review process, the decision was made to recruit a consumer tasting panel of discerning pie enthusiasts. Neil elaborates: "I wanted to find a way to engage the public and lead the great pie debate and I decided on a pie panel. The idea came from Tesco, which has a panel of consumers that test all new food products. If the panel vote against a product, then Tesco rejects it, so these carefully selected consumers have a huge input."
The idea was well received among Holland's customers – within hours of the announcement, 800 enthusiasts from around the UK (as well as expats from as far afield as New York, Oslo and Islamabad) had volunteered, before a panel of 15 successful specialists was selected. "The pie panel attends a series of specially arranged pie-tasting sessions to review every pie and offer their opinions on new recipe ideas," explains Neil. "In this way the panel is helping us to raise our profile and drive sales."
The first big project for the panel was the new cheese and onion pie. Made with mature cheese sourced in Lancashire and produced from the milk of cows grazed exclusively on Bowland fells or Fylde pastures, it is the first entirely new Holland's recipe to be launched as a result of the panel's verdict. It is also the first ever Holland's pie to be awarded the Vegetarian Society approval. Neil expands: "With the help of our panel we've been reviewing the quality of all of our products and we've been listening carefully to our customers. We've revisited all the characteristics people have traditionally loved about our pies and looked to retain and, where necessary, re-discover that love.
"The evolution of Holland's pies and puddings is about creating the perfect recipes that can attract sales from a wider consumer base, without losing our original following. That means taking a step back and revisiting our original 158-year-old recipes. As a result, this autumn we will launch a new 'Best Ever Authentic Recipe' range, which we're all very excited about."
Aside from its products, Holland's is also well known for its fleet of red, gold and green vans, which it has been operating since 1927. In order to improve the company's efficiency, however, Neil has recently ordered a new fleet, which will save half a tonne of carbon each year. He comments: "We will not only generate savings in terms of fuel economy with the new fleet, but we will also achieve a significant reduction in emissions. We now want to try and take a similar approach to our wider plant at Holland's. As part of our commitment to making pies and puddings in a responsible way, we are also looking at waste, and will challenge ourselves to deliver zero waste to landfill by 2012."
Neil goes on to outline the company's strategy for future development: "We're creating a performance culture across the board at Holland's, and we will not compromise on quality, value or service in anything we do. In retail, we've focused on store distribution and making sure we have the right products, in the right place, at the right price, and our growing market share reflects that. In the world of sport, we have forged strong links with several premier league football clubs, including major global brands, such as Manchester United and Manchester City. As well as supplying the big names, we are also trying to get out to grass roots football.
As we are the sportsman's pie and the North West is sport mad, we are aiming to be present in every football, rugby, cricket and hockey club around the North West to increase our market base."
Fortunately, as the business plans rapid expansion, the recession has had minimal impact on its progression, as Neil explains: "We knew this year would be tough for the food industry but pies are a staple favourite that consumers have come to rely on for a great many years. In the last recession the pie business benefited because a proper pie or pudding is substantial, familiar and nutritious, while providing fantastic value for money."
He concludes: "We are looking to the future now; targeting the food service channel through pubs, clubs, travel and takeaways. At the same time, we will be unveiling our new branding – which looks fantastic. So, all in all, I feel that, as we take the business forwards, we have plenty to be optimistic about."