Whiskey for the community
Now into its fifth year, Iron Fish Distillery is steadily building a recognizable brand, founded on community values, and a strong commitment to the whiskey experience
It's been a significant year for the Iron Fish Distillery (Iron Fish). One of approximately 50 farm distilleries in the US, the company marked its fifth anniversary in 2021 with the highly anticipated release of its Estate Spirits line of spirits. The line, 100-percent distilled and aged at Iron Fish, uses grain planted, grown, and harvested on the company's 120- acre farm. Despite the company's relatively short history, it's the crowning achievement of what has been a remarkable journey thus far.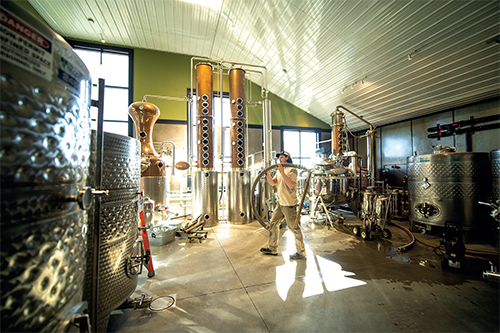 "It all started less than six years ago on an abandoned farm, in northern Michigan," says Richard Anderson, Co- Family Owner at Iron Fish. "Today, the Iron Fish brand is reaching an inflection point, where brand awareness, enthusiasm for our products, our values, and our approach to making spirits, along with our commitment to community and sustainability, all resonate throughout the wider Michigan market."
Richard's enthusiasm is well-warranted. The company's success is borne out in the numbers, with Iron Fish now positioned as the second best-selling Michigan craft whiskey brand in the state, with wholesale chain growth leaping an impressive 145 percent between 2020 and 2021, driven in part by a 60 percent increase in independent retailer sales.
"Our performance state-wide demonstrates that when people return home from visiting us, they find ways to bring the Iron Fish spirit home," Richard confirms. "This year, we'll be launching in yet more states: Wisconsin, Colorado, California, Illinois, Indiana, and North Carolina. We're also proud to be distributed and home-delivered to more than 40 states, thanks to our partnership with Spirit Hub, a Chicago-based online spirits retailer."
Significant investment
But as Richard alludes to, there's more to Iron Fish than bottles of whiskey. The company also welcomes more than 100,000 people annually to its farm, an agricultural end-destination that aims to showcase Iron Fish's experiential approach to spirits. "At Iron Fish, spirits aren't the only thing we have to offer," Richard insists. "We have craft cocktails and wood-fired oven-cooked pizzas, drawing inspiration from seasonal ingredients sourced from over 20 local farms and growers. Our fully renovated historic barn plays host to weddings, corporate events, concerts, and community meetings."
If that's not enough, there's more to come. In 2022, Iron Fish has announced a major new investment into its operations, including a $900,000 expansion of its distillery and farm. "The development will focus on expanding the spirits distillery to meet demand for our products, which is currently outpacing our capacity," Richard explains. "The second project will focus on making needed investments to the facilities and property to accommodate more visitors and expand our menu, helping us to better-showcase our farm-to-table food and spirit offerings."
For Richard, it's a project that has wider implications – not only for Iron Fish, but for the state as a whole. "It's a recognition that agricultural end-destination farms like ours are important contributors to Michigan's four-season outdoor economy," he points out. "The only reason the expansion is possible is because consumers and retailers in Michigan and the US are embracing local products.
"These projects will more than double the amount of grain that we'll be able to purchase from Michigan farms to 725,000 pounds annually," he adds. "In doing so, we'll increase the number of farms supplying Iron Fish from six to ten, including a number in Michigan's Upper Peninsula, where we currently contract rye grain production. We also hope that the investment will further fuel consumer interest in our products, driving yet more demand for our brand."
It's not just consumers who are noticing the brand, either. Iron Fish is making a name for itself at some of the industry's most renowned platforms. "We've been the recipients of numerous accolades, and we were the most highly awarded craft distillery at the 2021 Craft Spirits Packaging Awards, sponsored by the American Craft Spirits Association, with our Iron Fish Bourbon Whiskey Finished in Mezcal Barrels awarded 'Best in State'.
"Jesse Den Herder, our Creative Director, deserves special recognition, for the care, creativity, and commitment to expressing our brand," Richard emphasizes. "From the very beginning, Iron Fish has been diligent in working with design professionals to create brand standards that capture our originality. We then collaborate with packaging professionals to execute on those standards, including Vitro Elite, Berlin Packaging, and Brick Packaging. With their help, we're able to create the end user experience in bottle shape, label design, and packaging."
Interesting mix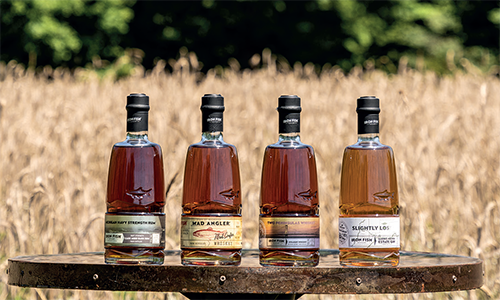 The company is also investing heavily in its non-producing distillery (NPD) operations. "The cycle-time from growing grain to distilling and aging whiskey led us to take a novel approach in our NPD," Richard comments. "Rather than purchase and relabel whiskey, Iron Fish takes the time to finish bourbon in barrels from around the world, making the flavor our own. To date, our library of barrel-aged spirits is approaching 2000 barrels. We never release a spirit unless it tastes like its own cocktail: unique, approachable, and complex."
For Richard, this connection to the local environment cannot be understated. "Our greatest inspiration comes from northern Michigan maple trees, and the sap that runs every spring after our long winters," he goes on. "We have a family of products drawing inspiration from maple, including our Maple Syrup Aged in Bourbon Barrels, our ready-to-drink Salted Maple Old Fashioned, and our Bourbon Whiskey Finished in Maple Syrup Barrels, which has recently earned the highly coveted Double Gold Medal from the San Francisco World Spirits Competition."
But in the alcohol world, it's not always about consumption. In 2020, Iron Fish served an important cause, temporarily refocusing its efforts towards the production and distribution of hand sanitizer to residents and community groups locally. "We partnered with northern Michigan's largest health network, Munson Health Care," Richard indicates. "In doing so, we built on a commitment to community engagement and a focus on supporting non-profit causes that was already heavily embedded in the way we structure events and position our products."
Across all these operations, nothing would be possible without the hard work of Iron Fish's employees. "It all comes down to people," Richard says. "We're nearly 50-strong today, and just about every one of them was here with us throughout the two-year pandemic. Together, we've navigated rapid growth, launched out-of-state distribution, and continued to host over 100,000 people annually and safely at our farm.
"Our company is family-owned, and we like to think of our team as an extension of that family," he reflects. "We focus on providing competitive wages, benefits, and training, and together we all share in the hard work of making Iron Fish special."
For Richard, the hope is that the brand continues to resonate with customers nationwide. "We didn't really set out to deliberately cause it to happen," he remarks, when asked about the brand's success to-date. "It's a lucky confluence of a variety of decisions that we've made. We have this interesting mix of authenticity, commitment to community, and whiskey or spirits as an experience, along with the ability to work with our suppliers and industry partners to pull it all off."