A touch of Filipino flair
Ever since its first outlet opened in 1978, the Jollibee restaurant chain has been serving up Filipino flair to its ever-growing legions of customers. Whether it is its trademark Chickenjoy, Jolly Spaghetti or Yumburgers, the company's winning combination of bringing an Asian twist to a traditional western menu and best-in-class hospitality has seen it grow to over 1400 stores worldwide, and counting.
The last time that Jollibee featured within the pages of FoodChain, it was the early weeks of 2020, and while Covid-19 was a known entity, the true impact that the global pandemic would
have on the rest of 2020 was at that time mostly unforeseen. With that in mind, it is fascinating to now be catching up with Adam Parkinson – Vice President of Jollibee Europe – in the spring of 2021 to get his insight on what the last 12-plus months have been like for the business.
"As virtually everyone will know, it has been a tough year for the restaurant industry as a whole, and similar to most other businesses, we have been hit with unpredictable restrictions to operations that have impacted our top line, balanced with additional investment in PPE to keep our employees safe," Adam begins. "Over the course of the past year, we have worked with our new landlords to postpone some investments, and this has allowed us to put some distance between ourselves and the pandemic, and now, as we speak today (March 2021), we are pleased to be able to see light at the end of the tunnel."
Friendly service
Here in the UK, Jollibee is committed to investing over £30 million in what is a growing market for the brand, an act that Adam says shows that, regardless of Covid-19, it is dedicated to expanding on these shores, with a number of restaurant openings lined up for the months ahead. In 2020 – at the height of the pandemic itself – Jollibee actually opened a site in Leicester as a take-away only store, which was greeted with an excellent response from the local community. Meanwhile, its forthcoming plans include the opening of a flagship site in London's Leicester Square, as well as locations in Leeds, Cardiff and Nottingham. Altogether, it plans to open eight new restaurants in the UK between now and the end of 2021.
So, how has Jollibee managed to continue to experience growth in a highly challenging and competitive market? "For me, it is a mixture of our unique Filipino heritage, Jollibee's premium customer service, and ultimately the great quality food we offer our customers at a good price," Adam enthuses. "Community spirit and hospitality are central to both Jollibee as a brand and the Filipino culture. We bring that friendly service to customers, something which many of our competitors don't focus on. Jollibee is all about giving customers a great place to spend time with their friends and family, sharing quality food. It's very distinct from a traditional American fast-food joint, from the restaurant design to the menu itself. Where else can you eat sweet spaghetti, crispy fried chicken, a pineapple burger, and a mango sundae!"
Brand values
Building long-lasting relationships with its customers is clearly a major focal point for the business, and as Adam goes on to explain, this encompasses both existing patrons of the brand as well as first-timers. "To our current customer base of Filipino supporters, we are already extended family. The loyalty we see from this community is exceptional and that's why we are balancing building something new, exciting, and attention-grabbing for those who don't know us yet, while still engaging with our existing fans. It's very important to us to remain true to our loyal followers and make them proud.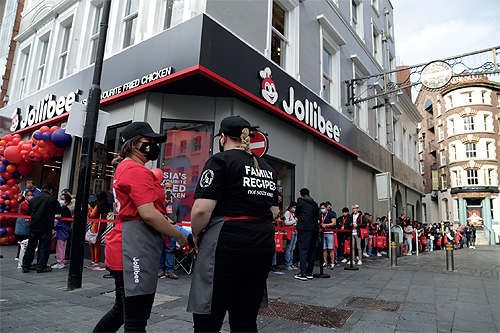 "For customers trying us for the first time, we build relationships with them by delivering great service and a great-tasting product. This is what keeps them coming back for more. Going forward, technology will also enable us to better talk directly to our customers and improve our offers and service needs for them through our mobile app, making their experience much more personalized."
The overall culture of the business has also played an immensely important part in making Jollibee the success it is today. "Culture is the most important part of the business for Jollibee, not only in the UK but all over the world," Adam states. "Filipino hospitality is next-to-none and this is what we are replicating in our restaurants, which means hiring and training the best people for the job, who love serving people. Our restaurant managers are the drivers of culture and they are in charge of growing team numbers and building a great place to work. Their main role as restaurant managers is to find talent who fit with our brand values.
"Meanwhile, our parent company, Jollibee Foods Corporation based in the Philippines, was recently added to Forbes' list of 'World's Best Employers', and received Gallup's 'Exceptional Workplace' award. Our goal is to live up to these achievements and be named a great place to work here in the UK."
New launches
In another sign that its focus throughout the last 12-to-18 months has remained on meeting its customers' expectations, the company has also continued to add new items to its menus, whilst also taking the time to consider what its restaurants will look like once they reopen to the public. "In March of this year, we added our £3.99 chicken burger to the menu, a quality juicy chicken breast fillet, hand-breaded by our store team," Adam points out. "This makes us cheaper than our major competitors including Nando's, and cheaper than fast-food alternatives like KFC. However, don't let the price fool you, this is our best burger and the quality is really high. We are also about to launch another new menu item which I think will be a game-changer, and we will also have a summer menu launching this year."
Joyful spaces
Speaking of later this year, whilst delivery options have helped Jollibee to reach more customers during the pandemic, once it is safe to do so, the company cannot wait to welcome customers back into its stores to savor the whole Jollibee experience. "We have done a lot of work over the last year on redesigning our restaurants for the UK market," Adam explains. "The overall experience is just as important as the quality of the food for our customers. So, what we have done is create restaurants with varied seating areas and 'wow' features from the moment you step into the restaurant. The store design needed to reflect our family values, upbeat community spirit, and Filipino heritage across all touchpoints in the restaurant as well as in our overall branding. I believe we have created a joyful, premium space for our community of customers."
Looking ahead, Jollibee's plans for the UK involve opening up to 50 stores in the coming years. "We are aiming to cover all major UK cities in the next year, something which we will achieve despite the pandemic setbacks," Adam reveals. "For each location, we are looking for high foot-fall areas in city centres, similar to our stores in Liverpool on Whitechapel and in Leicester on Humberstone Gate. Then we would like to turn our focus to drive-thru locations, following the same principle of high-vehicle traffic and flagship locations."
In a further revelation, Adam points out that parent group Jollibee Foods Corporation is also confident that it has other brands under its stewardship that it is confident will work well in the British and European markets. "Right now, though," Adam concludes, "our priority is to ensure that Jollibee is an ongoing success. Jollibee is the brand we believe has the biggest opportunity and we want to give it our focus to ensure we set a good foundation to maybe look at other opportunities across our portfolio in the future." D
www.jollibee.com